Found April 07, 2013 on isportsweb.com:
Michigan basketball will play in their first NCAA championship game since 1993 when they square off with Louisville on Monday night for ultimate bragging rights. Their opponent will be the #1 seeded Louisville Cardinals. The game will air on CBS and tip is set for 9:20 eastern. Mitch McGary Their Paths Michigan has now rolled through a 13-seed in South Dakota State, 5-seed VCU, 1-seed Kansas, 3-seeded Florida, and the 4-seed out of the East in Syracuse [recap here]. They will have to knock off their 2nd 1-seed in Louisville to claim what would be just the school's 2nd ever national championship. Rick Pitino's team, the #1 overall seed in the tournament has won their 5 games by an average margin of victory of 18.2 points per game. Their closest battles came on Saturday night with a come from behind 4-point win against a tough Wichita State team and a Sweet 16 matchup versus Oregon, an 8-point win. They started their run by dismantling North Carolina A&T and Colorado State. In between the Oregon and Wichita State battles was a 22-point blowout of Duke in the Elite 8. Their Strengths Michigan Michigan is often a team that goes as their starting 5 goes. On Saturday night it was their bench that stepped up big time, proving that this team does indeed have some depth. The combination of Caris LeVert, Spike Albrecht, Jon Horford, and Jordan Morgan accounted for 21 of Michigan's 61 points on a night that saw Player of the Year Trey Burke make just one field goal on his way to seven points. In this tournament, Michigan has faced a wide variety of teams, including VCU's Havoc defense, Kansas' athletic unit with big man Jeff Withey blocking shots down low, and Syracuse's legendary zone. John Beilein has moved his chess pieces around just right to conquer all comers. Beilein has been locked in since the tourney started and needs just one more gem to churn out his first ever NCAA championship. Mitch McGary has been the story of the tournament. He posted his 3rd double-double in the five game run against Syracuse while handing out a career-high six assists. He is a true game-changing presence on the court. Trey Burke has been awfully special as a sophomore. Monday night will be his last game as a Wolverine and he will want it to be a memorable one. He's the best player on the court and that provides Michigan great comfort. Louisville The Cardinals are a deep and athletic team who can receive contributions from a wide variety of players. Rick Pitino will use 9 players with confidence in his attempt to become the 1st NCAA coach to win a championship at two different schools. Louisville will play a somewhat similar style of intense, in-your-face defense as VCU does. The difference is that Pitino's players are more highly skilled and the roster is full of quick guards, athletic swingmen, and big bodies. They are loaded. The freak leg injury to Kevin Ware is certainly going to receive a lot of continued media exposure as Louisville has become the sentimental favorite across the nation in support of Ware. Michigan won't mind playing the role of spoiler. Russ Smith Key Matchups 1. Mitch McGary v. Gorgui Dieng – Against Syracuse, McGary was the biggest guy on the court. That won't be the case against the Cardinals as the 6'11", 245 pound Dieng is sure to make life a little more difficult. Dieng can also get some help from fellow big men Chane Behanen (6'6", 250 lbs.) and Stephan Van Treese (6'9", 245 lbs.). McGary's seemingly unstoppable motor will be put to the test against Louisville's lineup. 2. Trey Burke v. Louisville's pressure defense – No team in America forced more turnovers than Louisville's 718 this year. Michigan only turned the ball over 356 times on the season compared to 486 for the Cardinals. The turnover battle will be a key factor in this one. If Michigan gets loose with the ball as some of their wing players can on occasion then it could spell trouble. 3. Michigan's defense v. Peyton Siva and Russ Smith – Smith has already poured in 125 points during his 5-game tourney run. He checks in at 6'1" while fellow starter Siva is just 6'0". Burke is the only starter of similar size that Beilein trots out. Glenn Robinson III, Tim Hardaway, Jr. and Nik Stauskas all check in at 6'6". Beilein will have to find a way to turn this into an advantage for Michigan. The Wolverines have had trouble guarding in one-on-one situations off the dribble against good athletes. Louisville is full of such players. Help defense for Michigan will be critical. If they turn in a poor performance in terms of defensive intensity they might see this one slip away. Expectations As both games were on Saturday night, this one should be another thriller. I think Michigan matches up better against a more wide-open team like Louisville than a grinder like Syracuse. See the VCU game for recent evidence of this fact. Michigan is deadly when they can get out in transition. With solid 3-point shooting the Wolverines have knockout punch ability but the Cardinals are as good as it gets in college hoops. It would be nice to see Michigan get to the foul line early and knock a few freebies down to build confidence for some probable big moments at the end of the game. Rumeal Robinson clinched Michigan's one and only crown with two free throws in the final seconds v. Seton Hall. Someone might have to step up in that exact same way this time around. The special feeling that Michigan's tourney run has had is very similar to what I've witnessed with Louisville. If Michigan can get enough stops on defense against a team that doesn't shoot particularly well then banner #2 will be hung at Crisler Center next fall. Athletic Director Dave Brandon might as well call the embroiderer because that 1989 banner is about to have company. If you would like to receive an email notification each time a Michigan Basketball story is posted you can fill out the Email Notification Form. Stay connected with our coverage by subscribing to our Michigan Basketball feed. You can follow us on Twitter Rob White and Joe White
Original Story:
http://feedproxy.google.com/~r/isport...
THE BACKYARD
BEST OF MAXIM
RELATED ARTICLES
Michigan center Mitch McGary is the talk of the tournament. Check out what he did last summer by shattering a backboard. Here is what I wrote at the time. Mitch McGary is one of the best basketball players in the class of 2012.  The power forward recently narrowed his list of schools down to 6; they include Florida, Maryland, North Carolina, Michigan, Duke and Kentucky. McGary and...
Mitch McGary has been the story of the NCAA tournament leading into tonight's championship game. Now Michigan's talented frosh hopes to write another memorable chapter. The Wolverines' star big man met with the media to discuss the trust he recently earned from his teammates and coaches, the freedom he has to be a playmaker on the floor, the challenges Louisville presents...
Mitch McGary and the Michigan Wolverines withstood a second half Syracuse surge to hold on for a 61-56 win to advance to the National Championship Game. Finishing the first half with a 21-8 run the Wolverines went into the break with a 36-25 lead over Syracuse after getting some very strong play from the bench. That solid play from Michigan's reserves helped offset Trey Burke scoring...
Sometimes it's not how many fouls your team has but which players have them. That was the case for Michigan on Monday night in Atlanta, where the Wolverines lost the NCAA championship game to Louisville, 82-76. With Trey Burke exiled to the bench with two fouls for most of the first half and Mitch McGary being yanked in and out of the game, especially after picking up his...
Congratulations to Louisville in sealing what has been an entertaining National Championship Game at the Georgia Dome. But we should also send our congratulatory thoughts to Michigan, Wichita State and Syracuse, as these four teams gave us a memorable weekend … Continue reading →
While previewing tonight's championship match-up between Michigan and Louisville, GoBlueWolverine's Sam Webb was joined by former Michigan standout,Jimmy King. They broke down the Maize & Blue's advantages and potential pitfalls, the sudden emergence of Mitch McGary, the multiple salutes to the Fab 5 by this year's team, and the possibility (or lack thereof)...
On Sunday's GoBlueWolverine Radio Hour, LIVE from Atlanta, GA, site of 2013's Final Four, Sam Webb, Andre Barthwell, Kyle Bogenschutz, and Tom Beaver discuss Michigan's advance to the NCAA championship game. The crew reflected upon another stellar performance by Mitch McGary vs Syracuse, the valuable contributions from the bench, discussed the upcoming battle with Louisville...
Tweet   Michigan is up 38-37 over Louisville at halftime of the NCAA men's basketball national championship, thanks in large part to the hot shooting of freshman guard Spike Albrecht (6-7 FG, 4-4 3-pt, 17 pts). But this highlight is courtesy of classmate Mitch McGary, who blocked Cardinals guard Russ Smith at one end then [...]
ATLANTA Here are three observations from Michigan's 61-56 win over Syracuse in Saturday's second semifinal in Atlanta, a victory that will match the Wolverines up with the Louisville Cardinals in the national championship game: 1. Syracuse did not have the mismatches it maybe thought it did During Friday's breakout sessions with players from all four teams, Syracuse...
Score: No. 4 Michigan 61, No. 4 Syracuse 56 Star(s): Syracuse: C.J. Fair 22 Pts, 7 Reb Michigan: Mitch McGary 10 Pts, 12 Reb, 6 Ast.  Story: It's over. The run many never expected from the Syracuse Orange has come to an end at the hands of the Michigan Wolverines. Michigan jumped out to a lead in the first half, figuring out the zone defense that had stumped other teams in...
Watch Michigan's press conference after its five point win over Syracuse on Saturday night as John Beilein, Trey Burke, Tim Hardaway Jr. and Mitch McGary face the media on the podium. Read the full transcript here.
Wolverines News

Delivered to your inbox

You'll also receive Yardbarker's daily Top 10, featuring the best sports stories from around the web. Customize your newsletter to get articles on your favorite sports and teams. And the best part? It's free!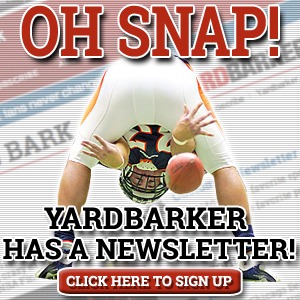 Latest Rumors
Best of Yardbarker

Today's Best Stuff

For Bloggers

Join the Yardbarker Network for more promotion, traffic, and money.

Company Info

Help

What is Yardbarker?

Yardbarker is the largest network of sports blogs and pro athlete blogs on the web. This site is the hub of the Yardbarker Network, where our editors and algorithms curate the best sports content from our network and beyond.