Found February 19, 2013 on isportsweb.com:
EAST LANSING — Unfortunately for Michigan State basketball fans, there won't be a "R.I.P ta da competition" popping up on your timeline tonight, a phrase that senior Derrick Nix tweets after every MSU victory. However, one thing Spartan fans did get tonight is one of the best basketball games of the season, even if it wasn't in MSU's favor. Led by Victor Oladipo's 19 points, nine rebounds and five steals, the No. 1 Indiana Hoosiers ended their 17-game road losing streak against the No. 4 Michigan State Spartans with a 72-68 victory on Tuesday night. The Spartans (22-5, 11-3) were leading 67-63 with 1:25 left in the game when Christian Watford nailed a jumper in the lane and was fouled by Adriean Payne in the act of shooting. Watford nailed the free throw to cut the MSU lead to one. After a Keith Appling missed free throw, Indiana called a timeout with 1:09 left. Out of the timeout, with 47 seconds remaining, Oladipo scored a go-ahead putback off a Kevin Ferrell missed layup to give the Hoosier a 68-67 lead. Michigan State head coach Tom Izzo followed the Oladipo bucket with a timeout of his own. With 19 seconds remaining, MSU freshman Gary Harris drove hard to the basket and missed a layup on a questionable no-call to give the Hoosiers the ball back. Indiana head coach Tom Crean drew up an amazing out-of-bounds play to get Oladipo a wide open dunk to extend the IU lead to70-67 with 10 seconds left. Harris had an opportunity to tie the game when he was fouled on a 3-point attempt by Will Sheehey with 3.7 seconds left. The freshman missed the first shot, made the second and purposely missed the third in an attempt for the Spartans to grab a rebound, but Oladipo beat them to the punch as he had done all night long. MSU went 2-of-5 from the charity stripe in the final 1:38 — Harris missed three and Appling missed one. Adreian Payne had a huge game in the Spartans 72-68 loss over top-ranked Indiana on Tuesday night. (AP PHOTO) The Hoosiers (24-3, 12-2) now have sole possession of first-place in the Big Ten with tonight's victory and they've completed the season sweep against the Spartans. Cody Zeller finished with 17 points on 7-of-15 shooting and grabbed five boards. Jordan Hulls went 4-of-6 from downtown for 12 points and  Christian Watford added 12 points as well. Payne led the way for MSU with 17 points on 6-of-8 shooting and added 7 rebounds. Despite missing key free throws and shooting 1-of-5 from beyond the arc, Harris finished the game with 19 points and three steals. Michigan State didn't get very much production from Appling and Branden Dawson, two guys that have been pivotal to the Spartans success thus far. Appling — MSU's leading scorer with 14.1 ppg — went 1-of-8 from the field with for six points and four turnovers, and Dawson went 4-of-8 for eight points and three turnovers. With only four Big Ten games left, the Hoosiers control their own destiny as they play Minnesota (away), Iowa (home), Ohio State (home) and Michigan (away). Michigan State has a grueling end to their season with road games against Ohio State and Michigan coming up, and then home games vs. Wisconsin and Northwestern.      
Original Story:
http://feedproxy.google.com/~r/isport...
THE BACKYARD
BEST OF MAXIM
RELATED ARTICLES
The Indiana Hoosiers showed why they are the #1 team and the favorite to win this year's  NCAA Championship in March Madness as they went into a hostile Breslin Center and stopped Michigan State's 17 game home winning streak 72-68.  The game marked the first time two top-five teams have met at the Breslin Center. The Hoosiers did something the rest of the Big Ten teams have...
Disclaimer: I find it pretty ridiculous that I am writing these words. I find it even more outrageous that I spent a good portion of my afternoon watching a nine-second video over and over and over again to try to determine if Derrick Nix did or did not hit Indiana's Cody Zeller on purpose Tuesday night. But with that being said, it's an interesting topic for debate the day after...
Will Sheehey finished a perfect 9-of-9 from the field en route to a career-high 22 points in Saturday's blowout win against the Boilermakers. That 9-of-9 mark set an Indiana record for most makes without a miss. Sheehey scored on the break and in Indiana's halfcourt offense — often making smart reads from the wing to sneak around the defense and score. A look at three smart...
EAST LANSING, Mich. — Victor Oladipo (19 points, nine rebounds, five steals), Cody Zeller (17 points, five rebounds, two blocks), Christian Watford (12 points) and Jordan Hulls (12 points) met with the media following Indiana's 72-68 win at Michigan State on Tuesday. Watch and listen to their postgame comments in the embedded media players below:
Indiana found itself down four points with under two minutes to play, but escaped East Lansing with its first victory since 1991 because it out-executed the Spartans down the stretch. A detailed look at how it went down in the latest edition of Film Session: I. WATFORD'S AND-1 Jordan Hulls comes up to the top of the key and receives a pass from Yogi Ferrell after he brought the...
Tonight, the Michigan St Spartans host the Indiana Hoosiers in what is being billed as the biggest game of the year in the B1G, until next week. Anyway, Sparty fans are pretty pumped up about this game, and their fans are taking to Twitter, even priests. This is an actual tweet by Father Joseph Krupp of the Sacred Heart Catholic Church in Hillsdale, MI. It isn't the best usage...
Victor Oladipo's 19 points, nine rebounds and five steals led Indiana to a 72-68 win over Michigan State and into first place in the Big Ten. Five takeaways » Albers column » The Minute After » Video: Crean reacts » Video: Players react » Video: Izzo on loss »
Around the Hall is recommended reading from the Inside the Hall staff. (Photo credit: Joe Eke/IU Athletics) · Robert Mays of Grantland writes that he can't remember watching a player whose "activity is so consistently useful" as that of Victor Oladipo. · Eamonn Brennan of ESPN.com writes that balance and depth and experience and leadership were all on full display for...
EAST LANSING, Mich. On two legs, Victor Oladipo might be the best player in college basketball. As it turns out, the Indiana junior guard isn't bad on one leg, either. Playing on a sprained ankle, Oladipo capped a big game by scoring six points in the final 45 seconds, allowing top-ranked Indiana to escape with its first win at Michigan State in 22 years, 72-68 on Tuesday...
When you have the No. 1 and No. 4 teams meet you know--or at least hope--that you are going to have a great game on your hands. Fans that did tune in for the IU/MSU match up Tuesday night got just that. With a little about a minute and a half left in the game the Spartans held a four point lead on the Hoosiers. Indiana must not have wanted to see if they could lose and still...
EAST LANSING, Mich. — Tom Crean met with the media following Indiana's 72-68 win over Michigan State on Tuesday at the Breslin Center. Watch and listen to his postgame comments in the embedded media player below: Quotes after the jump. Opening statement "Sometimes these games don't live up to the hype. We played Michigan at home a few weeks ago for College Gameday and it...
EAST LANSING, Mich. — Indiana moved to 6-1 in Big Ten road games with Tuesday night's 72-68 win over Michigan State at the Breslin Center, the first win for the program in East Lansing since 1991. The Hoosiers have won fourth straight overall and now sit a game ahead of the Spartans in the Big Ten standings. Here's a look at five takeaways from IU's second win over Michigan...
Hoosiers News

Delivered to your inbox

You'll also receive Yardbarker's daily Top 10, featuring the best sports stories from around the web. Customize your newsletter to get articles on your favorite sports and teams. And the best part? It's free!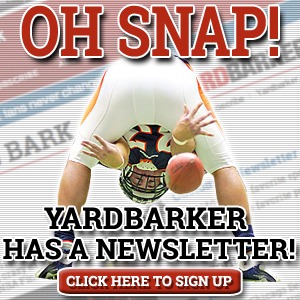 Latest Rumors
Best of Yardbarker

Today's Best Stuff

For Bloggers

Join the Yardbarker Network for more promotion, traffic, and money.

Company Info

Help

What is Yardbarker?

Yardbarker is the largest network of sports blogs and pro athlete blogs on the web. This site is the hub of the Yardbarker Network, where our editors and algorithms curate the best sports content from our network and beyond.