Found April 04, 2013 on Gamedayr:
Via Gamedayr:
For those of you who missed the College Baskeball Slam Dunk Contest, well, we don't feel bad for you, but we're worried about your health.
Everyone should be spoon-fed a dose of Doug Anderson highlight tapes on a nightly basis. The Detroit star was in Atlanta, the site of the 2013 Final Four, on Thursday night for the dunk contest festivities.
And he absolutely stole the show.
Anderson rocked a 360, through-the-legs slam on his very first attempt en route to winning the whole thing.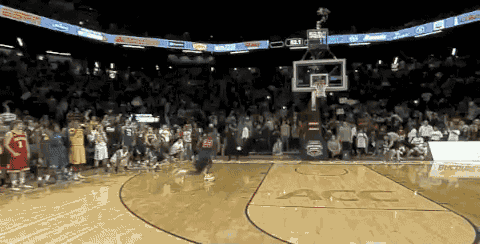 If you aren't impressed yet, here are all four of his dunks that won him the title belt. Simply put, Anderson has got some mad hops.
Top video via Big Lead Sports, GIF via Bleacher Report, Bottom video via ESPN YouTube
Read More:
http://gamedayr.com/gamedayr/video-of...
THE BACKYARD
RELATED ARTICLES
If you missed him on Sportscenter's Top 10 throughout the year, Detroit's Doug Anderson has some harsh feelings towards basketball rims. They stole his lunch money. They picked on him through his awkward years. They would yell "Kool-Aid!" when his momma walked by wearing red. And now he takes out his anger on each and every rim he comes across. Poor, poor rims. Four tremendous...
If you don't like the NBA Slam Dunk contest, you probably appreciated the college slam dunk contest where Detroit-Mercy Titan's Doug Anderson put on a show. It would be difficult to argue against him as being better than everyone else in the NBA with what he calls 'in game dunks.' Check out his final dunk that gave him the title: Unreal. You can checkout the rest of his dunks...
There are some people who can dunk, and then there are dunkers. Doug Anderson is a real man who came to the 2013 State Farm College Slam Dunk Contest with some simple intentions. I'm gonna dunk this basketball, real real hard. I'm gonna jump real real high. I'm going to do dunks that I could do [...]The post Detroit's Doug Anderson Put One Of The Better Slam Dunk Performances...
Doug Anderson of Detroit Mercy introduced himself to the world Thursday night during the College Dunk Contest in Atlanta. Anderson scored perfect scores on each of his attempts and capped it all off with this impressive 360-degree, between the legs dunk that brought home the crown.The post Doug Anderson went with a 360-degree, between the legs dunk to win the College Dunk Contest...
Detroit's Doug Anderson puts on a show during the College Slam Dunk competition en route to a runaway win. Shaming the NBA All-Star weekend single-handedly. **Follow us on Twitter or Facebook.... Full story at Bob's Blitz ~ http://www.bobsblitz.com
University of Detroit guard Doug Anderson wowed the crowd (and now the World Wide Web) with the insane dunk in the video below to win the College Slam Dunk Competition, one of the events in Atlanta leading up to this weekend's Final Four. After watching this what the NBA needs to do is clear. Take the million that Magic has offered and whatever anyone else want to throw in...
University of Detroit Mercy's Doug Anderson, Mott CC alum, knows how to dunk a basketball. That's to put it as boringly as possible. Because his dunks were not boring.  Here's his 4th dunk of the college slam dunk competition, which won him the competition quite easily:  For a look at his other three dunks, all perfect scores, head over to It's Always...
Wow. Just wow. Sorry LeBron but you have nothing on University of Detroit's Doug Anderson.
University of Detroit Mercy high-riser Doug Anderson wrecked the competition with four dunks on his way to winning the College Slam Dunk contest.  He received perfect 40′s straight through the competition and  - most impressively – only needed one try for each of his dunks. ESPN's Jimmy Dykes called him a "1-seed" going up against all "16-seeds" in comparison to his...
Doug Anderson played for the University of Detroit this season. You probably didn't know him before, but I bet you know him now.  Has this dunk ever been done before? Anderson has a reputation with hard-core college basketball fans, as one of the best dunkers in college and he surely didn't disappoint with this dunk. FYI, Dick Vitale use to be the head coach at the University of Detroit.
University of Detroit's Doug Anderson pulled off an amazing dunk at the college dunk contest this year:   [youtube]u6SUgFfiAA[/youtube]   Big up: Gamedayr
You know how LeBron James is always playing that worn out routine of "Maybe I should be in the Slam Dunk Contest this year…" and us basketball fans are like, "Please, oh, please LeBron, would ya do that, King? Would ya?" and he's like, "Wellllllllllllll maybe if someone paid me a million dollars…" and then you and I pull out our pockets and fight over who gets to...
Titans News

Delivered to your inbox

You'll also receive Yardbarker's daily Top 10, featuring the best sports stories from around the web. Customize your newsletter to get articles on your favorite sports and teams. And the best part? It's free!
RUMORS & GOSSIP
It was only a matter of time.  Only a matter of time before someone on First Take said something stupid enough to drag the show's carcass back into the headlines.  This time, it wasn't Skip Bayless, nor even the ghost of Rob Parker.  It was Stephen A. Smith and his comments on women "provoking" assault. In case you were away from social media Friday, Smith clumsily talked...
According to John Heyman of CBS sports has reported that the Red Sox have traded pitcher Jake Peavy to the Giants for minor league pitcher named at a later date.  The Giants have bolstered up their pitching rotation for the stretch run with and individual who has World Series experience.  Peavy earned that ring  just a year ago. peavy is 14-2 lifetime with 2.21 era (& .199...
When LeBron James announced he was making his triumphant return back to Ohio to once again play for the hometown Cleveland Cavaliers, the city and region was lifted into a state of sports euphoria that it likely has not come down from yet. The fans, the media, the municipal and government offices — pretty much […] The post Ohio newspaper posts job listing for 'Sports Reporter...
A female student at Oklahoma is accusing incoming freshman running back Joe Mixon of breaking her face in four places with one punch during an incident at a restaurant early Friday morning, according to a report. No arrests have been made in the situation and police are only investigating the claims of the 20-year-old woman, […]
ESPN's Chris Mortensen reports that a portion of Marshawn Lynch's $6 million signing bonus could be in jeopardy if the Seahawks were to take a "hard line" stance regarding his current holdout. Mortensen fully expects Seattle to take a "hard line" stance with Lynch regarding this matter. Lynch could also lose $30,000 per day for skipping training camp to go along...
Texas and Texas A&M are in different conferences and apparently the school's football coaches operate differently when it comes to player discipline, too.  Charlie Strong kicks players off his team, Kevin Sumlin likes to keep them around and turn them into men. That seems to be the opinion of the Aggies' coach, anyway.  Sumlin said it's easy to kick a guy off the team...
Chicago Bulls star center Joakim Noah is happy that LeBron James is back with the Cleveland Cavaliers — but he's already started trash talking. "I'm happy for LeBron James," Noah told the Chicago Tribune. "He gets to go home. People are happy over there. But I really hope that we can kick his ass as many times as possible."
Darrelle Revis is enjoying his time with the New England Patriots, but that's not what he originally had in mind. The All-Pro cornerback admitted to the New York Daily News that he originally had his agent reach out to the New York Jets for a reunion but that they weren't interested in taking him back. Still, though the Jets were his first choice, he isn't disappointed in the...
Earlier today, I wrote for Sports Rumor Alert that the St. Louis Cardinals, who are in need of a catcher, were interested in trading for Minnesota Twins' Kurt Suzuki. The Cardinals appear to be moving in a different direction, however.The Cardinals are working on a deal with recently released catcher A.J. Pierzynski, according to Derrick Goold of the St. Louis Post-Dispatch....
The Knicks made an offer for Kevin Love The New York Knicks at least tried to get involved in the Kevin Love sweepstakes. I'm sure the phone call took less than five minutes, but according to Chris Herring of the Wall Street Journal, the Knicks reportedly offered Amar'e Stoudemire, Tim Hardaway Jr. and Iman Shumpert for Minnesota Timberwolves star Kevin Love. The Knicks recently...
Latest Rumors
The Backyard

Today's Best Stuff

For Bloggers

Join the Yardbarker Network for more promotion, traffic, and money.

Company Info

Help

What is Yardbarker?

Yardbarker is the largest network of sports blogs and pro athlete blogs on the web. This site is the hub of the Yardbarker Network, where our editors and algorithms curate the best sports content from our network and beyond.