Found April 04, 2013 on Gamedayr:
Via Gamedayr:
For those of you who missed the College Baskeball Slam Dunk Contest, well, we don't feel bad for you, but we're worried about your health.
Everyone should be spoon-fed a dose of Doug Anderson highlight tapes on a nightly basis. The Detroit star was in Atlanta, the site of the 2013 Final Four, on Thursday night for the dunk contest festivities.
And he absolutely stole the show.
Anderson rocked a 360, through-the-legs slam on his very first attempt en route to winning the whole thing.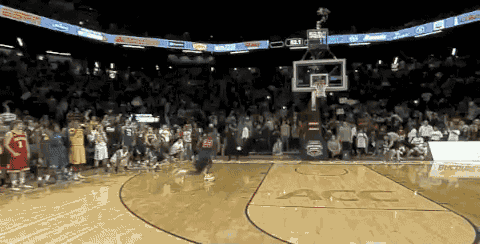 If you aren't impressed yet, here are all four of his dunks that won him the title belt. Simply put, Anderson has got some mad hops.
Top video via Big Lead Sports, GIF via Bleacher Report, Bottom video via ESPN YouTube
Read More:
http://gamedayr.com/gamedayr/video-of...
THE BACKYARD
RELATED ARTICLES
If you missed him on Sportscenter's Top 10 throughout the year, Detroit's Doug Anderson has some harsh feelings towards basketball rims. They stole his lunch money. They picked on him through his awkward years. They would yell "Kool-Aid!" when his momma walked by wearing red. And now he takes out his anger on each and every rim he comes across. Poor, poor rims. Four tremendous...
If you don't like the NBA Slam Dunk contest, you probably appreciated the college slam dunk contest where Detroit-Mercy Titan's Doug Anderson put on a show. It would be difficult to argue against him as being better than everyone else in the NBA with what he calls 'in game dunks.' Check out his final dunk that gave him the title: Unreal. You can checkout the rest of his dunks...
There are some people who can dunk, and then there are dunkers. Doug Anderson is a real man who came to the 2013 State Farm College Slam Dunk Contest with some simple intentions. I'm gonna dunk this basketball, real real hard. I'm gonna jump real real high. I'm going to do dunks that I could do [...]The post Detroit's Doug Anderson Put One Of The Better Slam Dunk Performances...
Doug Anderson of Detroit Mercy introduced himself to the world Thursday night during the College Dunk Contest in Atlanta. Anderson scored perfect scores on each of his attempts and capped it all off with this impressive 360-degree, between the legs dunk that brought home the crown.The post Doug Anderson went with a 360-degree, between the legs dunk to win the College Dunk Contest...
Detroit's Doug Anderson puts on a show during the College Slam Dunk competition en route to a runaway win. Shaming the NBA All-Star weekend single-handedly. **Follow us on Twitter or Facebook.... Full story at Bob's Blitz ~ http://www.bobsblitz.com
University of Detroit guard Doug Anderson wowed the crowd (and now the World Wide Web) with the insane dunk in the video below to win the College Slam Dunk Competition, one of the events in Atlanta leading up to this weekend's Final Four. After watching this what the NBA needs to do is clear. Take the million that Magic has offered and whatever anyone else want to throw in...
University of Detroit Mercy's Doug Anderson, Mott CC alum, knows how to dunk a basketball. That's to put it as boringly as possible. Because his dunks were not boring.  Here's his 4th dunk of the college slam dunk competition, which won him the competition quite easily:  For a look at his other three dunks, all perfect scores, head over to It's Always...
Wow. Just wow. Sorry LeBron but you have nothing on University of Detroit's Doug Anderson.
University of Detroit Mercy high-riser Doug Anderson wrecked the competition with four dunks on his way to winning the College Slam Dunk contest.  He received perfect 40′s straight through the competition and  - most impressively – only needed one try for each of his dunks. ESPN's Jimmy Dykes called him a "1-seed" going up against all "16-seeds" in comparison to his...
Doug Anderson played for the University of Detroit this season. You probably didn't know him before, but I bet you know him now.  Has this dunk ever been done before? Anderson has a reputation with hard-core college basketball fans, as one of the best dunkers in college and he surely didn't disappoint with this dunk. FYI, Dick Vitale use to be the head coach at the University of Detroit.
University of Detroit's Doug Anderson pulled off an amazing dunk at the college dunk contest this year:   [youtube]u6SUgFfiAA[/youtube]   Big up: Gamedayr
You know how LeBron James is always playing that worn out routine of "Maybe I should be in the Slam Dunk Contest this year…" and us basketball fans are like, "Please, oh, please LeBron, would ya do that, King? Would ya?" and he's like, "Wellllllllllllll maybe if someone paid me a million dollars…" and then you and I pull out our pockets and fight over who gets to...
RUMORS & GOSSIP
The Boston Celtics made an incredibly difficult decision by trading both Kevin Garnett and Paul Pierce last offseason, and it tore the hearts out of most Boston fans. According to a report from Ben Rohrbach, the Celtics could very well bring back Pierce this offseason at the right price and situation. If the Celtics were able to bring Pierce back to Boston, it would certainly be...
George Willis of the New York Post is reporting that current TNT basketball analyst Steve Kerr is expecting an offer from the New York Knicks to become their next head coach and is prepared to accept the position. A source close to Kerr stated he expects to get the opportunity and is already working behind the scenes with Turner Sports in case an offer comes.  According to...
Manny Pacquiao is a nice and generous guy, but there is a reason most people feel at some point he will end up broke. The problem with 50-man entourages is when you retire they quickly shrink to 5-man entourages. But, Manny was in a giving mood after beating Tim Bradley officially for the first time (unofficially for second time). Manny Pacquiao didn't waste any time spending his...
Tweet Dallas Mavericks owner Mark Cuban has never been shy. He also knows business, and thinks the Milwaukee Bucks were sold well below their value. The Bucks were sold by long-time owner Herb Kohl to a couple of investors for $550 million, about half of what Cuban believes NBA franchises are worth. "I think they got off cheap," Cuban said via ESPN Dallas. "I think that...
People keep asking. Danny Ainge keeps answering. And answering, and answering. Countless times over the past year, the Boston Celtics' president of basketball operations has been asked if he is planning to trade point guard Rajon Rondo. Invariably, Ainge has said no, although he adds the standard caveat about always keeping his options open for a deal that knocks him to the floor...
The New York Knicks are expected to target Pau Gasol during the NBA's free agency period, according to Marc J. Spears from Yahoo! Sports. At this point, the Knicks only have their midlevel exception to offer, which is worth around $3.2 million. Pau Gasol recently said that he would take a pay cut to play for […]The post Knicks To Pursue Pau Gasol In Free Agency appeared first on Hoops-Nation.
The latest report involving the Dodgers star right-fielder may be the most disturbing yet, and it sounds like something out of an Oliver Stone screenplay. USA Today is reporting that Yasiel Puig has been receiving recent threats on his life. The tale is being told by a Cuban boxer, Yunior Despaigne, who claims he defected Cuba with Puig and is fearful for his own safety, after...
TNT sideline reporter Craig Sager has acute leukemia and will begin treatment Friday, according to his son, Craig Sager II, who announced the news via Twitter Thursday. My Dad's 3-4-week acute leukemia treatment starts tmrw.Be thinking of him & let's get him back on the sidelines soon pic.twitter.com/5CNI55p2Gx — Craig Sager II (@CraigSagerJr) April 17, 2014 Craig Sager...
New York Mets Center Fielder Curtis Granderson will return to the line-up on Friday. His injury was minor; not very news worthy. Granderson's Thursday though, was extremely news worthy. Curtis returned to his native Chicago to open and christen Curtis Granderson Stadium, at the University of Illinois-Chicago. The new home to UIC Flames baseball is the largest alumni gift in UIC...
The San Francisco 49ers supposedly were prepared to give Colin Kaepernick a $100 million deal prior to his involvement in the sexual assault case. During a visit on "The Dan Patrick Show" Thursday, San Jose Mercury News columnist Tim Kawakami told DP that the Niners were prepared to give Kaepernick a $100 million deal prior […]
Latest Rumors
The Backyard

Today's Best Stuff

For Bloggers

Join the Yardbarker Network for more promotion, traffic, and money.

Company Info

Help

What is Yardbarker?

Yardbarker is the largest network of sports blogs and pro athlete blogs on the web. This site is the hub of the Yardbarker Network, where our editors and algorithms curate the best sports content from our network and beyond.