Found April 04, 2013 on Gamedayr:
Via Gamedayr:
For those of you who missed the College Baskeball Slam Dunk Contest, well, we don't feel bad for you, but we're worried about your health.
Everyone should be spoon-fed a dose of Doug Anderson highlight tapes on a nightly basis. The Detroit star was in Atlanta, the site of the 2013 Final Four, on Thursday night for the dunk contest festivities.
And he absolutely stole the show.
Anderson rocked a 360, through-the-legs slam on his very first attempt en route to winning the whole thing.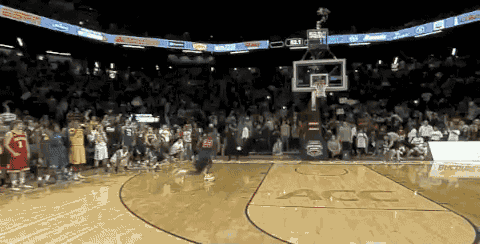 If you aren't impressed yet, here are all four of his dunks that won him the title belt. Simply put, Anderson has got some mad hops.
Top video via Big Lead Sports, GIF via Bleacher Report, Bottom video via ESPN YouTube
Read More:
http://gamedayr.com/gamedayr/video-of...
THE BACKYARD
RELATED ARTICLES
If you missed him on Sportscenter's Top 10 throughout the year, Detroit's Doug Anderson has some harsh feelings towards basketball rims. They stole his lunch money. They picked on him through his awkward years. They would yell "Kool-Aid!" when his momma walked by wearing red. And now he takes out his anger on each and every rim he comes across. Poor, poor rims. Four tremendous...
If you don't like the NBA Slam Dunk contest, you probably appreciated the college slam dunk contest where Detroit-Mercy Titan's Doug Anderson put on a show. It would be difficult to argue against him as being better than everyone else in the NBA with what he calls 'in game dunks.' Check out his final dunk that gave him the title: Unreal. You can checkout the rest of his dunks...
There are some people who can dunk, and then there are dunkers. Doug Anderson is a real man who came to the 2013 State Farm College Slam Dunk Contest with some simple intentions. I'm gonna dunk this basketball, real real hard. I'm gonna jump real real high. I'm going to do dunks that I could do [...]The post Detroit's Doug Anderson Put One Of The Better Slam Dunk Performances...
Doug Anderson of Detroit Mercy introduced himself to the world Thursday night during the College Dunk Contest in Atlanta. Anderson scored perfect scores on each of his attempts and capped it all off with this impressive 360-degree, between the legs dunk that brought home the crown.The post Doug Anderson went with a 360-degree, between the legs dunk to win the College Dunk Contest...
Detroit's Doug Anderson puts on a show during the College Slam Dunk competition en route to a runaway win. Shaming the NBA All-Star weekend single-handedly. **Follow us on Twitter or Facebook.... Full story at Bob's Blitz ~ http://www.bobsblitz.com
University of Detroit guard Doug Anderson wowed the crowd (and now the World Wide Web) with the insane dunk in the video below to win the College Slam Dunk Competition, one of the events in Atlanta leading up to this weekend's Final Four. After watching this what the NBA needs to do is clear. Take the million that Magic has offered and whatever anyone else want to throw in...
University of Detroit Mercy's Doug Anderson, Mott CC alum, knows how to dunk a basketball. That's to put it as boringly as possible. Because his dunks were not boring.  Here's his 4th dunk of the college slam dunk competition, which won him the competition quite easily:  For a look at his other three dunks, all perfect scores, head over to It's Always...
Wow. Just wow. Sorry LeBron but you have nothing on University of Detroit's Doug Anderson.
University of Detroit Mercy high-riser Doug Anderson wrecked the competition with four dunks on his way to winning the College Slam Dunk contest.  He received perfect 40′s straight through the competition and  - most impressively – only needed one try for each of his dunks. ESPN's Jimmy Dykes called him a "1-seed" going up against all "16-seeds" in comparison to his...
Doug Anderson played for the University of Detroit this season. You probably didn't know him before, but I bet you know him now.  Has this dunk ever been done before? Anderson has a reputation with hard-core college basketball fans, as one of the best dunkers in college and he surely didn't disappoint with this dunk. FYI, Dick Vitale use to be the head coach at the University of Detroit.
University of Detroit's Doug Anderson pulled off an amazing dunk at the college dunk contest this year:   [youtube]u6SUgFfiAA[/youtube]   Big up: Gamedayr
You know how LeBron James is always playing that worn out routine of "Maybe I should be in the Slam Dunk Contest this year…" and us basketball fans are like, "Please, oh, please LeBron, would ya do that, King? Would ya?" and he's like, "Wellllllllllllll maybe if someone paid me a million dollars…" and then you and I pull out our pockets and fight over who gets to...
RUMORS & GOSSIP
Outfielder George Springer is one of the top prospects in baseball and on Tuesday night news broke that the Houston Astros are finally set to bring him up to the big leagues in time for Wednesday's game. Springer earned a promotion after going 3-for-4 Tuesday night with a grand slam. He opened this season at Triple-A Oklahoma City, and has hit .353 with three home runs, nine RBIs...
credit: getty images Rolando McClain wants to continue his NFL career. A year after retiring the 24-year-old is back hoping to resume his career. On Tuesday he had a workout with the Baltimore Ravens. According to multiple sources including CBS Sports, the workout did not go well. McClain was out of shape and even showed up late. McClain was unable to finish his finish his conditioning...
One of the greatest collisions of baseball and pop culture occurred when Keith Hernandez appeared on Seinfeld in 1992. The former Mets first baseman was a guest-star on a one-hour episode titled "The Boyfriend," in which Jerry meets Hernandez and the two strike up a friendship (fueled by Seinfeld's man-crush). To commemorate the 25th anniversary of Seinfeld's TV debut, the...
After speaking with "several sources involved with the (team's) decision-making," Tim Kawakami of the San Jose Mercury News reports Aldon Smith "probably won't play for the 49ers in 2014." The star 6-4, 265-pound outside linebacker was arrested and released from jail late Sunday on $20,000 bond after allegedly making a false bomb threat at Los Angeles International Airport...
In December 1999, John Rocker's now infamous interview with Jeff Pearlman hit the pages of Sports Illustrated and it didn't take long for Hank Aaron to take notice. "To be honest with you, I was very sick and disgusted with the whole situation," the Atlanta Braves legend said.  "For someone in the situation of Mr. Rocker to make those statements is ridiculous.  I have...
Should we call this the Shabazz Napier rule? After Napier famously made it known that he goes to bed starving, prior to the NCAA Men's Championship game, the NCAA has decided to take action for their student-athletes eating habits. According to Sporting News, the Legislative Council decided that Division-1 student-athletes on scholarships and walk-ons can […]
OK, I know ranking the top 100 baseball players since expansion in 1961 is a daunting, tricky exercise wrought with endless debate. Yeah, but it..., OK, I know ranking the top 100 baseball players since expansion in 1961 is a daunting, tricky exercise wrought with endless debate. Yeah, but it...
At 33 years old, Eli Manning is no young quarterback. He's been an integral part of the Giants' roster since he joined the team, and he'll likely continue to be an integral part of the team for the next half decade or more. Still, he's at an age where the Giants need to begin considering their options in the post-Manning years. Will they throw everything they have at trying...
Malcolm Jenkins may be new to the NFC East, but he's got the rivalry aspect down pat. During an appearance on NFL Network, Jenkins, who signed a three-year contract with the Eagles last month, touched on his new divisional opponents. The veteran safety's comments were relatively benign; he questioned Robert Griffin III's durability and the Giants' ability to protect...
The Philadelphia Flyers are set to take on the New York Rangers in the opening round of the Stanley Cup Playoffs. The two teams have been fierce rivals for more than 30 years, and this will be the 11th time they have met in the postseason. In fact, they dislike each other so much that […]
Latest Rumors
The Backyard

Today's Best Stuff

For Bloggers

Join the Yardbarker Network for more promotion, traffic, and money.

Company Info

Help

What is Yardbarker?

Yardbarker is the largest network of sports blogs and pro athlete blogs on the web. This site is the hub of the Yardbarker Network, where our editors and algorithms curate the best sports content from our network and beyond.