Found April 04, 2013 on Gamedayr:
Via Gamedayr:
For those of you who missed the College Baskeball Slam Dunk Contest, well, we don't feel bad for you, but we're worried about your health.
Everyone should be spoon-fed a dose of Doug Anderson highlight tapes on a nightly basis. The Detroit star was in Atlanta, the site of the 2013 Final Four, on Thursday night for the dunk contest festivities.
And he absolutely stole the show.
Anderson rocked a 360, through-the-legs slam on his very first attempt en route to winning the whole thing.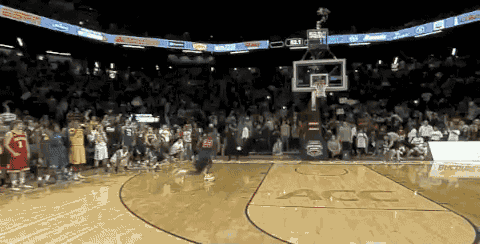 If you aren't impressed yet, here are all four of his dunks that won him the title belt. Simply put, Anderson has got some mad hops.
Top video via Big Lead Sports, GIF via Bleacher Report, Bottom video via ESPN YouTube
Read More:
http://gamedayr.com/gamedayr/video-of...
THE BACKYARD
RELATED ARTICLES
If you missed him on Sportscenter's Top 10 throughout the year, Detroit's Doug Anderson has some harsh feelings towards basketball rims. They stole his lunch money. They picked on him through his awkward years. They would yell "Kool-Aid!" when his momma walked by wearing red. And now he takes out his anger on each and every rim he comes across. Poor, poor rims. Four tremendous...
If you don't like the NBA Slam Dunk contest, you probably appreciated the college slam dunk contest where Detroit-Mercy Titan's Doug Anderson put on a show. It would be difficult to argue against him as being better than everyone else in the NBA with what he calls 'in game dunks.' Check out his final dunk that gave him the title: Unreal. You can checkout the rest of his dunks...
There are some people who can dunk, and then there are dunkers. Doug Anderson is a real man who came to the 2013 State Farm College Slam Dunk Contest with some simple intentions. I'm gonna dunk this basketball, real real hard. I'm gonna jump real real high. I'm going to do dunks that I could do [...]The post Detroit's Doug Anderson Put One Of The Better Slam Dunk Performances...
Doug Anderson of Detroit Mercy introduced himself to the world Thursday night during the College Dunk Contest in Atlanta. Anderson scored perfect scores on each of his attempts and capped it all off with this impressive 360-degree, between the legs dunk that brought home the crown.The post Doug Anderson went with a 360-degree, between the legs dunk to win the College Dunk Contest...
Detroit's Doug Anderson puts on a show during the College Slam Dunk competition en route to a runaway win. Shaming the NBA All-Star weekend single-handedly. **Follow us on Twitter or Facebook.... Full story at Bob's Blitz ~ http://www.bobsblitz.com
University of Detroit guard Doug Anderson wowed the crowd (and now the World Wide Web) with the insane dunk in the video below to win the College Slam Dunk Competition, one of the events in Atlanta leading up to this weekend's Final Four. After watching this what the NBA needs to do is clear. Take the million that Magic has offered and whatever anyone else want to throw in...
University of Detroit Mercy's Doug Anderson, Mott CC alum, knows how to dunk a basketball. That's to put it as boringly as possible. Because his dunks were not boring.  Here's his 4th dunk of the college slam dunk competition, which won him the competition quite easily:  For a look at his other three dunks, all perfect scores, head over to It's Always...
Wow. Just wow. Sorry LeBron but you have nothing on University of Detroit's Doug Anderson.
University of Detroit Mercy high-riser Doug Anderson wrecked the competition with four dunks on his way to winning the College Slam Dunk contest.  He received perfect 40′s straight through the competition and  - most impressively – only needed one try for each of his dunks. ESPN's Jimmy Dykes called him a "1-seed" going up against all "16-seeds" in comparison to his...
Doug Anderson played for the University of Detroit this season. You probably didn't know him before, but I bet you know him now.  Has this dunk ever been done before? Anderson has a reputation with hard-core college basketball fans, as one of the best dunkers in college and he surely didn't disappoint with this dunk. FYI, Dick Vitale use to be the head coach at the University of Detroit.
University of Detroit's Doug Anderson pulled off an amazing dunk at the college dunk contest this year:   [youtube]u6SUgFfiAA[/youtube]   Big up: Gamedayr
You know how LeBron James is always playing that worn out routine of "Maybe I should be in the Slam Dunk Contest this year…" and us basketball fans are like, "Please, oh, please LeBron, would ya do that, King? Would ya?" and he's like, "Wellllllllllllll maybe if someone paid me a million dollars…" and then you and I pull out our pockets and fight over who gets to...
RUMORS & GOSSIP
The New York Knicks are about to undergo a major overhaul and it could affect more than just the coaching staff.  ESPN New York's Ian Begley is reporting that Knicks President Phil Jackson was extremely disappointed in the Knicks overall conditioning as a team. Jackson told his players to expect personnel changes this summer and he reportedly also expects them to return in much...
San Francisco 49ers' 2013 fourth round draft pick Marcus Lattimore says he's healthy enough to play, and ready for a chance to prove he deserves to be on the field. Lattimore says he's fully recovered from the gruesome knee injury that he suffered in college, and the running back is ready to show coach Jim Harbaugh that he deserves to play. "If he wants to put me in, he'll...
The Nets' 94-87 victory over the Raptors in Game 1 of their best-of-seven first round series had a lot of Brooklyn fans tweeting their joy at the win — all except one. Kind of.The win was surprising considering the fact that super sub and mid-game spark-plug Andrei Kirilenko didn't play a single minute for Brooklyn.And it appears his wife, Russian pop singer Masha Lopatova...
Charles Barkley called out the indiana Pacers on Sunday. During TNT's NBA playoff coverage, Chuck called Indiana "dogs" and "wussies."
The Associated Press Baltimore Ravens' head coach John Harbaugh was honored by the University of Miami (Ohio) on Saturday when he was inducted into the school's Cradle of Coaches.  Harbaugh unveiled the bronze statue which shows him with his right arm raised in triumph. Harbaugh said the pose was a 'winning pose' and he  likes it very much. "I like the pose," he said...
Boxer Rubin "Hurricane" Carter, who spent 19 years in prison for three murders that he didn't commit, died at age 76 after suffering from prostate cancer. Carter's story symbolized racial injustice. Academy Award-winning actor Denzel Washington portrayed the boxer in the 1999 movie The Hurricane. Bob Dylan told Carter's story in the 1975 song "Hurricane." Carter was...
According to ESPN, the Houston Rockets are confident that they can make the moves necessary in order to sign upcoming free agent Carmelo Anthony. In order to free up enough cap space, the Rockets would have to trade Omer Asik and/or Jeremy Lin. With the NBA's salary cap projected to rise $5 million, the Rockets have […]The post Rockets Confident About Signing Carmelo Anthony...
getty images The New York Yankees suffered a 16-1 loss to Tampa Bay on Saturday but the worst part of it is an injury suffered by starting pitcher Ivan Nova. Nova, 27, left the game after four innings in which he allowed eight runs on eight hits and a walk. Of the eight hits, four were home runs. Nova also struck out four. He threw 82 pitches for the Yankees in the game before the...
A source with knowledge of the situation tells Andrew Abramson of the Palm Beach Post that the Dolphins want to go "heavy on offense" in this year's NFL draft and are considering their options at running back and wide receiver. Interestingly enough, Abramson's source mentioned that if the Dolphins were to draft a receiver, it would likely lead to Miami parting ways...
Former Pittsburgh Panthers quarterback Tom Savage is arguably the fastest-rising prospect in the entire 2014 NFL Draft class. Over the last month, he's emerged from a projected third-day selection (fourth to seventh round) to a potential late first round/early second round pick. On Thursday, it was announced that Savage had received an invitation to attend the draft (May 8-10)...
Latest Rumors
The Backyard

Today's Best Stuff

For Bloggers

Join the Yardbarker Network for more promotion, traffic, and money.

Company Info

Help

What is Yardbarker?

Yardbarker is the largest network of sports blogs and pro athlete blogs on the web. This site is the hub of the Yardbarker Network, where our editors and algorithms curate the best sports content from our network and beyond.