Found April 04, 2013 on Gamedayr:
Via Gamedayr:
For those of you who missed the College Baskeball Slam Dunk Contest, well, we don't feel bad for you, but we're worried about your health.
Everyone should be spoon-fed a dose of Doug Anderson highlight tapes on a nightly basis. The Detroit star was in Atlanta, the site of the 2013 Final Four, on Thursday night for the dunk contest festivities.
And he absolutely stole the show.
Anderson rocked a 360, through-the-legs slam on his very first attempt en route to winning the whole thing.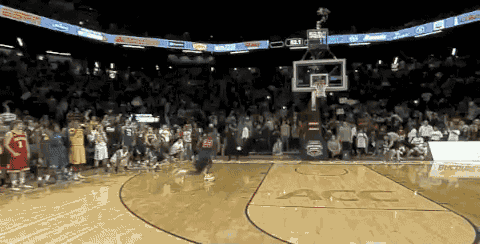 If you aren't impressed yet, here are all four of his dunks that won him the title belt. Simply put, Anderson has got some mad hops.
Top video via Big Lead Sports, GIF via Bleacher Report, Bottom video via ESPN YouTube
Read More:
http://gamedayr.com/gamedayr/video-of...
THE BACKYARD
RELATED ARTICLES
If you missed him on Sportscenter's Top 10 throughout the year, Detroit's Doug Anderson has some harsh feelings towards basketball rims. They stole his lunch money. They picked on him through his awkward years. They would yell "Kool-Aid!" when his momma walked by wearing red. And now he takes out his anger on each and every rim he comes across. Poor, poor rims. Four tremendous...
If you don't like the NBA Slam Dunk contest, you probably appreciated the college slam dunk contest where Detroit-Mercy Titan's Doug Anderson put on a show. It would be difficult to argue against him as being better than everyone else in the NBA with what he calls 'in game dunks.' Check out his final dunk that gave him the title: Unreal. You can checkout the rest of his dunks...
There are some people who can dunk, and then there are dunkers. Doug Anderson is a real man who came to the 2013 State Farm College Slam Dunk Contest with some simple intentions. I'm gonna dunk this basketball, real real hard. I'm gonna jump real real high. I'm going to do dunks that I could do [...]The post Detroit's Doug Anderson Put One Of The Better Slam Dunk Performances...
Doug Anderson of Detroit Mercy introduced himself to the world Thursday night during the College Dunk Contest in Atlanta. Anderson scored perfect scores on each of his attempts and capped it all off with this impressive 360-degree, between the legs dunk that brought home the crown.The post Doug Anderson went with a 360-degree, between the legs dunk to win the College Dunk Contest...
Detroit's Doug Anderson puts on a show during the College Slam Dunk competition en route to a runaway win. Shaming the NBA All-Star weekend single-handedly. **Follow us on Twitter or Facebook.... Full story at Bob's Blitz ~ http://www.bobsblitz.com
University of Detroit guard Doug Anderson wowed the crowd (and now the World Wide Web) with the insane dunk in the video below to win the College Slam Dunk Competition, one of the events in Atlanta leading up to this weekend's Final Four. After watching this what the NBA needs to do is clear. Take the million that Magic has offered and whatever anyone else want to throw in...
University of Detroit Mercy's Doug Anderson, Mott CC alum, knows how to dunk a basketball. That's to put it as boringly as possible. Because his dunks were not boring.  Here's his 4th dunk of the college slam dunk competition, which won him the competition quite easily:  For a look at his other three dunks, all perfect scores, head over to It's Always...
Wow. Just wow. Sorry LeBron but you have nothing on University of Detroit's Doug Anderson.
University of Detroit Mercy high-riser Doug Anderson wrecked the competition with four dunks on his way to winning the College Slam Dunk contest.  He received perfect 40′s straight through the competition and  - most impressively – only needed one try for each of his dunks. ESPN's Jimmy Dykes called him a "1-seed" going up against all "16-seeds" in comparison to his...
Doug Anderson played for the University of Detroit this season. You probably didn't know him before, but I bet you know him now.  Has this dunk ever been done before? Anderson has a reputation with hard-core college basketball fans, as one of the best dunkers in college and he surely didn't disappoint with this dunk. FYI, Dick Vitale use to be the head coach at the University of Detroit.
University of Detroit's Doug Anderson pulled off an amazing dunk at the college dunk contest this year:   [youtube]u6SUgFfiAA[/youtube]   Big up: Gamedayr
You know how LeBron James is always playing that worn out routine of "Maybe I should be in the Slam Dunk Contest this year…" and us basketball fans are like, "Please, oh, please LeBron, would ya do that, King? Would ya?" and he's like, "Wellllllllllllll maybe if someone paid me a million dollars…" and then you and I pull out our pockets and fight over who gets to...
Titans News

Delivered to your inbox

You'll also receive Yardbarker's daily Top 10, featuring the best sports stories from around the web. Customize your newsletter to get articles on your favorite sports and teams. And the best part? It's free!
RUMORS & GOSSIP
AP Image Roddy White is set to end his career with the Atlanta Falcons.  The team announced on Thursday that White has agreed a four-year contract extension that will keep him in Georgia for another five years. ESPN NFL Insider Adam Schefter reports that White's new deal is worth up to $30 million with $18 million being paid over the next two years. Falcons WR Roddy White's...
Ohio's NBA franchise might need to rename itself the "Cleveland Heat." Many of LeBron James' former Miami teammates are opting to follow him to the Cavaliers -- Mike Miller and James Jones signed with the Cavs last week, and now it looks like another 3 point sharp shooter could be joining them in Northern Ohio. The Boston Globe's Gary Washburn is reporting that...
Former NHL enforcer Patrick Cote played 105 games in the NHL over the course of six seasons with three NHL franchises (Dallas Stars, Nashville Predators and the Edmonton Oilers). Now, Cote has been sentenced to 30 months in prison after confessing to robbing two banks in the Quebec area. CJAD 800 AM in Montreal had […] The post Former NHL Enforcer Confesses To Robbing Two Banks...
University of Georgia wide receiver recruit Darnell Salomon certainly didn't make a great impression during a recent visit to the school. The Hialeah, Fla., native was accused of felony burglary by two female athletes who reported that an unknown male entered their suite in the school's Busbee Hall on Saturday morning and stole an iPhone 5 and a wallet, according to a police...
Former Oakland Athletics slugger Jose Canseco attempted to make good with his old team this past weekend. Canseco was on hand for the 25th anniversary of the A's 1989 World Series team at O.co in Oakland on Saturday.  Mark McGwire, who couldn't make it to the event because he is currently a coach with the Los Angeles Dodgers, isn't having any of it. The one-time single-season...
If Chael Sonnen (pictured) was even remotely thinking of coming out of retirement, the former UFC middleweight top contender will have to wait at least two years to do so. During Wednesday's hearing, the Nevada State Athletic Commission voted unanimously to suspended Sonnen for 24 months for flunking two random drug tests. The 37-year-old must also reimburse the committee for...
The most anticipated light heavyweight rematch in UFC history will once again have to wait. On Wednesday, it was announced Alexander Gustafsson has to withdraw from his September 27 sequel against champion Jon Jones due to undisclosed injury. Don't rip up your UFC 178 tickets just yet. Daniel Cormier (pictured) has agreed to serve as substitute. It's no secret there's no love...
The Detroit Tigers have reached an agreement with the Texas Rangers that will send Joakim Soria to the Tigers in exchange for prospects Jake Thompson and Corey Knebel. Kyle Bogenschutz was first to report the news on Twitter. The trade is pending physicals of all players involved. Thompson and Knebel were rated among Detroit's ten best prospects coming into the year per Baseball...
Will Muschamp got excited, sent this tweet, then deleted it.
Kansas City Chiefs running back Jamaal Charles is reportedly on his way to training camp after the two sides agreed to a long-term contract extension on Wedensday.  Jamaal Charles and the #Chiefs have struck a deal, source says. He's heading to camp now. — Ian Rapoport (@RapSheet) July 23, 2014 Charles was a holdout for all of about 30 minutes prior to reportedly agreeing to...
Latest Rumors
The Backyard

Today's Best Stuff

For Bloggers

Join the Yardbarker Network for more promotion, traffic, and money.

Company Info

Help

What is Yardbarker?

Yardbarker is the largest network of sports blogs and pro athlete blogs on the web. This site is the hub of the Yardbarker Network, where our editors and algorithms curate the best sports content from our network and beyond.