Found April 04, 2013 on Gamedayr:
Via Gamedayr:
For those of you who missed the College Baskeball Slam Dunk Contest, well, we don't feel bad for you, but we're worried about your health.
Everyone should be spoon-fed a dose of Doug Anderson highlight tapes on a nightly basis. The Detroit star was in Atlanta, the site of the 2013 Final Four, on Thursday night for the dunk contest festivities.
And he absolutely stole the show.
Anderson rocked a 360, through-the-legs slam on his very first attempt en route to winning the whole thing.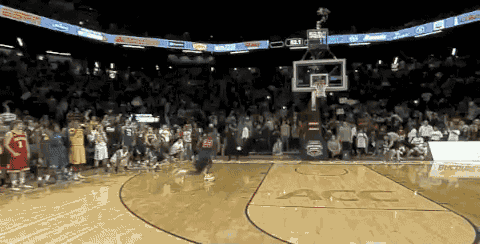 If you aren't impressed yet, here are all four of his dunks that won him the title belt. Simply put, Anderson has got some mad hops.
Top video via Big Lead Sports, GIF via Bleacher Report, Bottom video via ESPN YouTube
Read More:
http://gamedayr.com/gamedayr/video-of...
THE BACKYARD
RELATED ARTICLES
If you missed him on Sportscenter's Top 10 throughout the year, Detroit's Doug Anderson has some harsh feelings towards basketball rims. They stole his lunch money. They picked on him through his awkward years. They would yell "Kool-Aid!" when his momma walked by wearing red. And now he takes out his anger on each and every rim he comes across. Poor, poor rims. Four tremendous...
If you don't like the NBA Slam Dunk contest, you probably appreciated the college slam dunk contest where Detroit-Mercy Titan's Doug Anderson put on a show. It would be difficult to argue against him as being better than everyone else in the NBA with what he calls 'in game dunks.' Check out his final dunk that gave him the title: Unreal. You can checkout the rest of his dunks...
There are some people who can dunk, and then there are dunkers. Doug Anderson is a real man who came to the 2013 State Farm College Slam Dunk Contest with some simple intentions. I'm gonna dunk this basketball, real real hard. I'm gonna jump real real high. I'm going to do dunks that I could do [...]The post Detroit's Doug Anderson Put One Of The Better Slam Dunk Performances...
Doug Anderson of Detroit Mercy introduced himself to the world Thursday night during the College Dunk Contest in Atlanta. Anderson scored perfect scores on each of his attempts and capped it all off with this impressive 360-degree, between the legs dunk that brought home the crown.The post Doug Anderson went with a 360-degree, between the legs dunk to win the College Dunk Contest...
Detroit's Doug Anderson puts on a show during the College Slam Dunk competition en route to a runaway win. Shaming the NBA All-Star weekend single-handedly. **Follow us on Twitter or Facebook.... Full story at Bob's Blitz ~ http://www.bobsblitz.com
University of Detroit guard Doug Anderson wowed the crowd (and now the World Wide Web) with the insane dunk in the video below to win the College Slam Dunk Competition, one of the events in Atlanta leading up to this weekend's Final Four. After watching this what the NBA needs to do is clear. Take the million that Magic has offered and whatever anyone else want to throw in...
University of Detroit Mercy's Doug Anderson, Mott CC alum, knows how to dunk a basketball. That's to put it as boringly as possible. Because his dunks were not boring.  Here's his 4th dunk of the college slam dunk competition, which won him the competition quite easily:  For a look at his other three dunks, all perfect scores, head over to It's Always...
University of Detroit Mercy high-riser Doug Anderson wrecked the competition with four dunks on his way to winning the College Slam Dunk contest.  He received perfect 40′s straight through the competition and  - most impressively – only needed one try for each of his dunks. ESPN's Jimmy Dykes called him a "1-seed" going up against all "16-seeds" in comparison to his...
Doug Anderson played for the University of Detroit this season. You probably didn't know him before, but I bet you know him now.  Has this dunk ever been done before? Anderson has a reputation with hard-core college basketball fans, as one of the best dunkers in college and he surely didn't disappoint with this dunk. FYI, Dick Vitale use to be the head coach at the University of Detroit.
University of Detroit's Doug Anderson pulled off an amazing dunk at the college dunk contest this year:   [youtube]u6SUgFfiAA[/youtube]   Big up: Gamedayr
Titans News

Delivered to your inbox

You'll also receive Yardbarker's daily Top 10, featuring the best sports stories from around the web. Customize your newsletter to get articles on your favorite sports and teams. And the best part? It's free!
RUMORS & GOSSIP
Former Texas Rangers manager Ron Washington on Thursday made his first public comments since suddenly resigning Sept 5. Washington acknowledged during a news conference that he broke his wife's trust. The former Rangers skipper did not take questions or go into great detail, but he expressed remorse while addressing reporters. "I was not true to my wife after 42 years. I broke...
Josh Hamilton did not take part in the Angels' celebration on Wednesday night after the team clinched the AL West for the first time since 2009. We said that Hamilton was not around because he wanted to stay away from the alcohol scene. But it turns out Hamilton may have left the clubhouse well before […]
CBS Sports analyst Tony Gonzalez said that injured Washington Redskins quarterback Robert Griffin III needs to see a shrink. "I believe in seeing a sports psychologist, because as far as I'm concerned, the way he was looking out there, it was not that old RG3," Gonzalez said on 106.7 The Fan. "He needs to get back to that guy and feel comfortable in his own skin, where...
Anheuser-Busch has long been one of the NFL's most prominent sponsors. According to ESPN's Darren Rovell, however, the brewing company's contract with the league isn't exactly set in stone. A source with a copy of the six-year, $1.2 billion contract told Rovell that Anheuser-Busch could "unilaterally end" it's deal with the NFL "if a 'league-wide' event 'brings...
ESPN's Adam Schefter reports that the Cardinals are placing RB Jonathan Dwyer on the reserve/non-football illness list on Thursday. Schefter mentions that this will allow the Cardinals to not to pay him while he's away from the team. Dwyer was arrested on Thursday for a domestic violence incident that took place back in July. According to police records, the incident involved Dwyer...
Chicago Bears wide receiver Brandon Marshall, who is the latest NFL player being accused of domestic violence, came out firing in a press conference from the team's practice facility on Thursday afternoon. As you can imagine, the results were pretty interesting in what was a long-winded session with the media. Marshall addressed the accusations that have been thrown his way by...
Just hours after news broke Minnesota Vikings receiver Jerome Simpson was in trouble with the law, again, the team announced it's moving on without him. #Vikings release WR Jerome Simpson. — Minnesota Vikings (@Vikings) September 18, 2014 Simpson had an arraignment scheduled this morning for November 3 because of an incident that occurred on July 7. Police pulled him over and...
Royal and Ancient Golf Club of St. Andrews, one of the most renowned courses in the world, will begin admitting female members for the first time in its 260-year history. Approximately 1,500 of the Scottish club's roughly 2,400 members voted Thursday to lift the ban on women golfers that has been in place since the club's inception in 1754. "I am very pleased indeed to announce...
Yankees outfielder Carlos Beltran and his wife Jessica suffered a miscarriage yesterday. Carlos posted on his Facebook page: La vida me acaba de quitar la bendición de tener mi primer hijo (varón). Conozco de Dios y vivo agradecido por todas sus bendiciones como mi bella familia, amigos, fanáticos y mi carrera. Todo es y será en el tiempo perfecto de Dios y así mi esposa y...
Get excited WWE fans. 'Stone Cold' Steve Austin could be hitting the squared circle for a match for the first time since 2003 if recent rumors are true. According to Cage Side Seats, there is something going on between WWE and Austin, and early indications are that it could be leading up to one final match at Wrestlemania 31. There's apparently something going on between Stone...
Latest Rumors
Best of Yardbarker

Today's Best Stuff

For Bloggers

Join the Yardbarker Network for more promotion, traffic, and money.

Company Info

Help

What is Yardbarker?

Yardbarker is the largest network of sports blogs and pro athlete blogs on the web. This site is the hub of the Yardbarker Network, where our editors and algorithms curate the best sports content from our network and beyond.