Found April 04, 2013 on Gamedayr:
Via Gamedayr:
For those of you who missed the College Baskeball Slam Dunk Contest, well, we don't feel bad for you, but we're worried about your health.
Everyone should be spoon-fed a dose of Doug Anderson highlight tapes on a nightly basis. The Detroit star was in Atlanta, the site of the 2013 Final Four, on Thursday night for the dunk contest festivities.
And he absolutely stole the show.
Anderson rocked a 360, through-the-legs slam on his very first attempt en route to winning the whole thing.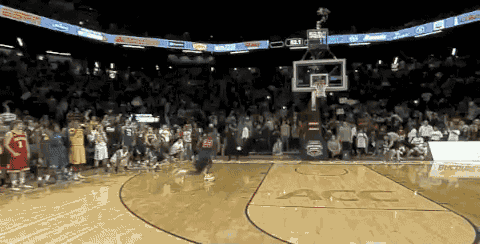 If you aren't impressed yet, here are all four of his dunks that won him the title belt. Simply put, Anderson has got some mad hops.
Top video via Big Lead Sports, GIF via Bleacher Report, Bottom video via ESPN YouTube
Read More:
http://gamedayr.com/gamedayr/video-of...
THE BACKYARD
RELATED ARTICLES
If you missed him on Sportscenter's Top 10 throughout the year, Detroit's Doug Anderson has some harsh feelings towards basketball rims. They stole his lunch money. They picked on him through his awkward years. They would yell "Kool-Aid!" when his momma walked by wearing red. And now he takes out his anger on each and every rim he comes across. Poor, poor rims. Four tremendous...
If you don't like the NBA Slam Dunk contest, you probably appreciated the college slam dunk contest where Detroit-Mercy Titan's Doug Anderson put on a show. It would be difficult to argue against him as being better than everyone else in the NBA with what he calls 'in game dunks.' Check out his final dunk that gave him the title: Unreal. You can checkout the rest of his dunks...
There are some people who can dunk, and then there are dunkers. Doug Anderson is a real man who came to the 2013 State Farm College Slam Dunk Contest with some simple intentions. I'm gonna dunk this basketball, real real hard. I'm gonna jump real real high. I'm going to do dunks that I could do [...]The post Detroit's Doug Anderson Put One Of The Better Slam Dunk Performances...
Doug Anderson of Detroit Mercy introduced himself to the world Thursday night during the College Dunk Contest in Atlanta. Anderson scored perfect scores on each of his attempts and capped it all off with this impressive 360-degree, between the legs dunk that brought home the crown.The post Doug Anderson went with a 360-degree, between the legs dunk to win the College Dunk Contest...
Detroit's Doug Anderson puts on a show during the College Slam Dunk competition en route to a runaway win. Shaming the NBA All-Star weekend single-handedly. **Follow us on Twitter or Facebook.... Full story at Bob's Blitz ~ http://www.bobsblitz.com
University of Detroit guard Doug Anderson wowed the crowd (and now the World Wide Web) with the insane dunk in the video below to win the College Slam Dunk Competition, one of the events in Atlanta leading up to this weekend's Final Four. After watching this what the NBA needs to do is clear. Take the million that Magic has offered and whatever anyone else want to throw in...
University of Detroit Mercy's Doug Anderson, Mott CC alum, knows how to dunk a basketball. That's to put it as boringly as possible. Because his dunks were not boring.  Here's his 4th dunk of the college slam dunk competition, which won him the competition quite easily:  For a look at his other three dunks, all perfect scores, head over to It's Always...
Wow. Just wow. Sorry LeBron but you have nothing on University of Detroit's Doug Anderson.
University of Detroit Mercy high-riser Doug Anderson wrecked the competition with four dunks on his way to winning the College Slam Dunk contest.  He received perfect 40′s straight through the competition and  - most impressively – only needed one try for each of his dunks. ESPN's Jimmy Dykes called him a "1-seed" going up against all "16-seeds" in comparison to his...
Doug Anderson played for the University of Detroit this season. You probably didn't know him before, but I bet you know him now.  Has this dunk ever been done before? Anderson has a reputation with hard-core college basketball fans, as one of the best dunkers in college and he surely didn't disappoint with this dunk. FYI, Dick Vitale use to be the head coach at the University of Detroit.
University of Detroit's Doug Anderson pulled off an amazing dunk at the college dunk contest this year:   [youtube]u6SUgFfiAA[/youtube]   Big up: Gamedayr
You know how LeBron James is always playing that worn out routine of "Maybe I should be in the Slam Dunk Contest this year…" and us basketball fans are like, "Please, oh, please LeBron, would ya do that, King? Would ya?" and he's like, "Wellllllllllllll maybe if someone paid me a million dollars…" and then you and I pull out our pockets and fight over who gets to...
RUMORS & GOSSIP
A source with knowledge of the situation tells Andrew Abramson of the Palm Beach Post that the Dolphins want to go "heavy on offense" in this year's NFL draft and are considering their options at running back and wide receiver. Interestingly enough, Abramson's source mentioned that if the Dolphins were to draft a receiver, it would likely lead to Miami parting ways...
Former Pittsburgh Panthers quarterback Tom Savage is arguably the fastest-rising prospect in the entire 2014 NFL Draft class. Over the last month, he's emerged from a projected third-day selection (fourth to seventh round) to a potential late first round/early second round pick. On Thursday, it was announced that Savage had received an invitation to attend the draft (May 8-10)...
Paul Pierce was pumped up after hitting a clutch shot late in the fourth quarter to extend the Nets' lead to 7 during Game 1 against the Raptors Saturday, screaming "That's why they got me here," after nailing the shot. The post Paul Pierce Screams 'That's Why They Got Me Here' After Hitting Clutch Shot In Fourth Quarter (Video) appeared first on Beyond The Buzzer.
Houston Texans running back Arian Foster has been known to rub fans the wrong way but this time he cam through for a particular fan. About two weeks ago a fan tweeted out a picture that said it was her and the Texans running back. Foster soon responded to the girl to let him know it was not him, and the tweet went viral. Ran into @ArianFoster at Pub Fiction last night! So blessed...
(Credit: NY Daily News) Jeff Van Gundy has never been shy about his opinions. And during today's game, he said he believes NBA players should be able to buy more fouls. After Andre Iguodala picked up a controversial fifth foul during the third quarter of the Warriors' game against the Clippers Van Gundy said,             "I think you should be able to buy an extra...
Former NBA player Larry Hughes has been accused of rape in New York. Hughes reportedly met the 22-year-old woman at Greenhouse nightclub and left with her around 4AM Friday morning. The two walked back to his hotel at the Trump SoHo.   Video shows the two of them walking to the nearby hotel. Sources said he did not appear to be forcing her. After she left the hotel she went to...
Photo: @sportingnews The Nationals had a closed door meeting Thursday night, after they were blown out by the St. Louis Cardinals. Now it hasn't come out exactly what was said in that meeting, however it seems that maximum effort was something stressed. Matt Williams told reporters after the game that Harper had been benched for "lack of hustle." In the bottom of the 6th inning...
Carmelo Anthony was frustrated with the way the New York Knicks' season went and called the 37-45 record that resulted in the team missing the playoffs a "failure." He has the opportunity to become a free agent this summer and wants to return to the Knicks, but he also wants to win. Before committing to […]
On the surface you could look at all the recent success for the San Francisco 49ers and easily assume they're well on their way to being perennial contenders for a long time to come. But despite their 36-11-1 record over the last three years which included a Super Bowl trip in 2012 and NFC Championship game appearances in both 2011 and 2013 under Jim Harbaugh, the team seems to...
This week Craig Sager's son revealed on Twitter that his father was to undergo treatment for leukemia just as the NBA Playoffs were set to begin.  Turner Sports has yet to have an official statement on the matter, but they have released a statement from Sager himself. It's a short statement, but it possesses his trademark sense of humor and even makes reference to his tete a...
Latest Rumors
The Backyard

Today's Best Stuff

For Bloggers

Join the Yardbarker Network for more promotion, traffic, and money.

Company Info

Help

What is Yardbarker?

Yardbarker is the largest network of sports blogs and pro athlete blogs on the web. This site is the hub of the Yardbarker Network, where our editors and algorithms curate the best sports content from our network and beyond.