Found April 04, 2013 on Gamedayr:
Via Gamedayr:
For those of you who missed the College Baskeball Slam Dunk Contest, well, we don't feel bad for you, but we're worried about your health.
Everyone should be spoon-fed a dose of Doug Anderson highlight tapes on a nightly basis. The Detroit star was in Atlanta, the site of the 2013 Final Four, on Thursday night for the dunk contest festivities.
And he absolutely stole the show.
Anderson rocked a 360, through-the-legs slam on his very first attempt en route to winning the whole thing.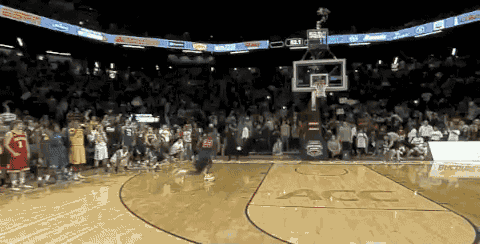 If you aren't impressed yet, here are all four of his dunks that won him the title belt. Simply put, Anderson has got some mad hops.
Top video via Big Lead Sports, GIF via Bleacher Report, Bottom video via ESPN YouTube
Read More:
http://gamedayr.com/gamedayr/video-of...
THE BACKYARD
RELATED ARTICLES
If you missed him on Sportscenter's Top 10 throughout the year, Detroit's Doug Anderson has some harsh feelings towards basketball rims. They stole his lunch money. They picked on him through his awkward years. They would yell "Kool-Aid!" when his momma walked by wearing red. And now he takes out his anger on each and every rim he comes across. Poor, poor rims. Four tremendous...
If you don't like the NBA Slam Dunk contest, you probably appreciated the college slam dunk contest where Detroit-Mercy Titan's Doug Anderson put on a show. It would be difficult to argue against him as being better than everyone else in the NBA with what he calls 'in game dunks.' Check out his final dunk that gave him the title: Unreal. You can checkout the rest of his dunks...
There are some people who can dunk, and then there are dunkers. Doug Anderson is a real man who came to the 2013 State Farm College Slam Dunk Contest with some simple intentions. I'm gonna dunk this basketball, real real hard. I'm gonna jump real real high. I'm going to do dunks that I could do [...]The post Detroit's Doug Anderson Put One Of The Better Slam Dunk Performances...
Doug Anderson of Detroit Mercy introduced himself to the world Thursday night during the College Dunk Contest in Atlanta. Anderson scored perfect scores on each of his attempts and capped it all off with this impressive 360-degree, between the legs dunk that brought home the crown.The post Doug Anderson went with a 360-degree, between the legs dunk to win the College Dunk Contest...
University of Detroit guard Doug Anderson wowed the crowd (and now the World Wide Web) with the insane dunk in the video below to win the College Slam Dunk Competition, one of the events in Atlanta leading up to this weekend's Final Four. After watching this what the NBA needs to do is clear. Take the million that Magic has offered and whatever anyone else want to throw in...
Detroit's Doug Anderson puts on a show during the College Slam Dunk competition en route to a runaway win. Shaming the NBA All-Star weekend single-handedly. **Follow us on Twitter or Facebook.... Full story at Bob's Blitz ~ http://www.bobsblitz.com
University of Detroit Mercy's Doug Anderson, Mott CC alum, knows how to dunk a basketball. That's to put it as boringly as possible. Because his dunks were not boring.  Here's his 4th dunk of the college slam dunk competition, which won him the competition quite easily:  For a look at his other three dunks, all perfect scores, head over to It's Always...
Wow. Just wow. Sorry LeBron but you have nothing on University of Detroit's Doug Anderson.
University of Detroit Mercy high-riser Doug Anderson wrecked the competition with four dunks on his way to winning the College Slam Dunk contest.  He received perfect 40′s straight through the competition and  - most impressively – only needed one try for each of his dunks. ESPN's Jimmy Dykes called him a "1-seed" going up against all "16-seeds" in comparison to his...
Doug Anderson played for the University of Detroit this season. You probably didn't know him before, but I bet you know him now.  Has this dunk ever been done before? Anderson has a reputation with hard-core college basketball fans, as one of the best dunkers in college and he surely didn't disappoint with this dunk. FYI, Dick Vitale use to be the head coach at the University of Detroit.
University of Detroit's Doug Anderson pulled off an amazing dunk at the college dunk contest this year:   [youtube]u6SUgFfiAA[/youtube]   Big up: Gamedayr
You know how LeBron James is always playing that worn out routine of "Maybe I should be in the Slam Dunk Contest this year…" and us basketball fans are like, "Please, oh, please LeBron, would ya do that, King? Would ya?" and he's like, "Wellllllllllllll maybe if someone paid me a million dollars…" and then you and I pull out our pockets and fight over who gets to...
Titans News

Delivered to your inbox

You'll also receive Yardbarker's daily Top 10, featuring the best sports stories from around the web. Customize your newsletter to get articles on your favorite sports and teams. And the best part? It's free!
RUMORS & GOSSIP
While we still aren't quite sure what happened between Oklahoma freshman running back Joe Mixon and a student named Amelia Rae Molitor last Friday morning, we do now know that the Sooner football player has been suspended from team activities while the police continue to investigate the matter. According to numerous sources, the school is expected to officially announce the news...
Evan Reed's ERA and WHIP are now the least of his worries as a lengthy jail sentence is now looming over his head. Wayne County prosecutor Kym Worthy announced Wednesday that Tigers/Mud Hens pitcher Evan Reed will face two counts of criminal sexual conduct stemming from an incident this past March at the Motor City Casino Hotel. According to reports originating from the Detroit...
Many football teams are now foregoing the classic hard-copy playbook for iPads, which are lighter and save on huge printing cost, among other handy features. Earlier today, we took a look at Georgia's new iPads (and a whole host of USB cables). Apparently Oklahoma has also joined in on the iPad trend. Of course, not everyone's playbook is made equal. OU kicker Michael Hunnicutt...
Pittsburgh Steelers wide receiver Antonio Brown is not happy with ex-teammate Emmanuel Sanders for his comments made about Ben Roethlisberger. Sanders, who spent four seasons with the Steelers before signing with the Broncos in March, compared his new quarterback with his old quarterback and enumerated the ways Peyton Manning is a better leader than Big […]
It looks like another WWE superstar could land in a mega-hit that has nerd alert written all over it.  Yes, Sheamus may be playing the role of Darth Vader in the upcoming Star Wars Episode 7 which is currently slated to hit theaters on December 18, 2015. Wow. Today's edition of the Irish Daily Mirror has an article theorizing that the Celtic Warrior could be playing the Lord Sith...
Jameis Winston was detained by police at gunpoint in a 2012 incident for carrying a firearm on campus.
(Credit: phillysportslive.com) There are questions surrounding the Philadelphia Eagles in regards to how they plan to replace wide receiver DeSean Jackson, who was released then subsequently signed by division rival Washington Redskins. Head coach Chip Kelly pulled no punches when answering those questions: "I think most people played us in single high (safety) coverage and they...
In Carolina, Steve Smith told Aqib Talib to "ice up, son." In Baltimore, he's telling Joe Flacco, "iced coffee, son." Buried at the bottom of Peter King's latest MMQB column is an interesting nugget about how Smith and Flacco are developing chemistry in training camp. Take it away, Peter ... They wager $25 Starbucks cards when they disagree on on...
SAN FRANCISCO — In one of their craziest scouting experiences, the Minnesota Twins have reached a deal with a 24-year-old pitching prospect who has thrown 100 mile per hour fastballs but has never been drafted. Brandon Poulson was pitching earlier this month for the Healdsburg Prune Packers in a collegiate summer league. His manager was Joey Gomes, the brother of big leaguer Jonny...
There are plenty of question marks for the Dallas Cowboys entering the 2014 season, but Jerry Jones doesn't want Tony Romo's health to be one of them. Jones told Charean Williams of the Fort Worth Star-Telegram that his $100 million quarterback, Tony Romo is 100% healthy. "He is 100 percent. He's 100 percent," Jones said during practice […]
Latest Rumors
The Backyard

Today's Best Stuff

For Bloggers

Join the Yardbarker Network for more promotion, traffic, and money.

Company Info

Help

What is Yardbarker?

Yardbarker is the largest network of sports blogs and pro athlete blogs on the web. This site is the hub of the Yardbarker Network, where our editors and algorithms curate the best sports content from our network and beyond.