Found April 04, 2013 on Gamedayr:
Via Gamedayr:
For those of you who missed the College Baskeball Slam Dunk Contest, well, we don't feel bad for you, but we're worried about your health.
Everyone should be spoon-fed a dose of Doug Anderson highlight tapes on a nightly basis. The Detroit star was in Atlanta, the site of the 2013 Final Four, on Thursday night for the dunk contest festivities.
And he absolutely stole the show.
Anderson rocked a 360, through-the-legs slam on his very first attempt en route to winning the whole thing.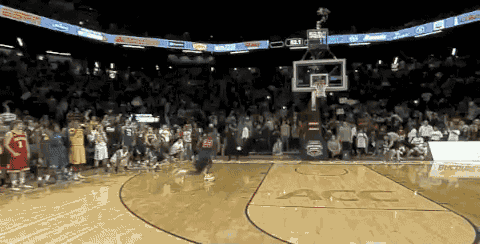 If you aren't impressed yet, here are all four of his dunks that won him the title belt. Simply put, Anderson has got some mad hops.
Top video via Big Lead Sports, GIF via Bleacher Report, Bottom video via ESPN YouTube
Read More:
http://gamedayr.com/gamedayr/video-of...
THE BACKYARD
RELATED ARTICLES
If you missed him on Sportscenter's Top 10 throughout the year, Detroit's Doug Anderson has some harsh feelings towards basketball rims. They stole his lunch money. They picked on him through his awkward years. They would yell "Kool-Aid!" when his momma walked by wearing red. And now he takes out his anger on each and every rim he comes across. Poor, poor rims. Four tremendous...
If you don't like the NBA Slam Dunk contest, you probably appreciated the college slam dunk contest where Detroit-Mercy Titan's Doug Anderson put on a show. It would be difficult to argue against him as being better than everyone else in the NBA with what he calls 'in game dunks.' Check out his final dunk that gave him the title: Unreal. You can checkout the rest of his dunks...
There are some people who can dunk, and then there are dunkers. Doug Anderson is a real man who came to the 2013 State Farm College Slam Dunk Contest with some simple intentions. I'm gonna dunk this basketball, real real hard. I'm gonna jump real real high. I'm going to do dunks that I could do [...]The post Detroit's Doug Anderson Put One Of The Better Slam Dunk Performances...
Doug Anderson of Detroit Mercy introduced himself to the world Thursday night during the College Dunk Contest in Atlanta. Anderson scored perfect scores on each of his attempts and capped it all off with this impressive 360-degree, between the legs dunk that brought home the crown.The post Doug Anderson went with a 360-degree, between the legs dunk to win the College Dunk Contest...
Detroit's Doug Anderson puts on a show during the College Slam Dunk competition en route to a runaway win. Shaming the NBA All-Star weekend single-handedly. **Follow us on Twitter or Facebook.... Full story at Bob's Blitz ~ http://www.bobsblitz.com
University of Detroit guard Doug Anderson wowed the crowd (and now the World Wide Web) with the insane dunk in the video below to win the College Slam Dunk Competition, one of the events in Atlanta leading up to this weekend's Final Four. After watching this what the NBA needs to do is clear. Take the million that Magic has offered and whatever anyone else want to throw in...
University of Detroit Mercy's Doug Anderson, Mott CC alum, knows how to dunk a basketball. That's to put it as boringly as possible. Because his dunks were not boring.  Here's his 4th dunk of the college slam dunk competition, which won him the competition quite easily:  For a look at his other three dunks, all perfect scores, head over to It's Always...
Wow. Just wow. Sorry LeBron but you have nothing on University of Detroit's Doug Anderson.
University of Detroit Mercy high-riser Doug Anderson wrecked the competition with four dunks on his way to winning the College Slam Dunk contest.  He received perfect 40′s straight through the competition and  - most impressively – only needed one try for each of his dunks. ESPN's Jimmy Dykes called him a "1-seed" going up against all "16-seeds" in comparison to his...
Doug Anderson played for the University of Detroit this season. You probably didn't know him before, but I bet you know him now.  Has this dunk ever been done before? Anderson has a reputation with hard-core college basketball fans, as one of the best dunkers in college and he surely didn't disappoint with this dunk. FYI, Dick Vitale use to be the head coach at the University of Detroit.
University of Detroit's Doug Anderson pulled off an amazing dunk at the college dunk contest this year:   [youtube]u6SUgFfiAA[/youtube]   Big up: Gamedayr
You know how LeBron James is always playing that worn out routine of "Maybe I should be in the Slam Dunk Contest this year…" and us basketball fans are like, "Please, oh, please LeBron, would ya do that, King? Would ya?" and he's like, "Wellllllllllllll maybe if someone paid me a million dollars…" and then you and I pull out our pockets and fight over who gets to...
Titans News

Delivered to your inbox

You'll also receive Yardbarker's daily Top 10, featuring the best sports stories from around the web. Customize your newsletter to get articles on your favorite sports and teams. And the best part? It's free!
RUMORS & GOSSIP
LeBron James has finally made his decision, and he is heading back to Cleveland. James broke the news on Friday afternoon on SportsIllustrated.com that he will indeed be signing with the Cleveland Cavaliers. James, an Ohio native, broke Cavaliers fans' hearts in 2010 when he left the Cavaliers for the Miami Heat. He's now trying to right that perceived wrong by heading back to...
You know that 17-year-old Belgium fan that landed a modeling contract with L'Oreal after she was photographed at the World Cup? Axelle Despiegelaere worked with L'Oreal to create one social media video before her contract was terminated. A hunting photo that she posted on Facebook may explain why her gig was so short-lived. Axelle's Facebook […]
As Derek Jeter continues to tour the country this summer on his "Retirement Tour Super-Happy Funtime Bonanza," news has surfaced that indicates the New York Yankees star is preparing himself for life after baseball on the investment side of things. One of those investments purportedly involves being a "secret owner" in a underwear company specializing […] The post Derek...
The back and forth between the San Francisco 49ers and Seattle Seahawks since the NFC Championship game in January has been well documented. From Richard Sherman's remarks about Michael Crabtree immediately following the game to Sherman's most recent remarks about the San Frnacisco 49ers wide receiver, there has been a lot of drama surrounding these two teams.  Once 49ers linebacker...
The Detroit Lions are not a team that are typically associated with Super Bowl predictions. Yet wide receiver Calvin Johnson feels that he and his teammates are ready to not only be a competitive playoff contender but be a team that can take it all…now. Johnson told the Detroit Free Press that the Lions are about to shock the world. "We need to win a Super Bowl," Johnson said...
A police report has been filed in Ft. Lauderdale which names Dennis Rodman by a woman who alleges she was drugged last week while drinking in a hotel bar with the former NBA star.According to the report, a 22-year-old by the name of Angela Torre claims she met Rodman and a friend named Charlie on July 1st at the Ocean Manor Resort Hotel. It's worth noting that Rodman in fact...
As LeBron James prepares to head to Brazil to watch the World Cup finale in person, Chris Broussard is reporting that Dan Gilbert's scathing letter from four-years ago could prevent Akron's prodigal son from returning home. According to Broussard, Gilbert's letter is believed to be the reason James has been unable to make a decision about where he wants to play. In the letter...
Since June 13, Los Angeles Dodgers pitcher Clayton Kershaw has not allowed a run, until Thursday night. Kershaw went 41 2/3 innings without allowing a run until he gave up a solo home run to Padres third baseman, Chase Headley. Kershaw was able to battle out of the game with only the one run given […]
How was MLB able to get Ryan Braun to agree to a 65-game suspension in 2013 despite the absence of a failed drug test? There was so much evidence against Braun that the Brewers slugger decided to accept his fate. And where did MLB get all the evidence? Not only did they have Anthony Bosch […]
Warrior, a sporting goods company specializing mostly in lacrosse (and hockey) apparel and equipment, came out firing on Thursday night after seeing softball televised on ESPN while lacrosse was on ESPN2. Here is the tweet sent from the official Warrior account: Does anyone else find it laughable that Softball is on ESPN1 & #WorldLax is […]
Latest Rumors
The Backyard

Today's Best Stuff

For Bloggers

Join the Yardbarker Network for more promotion, traffic, and money.

Company Info

Help

What is Yardbarker?

Yardbarker is the largest network of sports blogs and pro athlete blogs on the web. This site is the hub of the Yardbarker Network, where our editors and algorithms curate the best sports content from our network and beyond.