Found April 04, 2013 on Gamedayr:
Via Gamedayr:
For those of you who missed the College Baskeball Slam Dunk Contest, well, we don't feel bad for you, but we're worried about your health.
Everyone should be spoon-fed a dose of Doug Anderson highlight tapes on a nightly basis. The Detroit star was in Atlanta, the site of the 2013 Final Four, on Thursday night for the dunk contest festivities.
And he absolutely stole the show.
Anderson rocked a 360, through-the-legs slam on his very first attempt en route to winning the whole thing.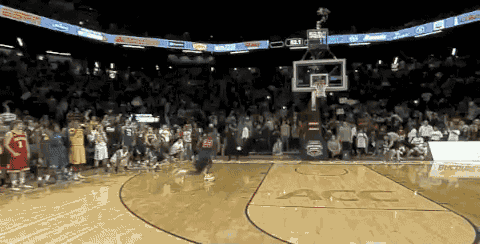 If you aren't impressed yet, here are all four of his dunks that won him the title belt. Simply put, Anderson has got some mad hops.
Top video via Big Lead Sports, GIF via Bleacher Report, Bottom video via ESPN YouTube
Read More:
http://gamedayr.com/gamedayr/video-of...
THE BACKYARD
RELATED ARTICLES
If you missed him on Sportscenter's Top 10 throughout the year, Detroit's Doug Anderson has some harsh feelings towards basketball rims. They stole his lunch money. They picked on him through his awkward years. They would yell "Kool-Aid!" when his momma walked by wearing red. And now he takes out his anger on each and every rim he comes across. Poor, poor rims. Four tremendous...
If you don't like the NBA Slam Dunk contest, you probably appreciated the college slam dunk contest where Detroit-Mercy Titan's Doug Anderson put on a show. It would be difficult to argue against him as being better than everyone else in the NBA with what he calls 'in game dunks.' Check out his final dunk that gave him the title: Unreal. You can checkout the rest of his dunks...
There are some people who can dunk, and then there are dunkers. Doug Anderson is a real man who came to the 2013 State Farm College Slam Dunk Contest with some simple intentions. I'm gonna dunk this basketball, real real hard. I'm gonna jump real real high. I'm going to do dunks that I could do [...]The post Detroit's Doug Anderson Put One Of The Better Slam Dunk Performances...
Doug Anderson of Detroit Mercy introduced himself to the world Thursday night during the College Dunk Contest in Atlanta. Anderson scored perfect scores on each of his attempts and capped it all off with this impressive 360-degree, between the legs dunk that brought home the crown.The post Doug Anderson went with a 360-degree, between the legs dunk to win the College Dunk Contest...
University of Detroit guard Doug Anderson wowed the crowd (and now the World Wide Web) with the insane dunk in the video below to win the College Slam Dunk Competition, one of the events in Atlanta leading up to this weekend's Final Four. After watching this what the NBA needs to do is clear. Take the million that Magic has offered and whatever anyone else want to throw in...
University of Detroit Mercy's Doug Anderson, Mott CC alum, knows how to dunk a basketball. That's to put it as boringly as possible. Because his dunks were not boring.  Here's his 4th dunk of the college slam dunk competition, which won him the competition quite easily:  For a look at his other three dunks, all perfect scores, head over to It's Always...
Detroit's Doug Anderson puts on a show during the College Slam Dunk competition en route to a runaway win. Shaming the NBA All-Star weekend single-handedly. **Follow us on Twitter or Facebook.... Full story at Bob's Blitz ~ http://www.bobsblitz.com
University of Detroit Mercy high-riser Doug Anderson wrecked the competition with four dunks on his way to winning the College Slam Dunk contest.  He received perfect 40′s straight through the competition and  - most impressively – only needed one try for each of his dunks. ESPN's Jimmy Dykes called him a "1-seed" going up against all "16-seeds" in comparison to his...
Doug Anderson played for the University of Detroit this season. You probably didn't know him before, but I bet you know him now.  Has this dunk ever been done before? Anderson has a reputation with hard-core college basketball fans, as one of the best dunkers in college and he surely didn't disappoint with this dunk. FYI, Dick Vitale use to be the head coach at the University of Detroit.
University of Detroit's Doug Anderson pulled off an amazing dunk at the college dunk contest this year:   [youtube]u6SUgFfiAA[/youtube]   Big up: Gamedayr
Titans News

Delivered to your inbox

You'll also receive Yardbarker's daily Top 10, featuring the best sports stories from around the web. Customize your newsletter to get articles on your favorite sports and teams. And the best part? It's free!
RUMORS & GOSSIP
  Update: Ian Rapoport reports that the Montreal Alouettes have reached out to seventh-round pick DE Michael Sam about possibly signing with them, but there's currently no word regarding him playing in the CFL. Rapoport adds that the Alouettes hold the rights to Sam. St. Louis has already announced their practice squad signings and Sam is not among the players...
Sacramento Kings guard Jason Terry is set to fly again in Texas. Terry, whose nickname is "Jet," won an NBA Championship with the Dallas Mavericks. He is coming back to the state of Texas, but this time will be with the Houston Rockets.Image by By Keith Allison, via Wikimedia CommonsNBA sources say that the Rockets will acquire Terry in a trade with the Kings:"The...
The Matt Schaub era in Oakland may be over before it even started. Jay Glazer of FOX Sports reports that second round rookie quarterback Derek Carr will be the Raiders' Week 1 starter on Sunday against the New York Jets. Breaking: Raiders players have been informed that the team is making the switch at QB and starting Derek Carr over Matt Schaub — Jay Glazer (@JayGlazer) September...
29-year-old New York Yankees minor leaguer Pat Venditte normally wouldn't be a player worth noticing. He's been in the minors for the past seven seasons after the Yankees selected him in the 45th round of the 2007 amateur draft.  On the surface, Venditte is nothing more than your non-prospect who has bounced around in small towns in an attempt to make it to the Majors. That's...
According to a team press release, the Houston Astros have fired their manager Bo Porter. The team additionally relieved Bench Coach Dave Trembley of his duties. Tom Lawless will be the team's interim manager for the remainder of the 2014 season. This move may not come as a surprise to many, as earlier in the […]
Rob Gronkowski ended all the speculation surrounding his Week 1 status with seven simple words. "I'm ready to go. I'll be playing," Gronkowski told reporters at Gillette Stadium on Monday. This means that the New England Patriots tight end will be on the field Sunday for the team's season opener against the Miami Dolphins. Gronkowski had been slowly progressing throughout...
The Toronto Blue Jays were hoping to be a legitimate playoff contender this season, and they looked the part for the first half of the year before falling apart after the All-Star break. They currently are sitting at 69-67 and are 10 games behind the division-leading Baltimore Orioles, who have begun extending their lead in the AL East. According to a report from Nick Cafardo, the...
Hard to believe, but Mark Townsend of Yahoo Big League Stew reports that a high school "Rubber Baseball" game in Japan went a full 50 innings, or 5.6 full length games before being decided 3-0 (no scoring the first 49 innings).  The winner was Chukyo High School over Sotoku in the tournament semifinal game. Some of the stats are almost too much to be true.  According to Townsend...
The Raiders spent the offseason loading up on a slew of veteran talent, a calculated effort to inflate their win total. To nobody's surprise, it's subsequently inflated the team's collective age. Jimmy Kempski of Philly.com, doing some calculations following Saturday's final roster cutdowns, deduced that Oakland has the oldest roster in the NFL. The average age...
ST. LOUIS — Michael Sam was probably never an ideal fit with the St. Louis Rams and it had absolutely nothing to do with his sexual orientation. They're just too well-stocked at defensive end, Sam's position. Sam showed up for his face-to-face exit meeting with coach Jeff Fisher Sunday, a few hours after clearing waivers. He shook hands with two reporters and accepted well...
Latest Rumors
Best of Yardbarker

Today's Best Stuff

For Bloggers

Join the Yardbarker Network for more promotion, traffic, and money.

Company Info

Help

What is Yardbarker?

Yardbarker is the largest network of sports blogs and pro athlete blogs on the web. This site is the hub of the Yardbarker Network, where our editors and algorithms curate the best sports content from our network and beyond.