Found April 04, 2013 on Gamedayr:
Via Gamedayr:
For those of you who missed the College Baskeball Slam Dunk Contest, well, we don't feel bad for you, but we're worried about your health.
Everyone should be spoon-fed a dose of Doug Anderson highlight tapes on a nightly basis. The Detroit star was in Atlanta, the site of the 2013 Final Four, on Thursday night for the dunk contest festivities.
And he absolutely stole the show.
Anderson rocked a 360, through-the-legs slam on his very first attempt en route to winning the whole thing.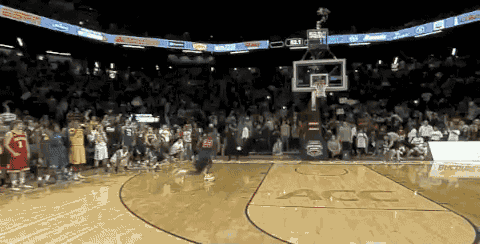 If you aren't impressed yet, here are all four of his dunks that won him the title belt. Simply put, Anderson has got some mad hops.
Top video via Big Lead Sports, GIF via Bleacher Report, Bottom video via ESPN YouTube
Read More:
http://gamedayr.com/gamedayr/video-of...
THE BACKYARD
RELATED ARTICLES
If you missed him on Sportscenter's Top 10 throughout the year, Detroit's Doug Anderson has some harsh feelings towards basketball rims. They stole his lunch money. They picked on him through his awkward years. They would yell "Kool-Aid!" when his momma walked by wearing red. And now he takes out his anger on each and every rim he comes across. Poor, poor rims. Four tremendous...
If you don't like the NBA Slam Dunk contest, you probably appreciated the college slam dunk contest where Detroit-Mercy Titan's Doug Anderson put on a show. It would be difficult to argue against him as being better than everyone else in the NBA with what he calls 'in game dunks.' Check out his final dunk that gave him the title: Unreal. You can checkout the rest of his dunks...
There are some people who can dunk, and then there are dunkers. Doug Anderson is a real man who came to the 2013 State Farm College Slam Dunk Contest with some simple intentions. I'm gonna dunk this basketball, real real hard. I'm gonna jump real real high. I'm going to do dunks that I could do [...]The post Detroit's Doug Anderson Put One Of The Better Slam Dunk Performances...
Doug Anderson of Detroit Mercy introduced himself to the world Thursday night during the College Dunk Contest in Atlanta. Anderson scored perfect scores on each of his attempts and capped it all off with this impressive 360-degree, between the legs dunk that brought home the crown.The post Doug Anderson went with a 360-degree, between the legs dunk to win the College Dunk Contest...
Detroit's Doug Anderson puts on a show during the College Slam Dunk competition en route to a runaway win. Shaming the NBA All-Star weekend single-handedly. **Follow us on Twitter or Facebook.... Full story at Bob's Blitz ~ http://www.bobsblitz.com
University of Detroit guard Doug Anderson wowed the crowd (and now the World Wide Web) with the insane dunk in the video below to win the College Slam Dunk Competition, one of the events in Atlanta leading up to this weekend's Final Four. After watching this what the NBA needs to do is clear. Take the million that Magic has offered and whatever anyone else want to throw in...
University of Detroit Mercy's Doug Anderson, Mott CC alum, knows how to dunk a basketball. That's to put it as boringly as possible. Because his dunks were not boring.  Here's his 4th dunk of the college slam dunk competition, which won him the competition quite easily:  For a look at his other three dunks, all perfect scores, head over to It's Always...
University of Detroit Mercy high-riser Doug Anderson wrecked the competition with four dunks on his way to winning the College Slam Dunk contest.  He received perfect 40′s straight through the competition and  - most impressively – only needed one try for each of his dunks. ESPN's Jimmy Dykes called him a "1-seed" going up against all "16-seeds" in comparison to his...
Doug Anderson played for the University of Detroit this season. You probably didn't know him before, but I bet you know him now.  Has this dunk ever been done before? Anderson has a reputation with hard-core college basketball fans, as one of the best dunkers in college and he surely didn't disappoint with this dunk. FYI, Dick Vitale use to be the head coach at the University of Detroit.
University of Detroit's Doug Anderson pulled off an amazing dunk at the college dunk contest this year:   [youtube]u6SUgFfiAA[/youtube]   Big up: Gamedayr
Titans News

Delivered to your inbox

You'll also receive Yardbarker's daily Top 10, featuring the best sports stories from around the web. Customize your newsletter to get articles on your favorite sports and teams. And the best part? It's free!
RUMORS & GOSSIP
Earlier this year I broke the story of Pacers All-Star Paul George offering a former stripper, Daniela Rajic $1 million to have an abortion when she became pregnant following a summer fling with George last year. George is currently attempting to get custody/and or arrange child support for Baby Girl Olivia born on May 1st, 2014. The judge in the case is reportedly tired of George...
Photo Credit: Jets/Facebook After the New York Jets suffered their Monday Night loss to the Chicago Bears (27-19), two main weaknesses remain evident. One, the Jets secondary has underachieved tremendously being one of the worst in the league. Two, Geno Smith continues to battle with inconsistency throwing the football. In just three weeks, out of 35 quarterbacks that have played...
Chicago Bears tight end Martellus Bennett said after Monday night's 27-19 victory over the New York Jets that he entered the game feeling disrespected by coach Rex Ryan. "Today I felt a little disrespected," Bennett told reporters in the postgame locker room, via ESPN.com. "We [the Bears] played a highlight video, and in the highlight video, Rex is talking about [how the...
Former USC cornerback Brian Baucham has filed a lawsuit against the university and former head coach Lane Kiffin, alleging that he suffered a brain injury during a game after he was forced to play while ill. According to CBS Los Angeles, Baucham claims he suffered cardiopulmonary damage and brain injury when the Trojans played Cal […]
For the second straight week, Drew Stanton got it done. The Cardinals' backup quarterback, filling in for the injured Carson Palmer, threw for 244 yards and two touchdowns against the 49ers, helping the team improve to 3-0. Along the way, however, Stanton was the victim of a brutal hit by Niners linebacker Dan Skuta -- a hit that Cards coach Bruce Arians deemed dirty. https:...
NEW YORK — NBA Commissioner Adam Silver said Monday his league will "take a fresh look" at its domestic violence procedures in the wake of the NFL's rash of incidents. Silver said during a community service event in Staten Island that the league has been discussing with the NBA Players Association ways to further educate players and provide programs to them and their families...
Former longtime Tennessee Titans kicker Rob Bironas died on Saturday night after flipping his car in a single-car crash in Nashville, and a phone call to 911 indicates the kicker exhibited wild and crazy behavior on the road before the crash. The Tennessean posted audio of a call from a woman reporting the crash. The […]
When discussing the best closers of the modern era one name leads every list: Mariano Rivera. Trevor Hoffman, Joe Nathan, Francisco Rodriguez, and Billy Wagner are part of the next tier down but are short the dominance over many years of the guy above them. Some of their tickets to the Hall of Fame will likely be regular-priced admission rather than induction ceremony. One guy who...
James Harrison officially retired from the NFL before the season began, but the 36-year-old is coming back to rejoin his old club. The Pittsburgh Steelers will sign Harrison this week. The #Steelers will be signing their own former star LB James Harrison over the next few days, I'm told. — Ian Rapoport (@RapSheet) September 22, 2014 LB James Harrison scheduled to meet Tuesday...
Remember that fan who ran onto the court when the Miami Heat played the Cleveland Cavaliers two seasons ago with a shirt begging LeBron James to return to Cleveland in 2014? What a nut that guy was, huh? LeBron had won two championships with the Heat and was aiming for a third. There was no […]
Latest Rumors
Best of Yardbarker

Today's Best Stuff

For Bloggers

Join the Yardbarker Network for more promotion, traffic, and money.

Company Info

Help

What is Yardbarker?

Yardbarker is the largest network of sports blogs and pro athlete blogs on the web. This site is the hub of the Yardbarker Network, where our editors and algorithms curate the best sports content from our network and beyond.