Found April 04, 2013 on Gamedayr:
Via Gamedayr:
For those of you who missed the College Baskeball Slam Dunk Contest, well, we don't feel bad for you, but we're worried about your health.
Everyone should be spoon-fed a dose of Doug Anderson highlight tapes on a nightly basis. The Detroit star was in Atlanta, the site of the 2013 Final Four, on Thursday night for the dunk contest festivities.
And he absolutely stole the show.
Anderson rocked a 360, through-the-legs slam on his very first attempt en route to winning the whole thing.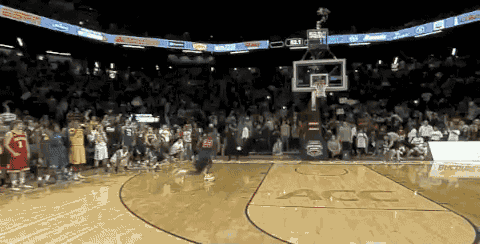 If you aren't impressed yet, here are all four of his dunks that won him the title belt. Simply put, Anderson has got some mad hops.
Top video via Big Lead Sports, GIF via Bleacher Report, Bottom video via ESPN YouTube
Read More:
http://gamedayr.com/gamedayr/video-of...
THE BACKYARD
RELATED ARTICLES
If you missed him on Sportscenter's Top 10 throughout the year, Detroit's Doug Anderson has some harsh feelings towards basketball rims. They stole his lunch money. They picked on him through his awkward years. They would yell "Kool-Aid!" when his momma walked by wearing red. And now he takes out his anger on each and every rim he comes across. Poor, poor rims. Four tremendous...
If you don't like the NBA Slam Dunk contest, you probably appreciated the college slam dunk contest where Detroit-Mercy Titan's Doug Anderson put on a show. It would be difficult to argue against him as being better than everyone else in the NBA with what he calls 'in game dunks.' Check out his final dunk that gave him the title: Unreal. You can checkout the rest of his dunks...
There are some people who can dunk, and then there are dunkers. Doug Anderson is a real man who came to the 2013 State Farm College Slam Dunk Contest with some simple intentions. I'm gonna dunk this basketball, real real hard. I'm gonna jump real real high. I'm going to do dunks that I could do [...]The post Detroit's Doug Anderson Put One Of The Better Slam Dunk Performances...
Doug Anderson of Detroit Mercy introduced himself to the world Thursday night during the College Dunk Contest in Atlanta. Anderson scored perfect scores on each of his attempts and capped it all off with this impressive 360-degree, between the legs dunk that brought home the crown.The post Doug Anderson went with a 360-degree, between the legs dunk to win the College Dunk Contest...
University of Detroit guard Doug Anderson wowed the crowd (and now the World Wide Web) with the insane dunk in the video below to win the College Slam Dunk Competition, one of the events in Atlanta leading up to this weekend's Final Four. After watching this what the NBA needs to do is clear. Take the million that Magic has offered and whatever anyone else want to throw in...
Detroit's Doug Anderson puts on a show during the College Slam Dunk competition en route to a runaway win. Shaming the NBA All-Star weekend single-handedly. **Follow us on Twitter or Facebook.... Full story at Bob's Blitz ~ http://www.bobsblitz.com
University of Detroit Mercy's Doug Anderson, Mott CC alum, knows how to dunk a basketball. That's to put it as boringly as possible. Because his dunks were not boring.  Here's his 4th dunk of the college slam dunk competition, which won him the competition quite easily:  For a look at his other three dunks, all perfect scores, head over to It's Always...
Wow. Just wow. Sorry LeBron but you have nothing on University of Detroit's Doug Anderson.
University of Detroit Mercy high-riser Doug Anderson wrecked the competition with four dunks on his way to winning the College Slam Dunk contest.  He received perfect 40′s straight through the competition and  - most impressively – only needed one try for each of his dunks. ESPN's Jimmy Dykes called him a "1-seed" going up against all "16-seeds" in comparison to his...
Doug Anderson played for the University of Detroit this season. You probably didn't know him before, but I bet you know him now.  Has this dunk ever been done before? Anderson has a reputation with hard-core college basketball fans, as one of the best dunkers in college and he surely didn't disappoint with this dunk. FYI, Dick Vitale use to be the head coach at the University of Detroit.
University of Detroit's Doug Anderson pulled off an amazing dunk at the college dunk contest this year:   [youtube]u6SUgFfiAA[/youtube]   Big up: Gamedayr
You know how LeBron James is always playing that worn out routine of "Maybe I should be in the Slam Dunk Contest this year…" and us basketball fans are like, "Please, oh, please LeBron, would ya do that, King? Would ya?" and he's like, "Wellllllllllllll maybe if someone paid me a million dollars…" and then you and I pull out our pockets and fight over who gets to...
RUMORS & GOSSIP
Jon Denney was drafted by the Boston Red Sox in the third round of last year's amateur draft and it seems the 19-year-old has a lot to learn about being humble and making good decisions. Denney was arrested for driving with a suspended license early Thursday morning after being pulled over for driving erratically.  When asked by police why he was in the area, Denny gave a million...
The Philadelphia 76ers were one of the most active teams at the NBA trade deadline in February. The important trade made sent 76ers forwards Evan Turner and Lavoy Allen to the Indiana Pacers for Danny Granger and 2nd round picks. Evan Turner said that after the trade was completed the 76ers GM Sam Hinkie drove him to the airport to send him off to Indiana. What a kind nice thing...
John Wawrow of the Associated Press, citing a person familiar with talks, reports that free agent LB Brandon Spikes has agreed to deal with the Bills. Spikes, 26, was one of the best available inside linebacker in this year's free agent market, but surprisingly had generated very little buzz in recent days. The recent decision to move Kiko Alonso to outside linebacker seemed...
Will Bo Ryan and his Wisconsin Badgers grab a #1 seed in the NCAA Tournament? It's a topic we've put a lot of effort into analyzing lately. Here's where we have Wisconsin in our latest bracket projection. Obviously we don't know where they'll be seeded until Sunday. But if they win tomorrow in the Big Ten semifinals, they'll play in the Big Ten final; which is the very...
getty images Free agent cornerback Brandon Browner has signed a three-year deal with the New England Patriots. Browner, 29, also received interest from the Washington Redskins, New Orleans Saints and New York Jets but ended up signing with New England. His $5.6 million annually salary places near the top of the cornerback market. Filed to ESPN: CB Brandon Browner told me he's...
Formula One driver Lewis Hamilton is trying to offer some words of encouragement amid a heartbreaking situation with Michael Schumacher. Schumacher remains in a coma following a December ski crash in the French Alps that left him with severe head injuries. In an interview with The Telegraph in Melbourne this week ahead of the Australian […]
Jim Kelly's fight with cancer is back on. According to the Buffalo News the former Bills quarterback's oral cancer has returned. Dr. Thom Loree of Erie County Medical Center announced the news in a statement. "Jim Kelly came to ECMC this week for continued testing related to his oral surgery. Unfortunately, it has been determined that his […]
The Baltimore Ravens have reportedly agreed to terms on a three-year contract with Steve Smith. Ravens are giving WR Steve Smith a 3-year deal, per source. — Adam Schefter (@AdamSchefter) March 14, 2014 Photo Credit: Panthers.com Smith didn't want to venture far from his Charlotte base, and the Ravens didn't want to let him leave without a contract.  On Thursday, he gave...
It was reported on Thursday that Vince Wilfork, the gargantuan New England Patriots nose tackle, has refused to restructure his contract with the New England Patriots and has requested his release after 10 productive seasons. This potential parting of the team and one of its most popular players has upset some members of Patriots Nation, […] The post Porn star Jess Brigham offers...
As baseball analytics have evolved and grown at an exponential pace over the last decade, unprecedented amounts of data have been collected by teams. At the same time, as sabermetrics gained more mainstream legitimacy, sabr skeptics have changed their counter arguments. The fancy newfangled maths aren't illegitimate, but rather there is simply too much information […]Continue reading...
Latest Rumors
The Backyard

Today's Best Stuff

For Bloggers

Join the Yardbarker Network for more promotion, traffic, and money.

Company Info

Help

What is Yardbarker?

Yardbarker is the largest network of sports blogs and pro athlete blogs on the web. This site is the hub of the Yardbarker Network, where our editors and algorithms curate the best sports content from our network and beyond.