Found August 25, 2012 on isportsweb.com:
I have waited to post about North Carolina basketball being ranked the best program in the past fifty years by ESPN.com mostly cause I did not want to write a homer blog about it, but more because I wanted to find something to work off of what the world leader in sports did. First off I truly liked that this survey of the Top 50 programs was done using a point system and not by some so called experts views of the same schools. This meant while many things went into making this ranking, the one that was not included was bias by anyone. And that is just fine with me. While I am exstatic that Carolina was the top program for the last five decades, who would not be when their program is ranked the best of the best, being a Top 3 school was what I was hoping for as the list was being outlined over at ESPN. To be noted and to be fair, UCLA would have won this if not for the violations they received that put them just a tad below UNC. I also believe that being in the Top 5 or 10 of a list for such a long time period is nothing to be ashamed of. And if you look at the teams in this ranking you know this is not about being the top of the top, proof being that Syracuse is seventh in this ranking and has only one national title. This is about being very good for a very long time, and that is something that North Carolina basketball has been, first with Hall of Famer Dean Smith and now with Hall of Famer Roy Williams, for quite sometimes. To the ABC'ers and haters that will shout about the bad season of this decade all I will say is this: a bump in the road is a lot less damaging than five or more years of mediocrity. While I will not talk too much about this survey done by the world leader in sports it has made me think of doing something else to detail what Carolina basketball has been throughout the over 100 years of existence. Starting in the next few days and going on until I have talked about all of them I will start a segment called "Raising to the Rafters", which will be a look at each and every player that has been honored by being put up on the ceiling of the Dean Dome. Those will have the eight players that have their numbers retired forever, including the last one to go up there, Tyler Hansbrough. It is going to be exciting to talk about the many players that have their jerseys up there and what they did in their time in Chapel Hill. Looking forward to all of this and to remind anyone reading this, and myself, how much talent and chemistry has come out from what ESPN considers the best program in the last fifty years. Of course for more North Carolina basketball and/or football news make sure to check back often here at isportsweb!
Original Story:
http://feedproxy.google.com/~r/isport...
THE BACKYARD
BEST OF MAXIM
RELATED ARTICLES
(Credit: Yahoo Sports)As we all know North Carolina basketball will be part of this year's Maui Invitational, but what you might not know is that the Tar Heels will be playing on a court that will resemble the aloha state before the team makes the flight to the 50th state. Just before head coach Roy Williams and his squad head to play in the tournament they will stop in California...
As you know when you come check out the information about North Carolina basketball on this site you will find news about the present team and players as well as news about the former Tar Heels now playing at the next level, be it in the NBA or elsewhere. As such I found this small tid bit about a former Carolina player who was part of head coach Roy Williams' first national title…...
In the second of my "12 for 12″, the dozen posts to talk about the things that need to be good in order for this season to be a good one, no matter what the final record is, I talked about Kenan Memorial Stadium. In that article I gave my theory on how this season the place that North Carolina football calls home needs to be packed. Unfortunately this seems not to be the case...
CHAPEL HILL, N.C. -- Few players on North Carolina's roster have experienced more twists and turns in their career than A.J. Blue. A healthier and more athletic version of No. 15 looks to find his niche in the Tar Heels' new offense this fall.
Tar Heels News

Delivered to your inbox

You'll also receive Yardbarker's daily Top 10, featuring the best sports stories from around the web. Customize your newsletter to get articles on your favorite sports and teams. And the best part? It's free!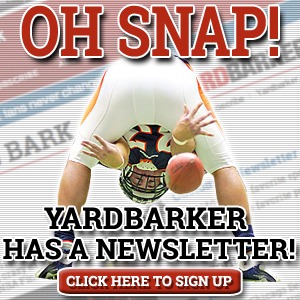 Latest Rumors
Best of Yardbarker

Today's Best Stuff

For Bloggers

Join the Yardbarker Network for more promotion, traffic, and money.

Company Info

Help

What is Yardbarker?

Yardbarker is the largest network of sports blogs and pro athlete blogs on the web. This site is the hub of the Yardbarker Network, where our editors and algorithms curate the best sports content from our network and beyond.