Found November 06, 2013 on isportsweb.com:
Once again rumors are flying around about P.J. Hairston, who was pulled out of yesterday's practice, meaning that the college web boards are buzzing like a swarm of bees. Stories about the guard have been flying around on so many web boards, be it North Carolina ones, as well as the usual ABC'ers like NC State and Kentucky, that the shooting guard is done for this season. First off let me say this… when it comes to rumors and what nots, until I see the official web site post something I take them with a grain of salt. Just like playing telephone, what begins as "glass of gin" turns into "having twins" pretty quickly. In other words, the small hill becomes the tallest of mountains in a very quick time. Of course while the UNC boards are more about what is going on with Hairston and what it means to this season, sites of other programs are all over on how this should be the last nail in the coffin for the Carolina basketball program. How Carolina has been a dirty program ever since it began, so on and so forth. Stop me any time you have heard rival/opposing teams not put in easy digs against other programs. Personally I could care less about what fans from Kentucky, Duke, NC State or any programs have to say. Even if they have "inside info" or "know someone who knows someone else". As I said above, whatever the outcome is I will wait for North Carolina to give it officially and not by anyone else. Once again rumors are swirling about the shooting guard Mark Amstrong, of ABC11, tweeted that officials from Carolina said that the shooting guard was pulled from practice due to a class conflict. And while a lot of people have taken this with skepticism, I will take that for now over posters with all their "sources" that root for other programs. FWIW – UNC spokesman tells me PJ Hairston had a class conflict with practice today. Any rumors of suspension are premature. — Mark Armstrong (@ArmstrongABC11) November 6, 2013 Having said all of that, let me get to why I did this post. It has to do with some of the comments I have been reading from members of the Tar Heel boards. Saying from "I am done" and so on and so forth. While P.J. Hairston is an integral part of this team, he is not North Carolina basketball! There are 100 years that belong to a storied program that people love to bash cause its climb to the top. Let's face the fact, if this was happening to a mid major the rumors would be 1/100th what they are because it's North Carolina. If losing Hairston for the whole year, if that was to happen, makes this team lose extra games, not to as well  in the season or during March Madness, it will put a damper on the season, THIS SEASON! But it can not change the fact what this program has done in a century, no matter what any of the ABC'ers will say. And the doom and gloom over one player makes the fan base, not the players, show they are losing what the "Carolina Way" is about. Haters will be haters. If this newest rumor turns out to be true we will hear them all say how they knew it all from the start and how corrupt this program is. If it turns out to be a rumor gone bad we will hear how it was the big money from Tobacco Road to hide the truth, how Carolina has the NCAA in the back pocket, how this that and the other. It will never be a winning situation, since it is highly likely that any of the opposing fan bases will admit that "it is what it is". But when you see North Carolina fans say what they did cause we might lose one player it just makes me shake my head. Soon enough the NCAA will give its final decision for both Hairston and Leslie McDonald, until then, even if things do not look so bright, let's take it with the same attitude that this program has shown us… with pride and class.
Original Story:
http://feedproxy.google.com/~r/isport...
THE BACKYARD
BEST OF MAXIM
RELATED ARTICLES
A bit of new information on P.J. Hairston's case from USA Today's Eric Prisbell. Trudy Faulcon, who is the mother of Miykael Faulcon, the Elizabeth City State basketball player who was arrested with P.J. Hairston on June 5th, says she told the NCAA about the number of times she witnessed the North Carolina junior driving rented cars. Faulcon's account to the NCAA alleges...
As the North Carolina basketball season approaches I was surfing the internet for a story about former Tar Heels, when I found a small nugget that was worth writing about. Anyone that follows my blogging knows that I do a "North Carolina in the NBA" recap, which run downs how the former UNC players are doing at the next level. In all 44 NBA Championship rings have been won by...
And so the drama year begins. The North Carolina basketball season is about to tip off the season and there is no word yet from the NCAA about either P.J. Hairston or Leslie McDonald. The only thing that is certain is that neither of the players will play tomorrow night at the Dean Dome when UNC starts its season against Oakland. You can check out the press conference here. I have...
CHAPEL HILL, N.C. – As the calendar prepares for one last turn ahead of North Carolina's season opener against Oakland, it has become apparent that the P.J. Hairston decision is no longer in Roy Williams's hands.
North Carolina won't have leading scorer P.J. Hairston and senior Leslie McDonald for the No. 12 Tar Heels' opener against Oakland on Friday due to NCAA eligibility concerns. Team spokesman Steve Kirschner said the review is ongoing and didn't elaborate further. Authorities twice cited Hairston during the offseason while driving a rental vehicle linked to a felon, raising...
The Preview: Oakland at North Carolina Tomorrow night at the Dean Dome, tip off at 9:00 p.m. EST, #11/#12 North Carolina will begin their basketball season as they host Oakland. And while there is still uncertainty, both from the NCAA and their ruling on P.J. Hairston and Leslie McDonald and on the line up with who will be the starting center, many believe this will be a better season...
North Carolina coach Roy Williams knows he won't have leading scorer P.J. Hairston and senior Leslie McDonald for at least the season opener. The Hall of Fame coach is still waiting to find out how long the two will be out. The school said Hairston and McDonald would sit out for the No. 12 Tar Heels' game against Oakland on Friday night because of NCAA eligibility concerns...
G Marcus Paige, Sophomore, 6-1, 175 lbs It is only fitting that the last player profiled for the upcoming season is Marcus Paige. While Paige may not be the name that comes to mind first when people talk about the "best" player on the team, a very strong argument can be made that no player will be more important in determining what type of season this ultimately becomes...
North Carolina coach Roy Williams is ready to go big again. The Hall of Fame coach came to this decision well before he learned he would be without two of his top guards. The 12th-ranked Tar Heels won't have leading scorer P.J. Hairston and senior Leslie McDonald for Friday night's opener against Oakland due to NCAA eligibility concerns. ''It's an ongoing issue...
Tar Heels News

Delivered to your inbox

You'll also receive Yardbarker's daily Top 10, featuring the best sports stories from around the web. Customize your newsletter to get articles on your favorite sports and teams. And the best part? It's free!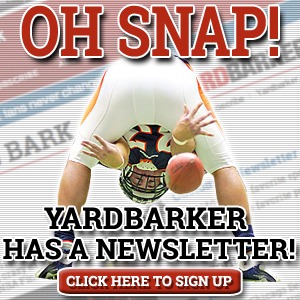 Latest Rumors
Best of Yardbarker

Today's Best Stuff

For Bloggers

Join the Yardbarker Network for more promotion, traffic, and money.

Company Info

Help

What is Yardbarker?

Yardbarker is the largest network of sports blogs and pro athlete blogs on the web. This site is the hub of the Yardbarker Network, where our editors and algorithms curate the best sports content from our network and beyond.