Found March 23, 2012 on isportsweb.com:
Throughout the 2011-2012 season, there have been moments when the Buckeyes suddenly go ice cold from the field.  That happened again on Thursday night for an 8-minute stretch in the second half.  Cincinnati rallied from an early deficit and appeared to take over the game while Ohio State couldn't find its rhythm at either end of the floor.  In those minutes, it felt OSU's charge to a Final Four berth was about to meet its end in the Sweet Sixteen; an all too familiar and disappointing finish given how last year turned out.
For 8 minutes the Bucks' offense stalled.  For 8 minutes, the defense was at the mercy of the surging Bearcats.  But for the other 32?  The Buckeyes looked unstoppable.
Thomas (right) and Sullinger led the Ohio State offense, combining for 49 points and 18 boards (Rogash/ Getty)
This is what is maddening about this year's team.  At their best, these players combine inside and outside shooting with smothering defense and crisp passing– a true array of weapons.  But consistency has been hard to come by.  Against Cincinnati, Ohio State dominated early and dominated late, enduring the rally in between and willing itself into the Elite Eight.  As it turned out, the inconsistent play didn't hurt.  But with 1-seed Syracuse looming as the next matchup, the Buckeyes need to figure out how to avoid damaging dry spells.
With the exception of the opening minutes of the second half, Thursday's was as good a game as Ohio State has played all season.  Deshaun Thomas was unconscious in the first half, draining 20 points before the break and helping OSU to a 12-point halftime cushion.  Jared Sullinger was a force inside, finishing with a 23-point, 11-rebound double-double.  Lenzelle Smith, Jr. added 15, going 3 of 4 from beyond the arc.  And despite an 0 for 5 start, Aaron Craft tallied 11 points to go along with 5 assists and 6 steals.
If Thomas was the hero of the first half, the second half– and crunch time– belonged to Craft.  After Cincinnati roared back from a dozen down to regain the lead, something seemed to change in the point guard.  His normally high energy levels skyrocketed, fed by Sullinger's ire and fire.  While the big man implored his teammates to regroup, Craft ratcheted up his defense.  Over a 6-minute span his harassment led to five UC turnovers versus just a single point, and Ohio State's 52-48 deficit became a 65-53 advantage.
With the lead back to 12, the Buckeyes never looked back.
For a guy who didn't score his first point until the ten-minute mark of the second half, Craft had a profound impact on the game.
Craft pestered the Bearcats into numerous second-half mistakes (Dwyer/ AP)
Just as in the 2011 Tournament, William Buford had a Sweet Sixteen to forget, mustering a mere 4 points on 1 of 8 shooting.  The bench managed just 2 points.  Despite the eventual 81-66 win and its comfortable margin of victory, there remains plenty of room for improvement.  Ohio State shot 48% from the floor and nailed 8 of 17 3-point attempts, but let Cincy hit 46% from the floor.  Until Craft locked down the Bearcat offense, UC was shooting over 50%.  Cashmere Wright led Cincinnati with 18 points.  Sean Kilpatrick added 15 and Jaquon Parker 10.
Against the top-seeded Orange, Ohio State must find a way to maintain defensive effectiveness for a full 40 minutes.
Thomas, whose big first half gave the Bucks what seemed to be a sufficient lead, all but disappeared until late in the second half.  Though he finished with 26 points, his torrid start could have led to a much bigger night had the team not gone away from him after the break.  However, his 10 for 17 night was extremely encouraging.
In spite of the mistakes and the negatives, Ohio State gave a strong performance and bulled its way into the Elite Eight.  It seemed as though Sullinger was reliving the bitterness of bowing out against Kentucky last year, and he and Craft refused to let the squad repeat that scenario.  
The Buckeyes have now bested Loyola (MD), Gonzaga, and Cincinnati en route to a collision with 'Cuse.
Original Story:
http://isportsweb.com/2012/03/23/ohio...
THE BACKYARD
BEST OF MAXIM
RELATED ARTICLES
Aaron Craft's brother Brandon Craft deploys for service in Afghanistan as member of the US Army today, as Ohio State prepares to play Syracuse with chance to advance to Final Four. This from Doug Lesmerises of the Plain Dealer earlier today: This is today for the Craft family: one son trying to reach New Orleans, while the other is headed to Afghanistan. "We have an opportunity...
BOSTON (AP) -- Aaron Craft doesn't get as much publicity as some of his Ohio State teammates. Jared Sullinger is the star. Deshaun Thomas is the shooter. But Craft is the stopper, the pesky defender who irritates dribblers and takes the ball away. "He takes great pride in what he's doing every single possession," Buckeyes coach Thad Matta said Friday. "That...
Ohio State forward Jared Sullinger, currently on a social media hiatus, showed why he is a projected lottery pick in the upcoming NBA draft as the Ohio State Buckeyes beat the Cincinnati Bearcats 81-66 on Thursday night. Sullinger scored 23 points and grabed 11 rebounds while only taking 13 shots from the floor. Sullinger was...Read the Rest...
Ohio State's Deshaun Thomas has been one of the breakout stories of the NCAA Tournament, leading the Buckeyes' offensive attack and boosting his NBA draft stock in the process. But it's his work as a more complete player that has made both Thomas and the Buckeyes successful.
With the Cincinnati-Ohio State sweet 16 showdown lingering later on today, I thought it would be a good idea to talk to someone very familiar with the Buckeyes. What a novel idea. I know. I'm a leader of blogs for a reason. Original ideas no one else ever thought of. Anyway, that brings us to the great Ohio State blog Eleven Warriors. I did a Q&A over there that will be up...
By Ari Wasserman BuckeyeSports.com Thad Matta anticipated Cincinnati would play zone defense. Perhaps thats how Ohio States head coach was able to justify glancing a game forward when thinking about Syracuses notorious 2-3 zone defense even before the Buckeyes advanced past the Bearcats in Thursday nights Sweet 16 matchup. We spent a majority of our time this week (before getting...
It hasn't been easy being William Buford during the 2011-12 Ohio State basketball season. The team's lone senior is among the statistical leaders in the storied history of the program, but his final campaign has been littered with ups and downs. Coming off one a performance that could be described as the latter on Thursday, Buford hopes to shine in the Elite Eight.
Getty Images / Jim Rogash Friday night I picked up some "Mind Putty" at a brain store, and working it like a madman in my stress for this Elite 8 game, so figured I might as well try to channel it into words. Because the "ugghs" and "ohhs" and other less typeable utterances that I have let go of during the first ten minutes of the game have got to go somewhere. Ohio...
When Cincinnati got careless with the ball, it threw away its chance to advance to the NCAA East regional final. The team that began the night with 10.7 turnovers per game, 15th fewest in the nation, committed 18 in its 81-66 loss to Ohio State on Thursday. And seven of those came after the Bearcats had turned a 37-25 halftime deficit into a 52-48 lead with 11:34 to go. '&...
New York Times Syracuse easily faces its toughest matchup of the season tonight against Ohio State. This is how it should be. There are only 8 teams left. Ohio State is a lot like Syracuse in that the Buckeyes have a lot of guys who can score and they defend very well. The difference in the two teams is how they score and how they defend. Syracuse is as perimeter oriented as you...
Every ride has a stop. The roller coaster season of the Cincinnati Bearcats came to an end tonight, losing to 2 seed Ohio State 81-66. The margin is very wide, but the score doesn't indicate what actually happened. UC was down 12 at the half. They opened half 2 like a ball of thunder. UC went up 4 in the second half. Ohio State turned up the pressure and the Bearcats just couldn...
Thursday's sloppy mess I was fairly excited. Home relatively early on a Thursday evening. A full slate of meaningful tourney games. Spread out nicely. Forget what I said about college basketball. It's on, right? Unfortunately, it was on. And it was awful to watch. One of the interesting side effects of having a young child at home is that I find myself increasingly watching...
Buckeyes News

Delivered to your inbox

You'll also receive Yardbarker's daily Top 10, featuring the best sports stories from around the web. Customize your newsletter to get articles on your favorite sports and teams. And the best part? It's free!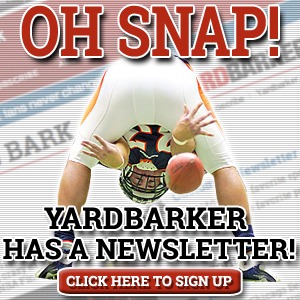 Latest Rumors
Best of Yardbarker

Today's Best Stuff

For Bloggers

Join the Yardbarker Network for more promotion, traffic, and money.

Company Info

Help

What is Yardbarker?

Yardbarker is the largest network of sports blogs and pro athlete blogs on the web. This site is the hub of the Yardbarker Network, where our editors and algorithms curate the best sports content from our network and beyond.