Found July 28, 2013 on SCACC Hoops:
Because how else do you explain how he, of all the people in the state of North Carolina, would get caught driving 93 miles per hour in a 65 mph zone just outside Webb, North Carolina. From Eric Prisbell at USA TODAY:  Hairston, 20, was driving a 2008 Acura TL southbound on Interstate 85 outside of Webb, N.C., where he was pulled over at 4:30 p.m. by the State Highway Patrol, said spokesman 1st Sgt. Jeff Gordon. This comes less than two weeks after Durham police dropped all charges after being arrested for possession of marijuana and driving without a license, all while he's being investigated for both his relationship with a sports agent and Haydn "Fats" Thomas. Seriously, it's already been said that Hairston is likely going to miss multiple games due to impermissible benefits. Can you suspend someone for "just being a dumb ***?" I'm curious, is the 2008 Acura TL his? Normally I wouldn't ask, but track records are track records. Anyhow, the new reality for Hairston is that this is not just about UNC anymore. This is about his future. The Tar Heels' leading scorer from last year could have gone to the NBA and had a shot at being an early second-round pick (according to myself). With another year of college ball as a starter, one would expect him to have a chance at being a first-round pick.  That first round pick would bring with it a guaranteed contract as well. Every mistake he makes now is being closely monitored by those NBA teams. Every time his reputation takes a hit, he's potentially costing himself millions of dollars. Wherever Hairston was going in such a rush this Sunday, I hope it was worth the dollars he's losing for committing another boneheaded move. This article was originally published at http://accbasketball.com. If you are interested in sharing your website's content with SCACCHoops.com, Contact Us.
Original Story:
http://www.scacchoops.com/tt_NewsBrea...
THE BACKYARD
BEST OF MAXIM
RELATED ARTICLES
  North Carolina fans can take a slight sigh of relief… We reported earlier that UNC guard PJ Hairston was suspended from the Tar Heel basketball team after being cited for wreck-less driving Sunday...
Since North Carolina wing P.J. Hairston was arrested after police found drugs and a gun near the vehicle he was driving on June 5, news has continued to trickle out -- and not much of it good. But at least all, or most, was related to that incident. Now, less than one week after it was announced that all charges stemming from that arrest would be dropped, Hairston is back in the...
The North Carolina Tar Heels suspended leading scorer P.J. Hairston Sunday night, just hours after North Carolina state police pulled him over for driving 93 miles per hour in a 65 mile limit zone. The junior guard and McDonald's All-American will receive an indefinite suspension according to a short statement released by the school. The isn't the first time P.J. Hairston has...
North Carolina coach Roy Williams says he's ''tired'' of talking about suspended guard P.J. Hairston. Williams spoke briefly to reporters after his round at the Wednesday pro-am at the Wyndham Championship. When asked about Hairston's situation, he said he's ''tired of reading about it, tired of talking about it'' and declined to discuss...
According to USA TODAY Sports, Unviersity of North Carolina basketball coach Roy Williams has suspended one of his players.  Williams has decided to suspend P.J. Hairston after the troubled guard [...]
This is a young brother clearly in need of a mentor or a friend.  Or car service.  Too bad Uber can't just sponsor him or something.  University of North Carolina Tar Heels Guard P.J. Hairston  was suspended indefinitely following his third arrest in 3 months.  Bleacher Report says (via USA Today): The junior guard was [...]
I was actually ready to go to bed when I finally saw that P.J. Hairston had been cited for speeding and reckless driving, his third run-in with the law since May. UNC and Roy Williams wasted little time once the news went public in announcing an indefinite suspension of Hairston. As 99.9 The Fan's Joe Ovies points out, there wasn't much of a choice here. However, this was...
The North Carolina Tar Heels have suspended leading scorer PJ Hairston indefinitely following yet another run-in with the law on Sunday.
P.J. Hairston just doesn't seem to get it. Hairston was cited for reckless driving late Sunday evening, after being pulled over for driving 93 mph in a 65 mph zone. USA Today is reporting that UNC has suspended Hairston indefinitely after this latest incident.  Hairston, who was driving a 2008 Acura, was cited and released, and faces an Aug. 30 court date in Rowan County, 1st...
North Carolina Tarheels Guard Pj Hairston has found himself on the wrong side of the law yet again. According to the report from USA Today  Hairston was charged with speeding and careless and reckless driving Sunday after being pulled over for driving 93 mph in a 65 mph zone. I would say thats pretty reckless and careless. The potentially even bigger issue though is who this car...
CHAPEL HILL, N.C. -- North Carolina announced an indefinite suspension for P.J. Hairston on Sunday.
Ask a college basketball coach about all the conference realignment in recent years and they just shake their heads: It's a shame, they say, the big-money sport of football has so drastically changed the fate of the less-money sport of basketball. Football drives the bus, basketball is along for the ride. In realignment, the sport of basketball lost. This feeling is true in...
Tar Heels News

Delivered to your inbox

You'll also receive Yardbarker's daily Top 10, featuring the best sports stories from around the web. Customize your newsletter to get articles on your favorite sports and teams. And the best part? It's free!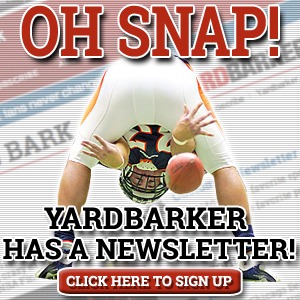 Latest Rumors
Best of Yardbarker

Today's Best Stuff

For Bloggers

Join the Yardbarker Network for more promotion, traffic, and money.

Company Info

Help

What is Yardbarker?

Yardbarker is the largest network of sports blogs and pro athlete blogs on the web. This site is the hub of the Yardbarker Network, where our editors and algorithms curate the best sports content from our network and beyond.