Found April 23, 2013 on Fox Sports Kansas City:
KANSAS CITY, Mo. Even if it isnt Bruce Webers fault and the debate raged fast and furious across Twitter late Monday night it is his problem. Angel Rodriguez, pretty much the one player that couldnt leave the Kansas State mens basketball program, has um, left the Kansas State mens basketball program. The announcement came Monday during dinner hour in Manhattan, and you could hear the kvetching all the way to Liberal. "It is important that everyone understands this was a really difficult decision," Rodriguez, the Wildcats starting point guard, said in a prepared statement. "This decision was based entirely on my family and has nothing do with Kansas State, basketball or the coaching staff. "It's unfortunate after the year we just had, but I just feel right now this is the best thing for me and my family. Whether it is the right choice or not, family has and always will be first with me. If you take the programs news release at face value, the 5-foot-11 sophomore from Puerto Rico is running toward something, not away. Rodriguezs mother, Jacqueline, is raising his two younger brothers on her own, some 2,300 miles away. Reportedly, she only saw him play in person once as a collegian, just this past January. And the carrot that initially lured Angel from south Florida to rural Kansas former Wildcats coach Frank Martin has been out of the picture for nearly 13 months now. "After multiple conversations, Weber, K-States coach of the present, said of Rodriguez. "Angel feels an obligation to be closer to his family. While this is the third announced transfer out of Webers program in the last five weeks, its also the one that cuts the deepest Rodriguez averaged 11.4 points and 5.2 assists this past season and was expected to contend for all-Big12 honors. A K-State official told FOX Sports Kansas City that the point guard said hed wished to be released from his scholarship in order to pursue schools in Florida. Rodriguez prepped at Dr. Krop High School in Miami. If that, indeed, is the end game, then more power to him. Rodriguez is 20, and a long, long way from home. It happens. The surprise is that it happened now, and not immediately following Martins departure last March, when many had expected it. The shock is that the point guard seemed to forge a solid relationship, publicly, with Weber and his staff even bonding closely with assistant Chester Frazier, a former Weber point man himself, over their mutual love of boxing. And the disappointment, at least on the Little Apple side of things, is twofold. First, Webers staff, and system, made Rodriguez better. The young Puerto Rican appeared to thrive in K-States new motion offense, raising his point production by more than three per contest from 2011-12 and upping his 3-point percentage (.317 to .344), assist count (3.2 to 5.2 per tilt) and free-throw makes (2.3 to 2.7 per game) along the way. The little guy didnt just play smart; he played tough, too gutting through torn ligaments in his left (non-shooting) wrist through the final three weeks of the season. Second, Angel was supposed to be one of the building blocks for the next phase of Webers regime, the bridge between the end of the Martin Era and backcourts to come. With Rodriguez running the show, K-State won a share of its first regular-season league title since 1977. With Rodriguez running the show, the Wildcats would likely have been picked no lower than fourth by the punditry come the fall. Instead, he finds himself added to a list of significant, painful departures. With no Angel on board and backup combo guard Martavious Irvings eligibility exhausted, K-State loses 43.8 percent of its assists and 37.8 percent of its 3-point makes from this past winter. Thats on top of already bidding farewell to leading scorer Rodney McGruder (15.6 points, 51 treys) and leading shot-blocker Jordan Henriquez (5.0 points, 1.9 swats per game). "His personal improvement this past year was obviously a big factor in our run to the Big 12 title, Weber continued. "However, just like the loss of our three seniors, this will be another opportunity for someone else to step up. Maybe that someone is incoming freshman guard Nigel Johnson, a 6-foot-1 sharpshooter out of D.C. Maybe its Will Spradling. We just dont know. And thats the part that really drives Aggieville bonkers; what was one of the Big 12s assured guard units a week ago now portends as one of the leagues biggest question marks. Plus, Rodriguez follows freshman guard Michael Orris, another option at the point, and sophomore forward Adrian Diaz in the Exit Stage Left Club. Plus, La Salle. Oy vey. For Weber, these are not helpful trends. At all. Its another round of public-relations demerits, eating away at the goodwill earned over a remarkable run to a Big 12 crown. The man was hired under something of a cloud of disappointment and suspect feelings, turned a corner with the fan base following a massive December upset of Florida, and built up street cred in Riley County, slowly, week by week. While Rodriguezs departure doesnt completely erase five months of progress its got the doubters out in force again, pointing fingers and accusing Weber of riding other coaches coattails to the winners circle. Rome isnt burning, not by any stretch of the imagination, but the faithful cant help but notice the something that smells an awful lot like smoke. You can follow Sean Keeler on Twitter @seankeeler or email him at seanmkeeler@gmail.com
Original Story:
http://www.foxsportskansascity.com/co...
THE BACKYARD
BEST OF MAXIM
RELATED ARTICLES
MANHATTAN, Kan. Sophomore guard Angel Rodriguez has announced his intention to transfer from the Kansas State mens basketball program and requested his release, head coach Bruce Weber announced Monday. "After multiple conversations, Angel feels an obligation to be closer to his family," said Weber. "His mother is raising his two younger brothers all by herself in...
Kansas State point guard Angel Rodriguez has decided to transfer so that he can be closer to his mother and two younger brothers in Puerto Rico. Rodriguez played through several injuries during his sophomore season, averaging 9.8 points and 4.2 assists in helping the Wildcats win a share of their first conference championship in 36 years. The fourth-seeded Wildcats were upset by...
MANHATTAN, Kan. - Angel Rodriguez ran the total to three Wildcats who have left the Wildcat program since the end of the year, joining Mike Orris and Adrian Diaz
Shane Larkin's decision to return to Miami or declare for the draft is rapidly approaching but Miami may have already found their first choice to replace him.  Former Kansas State guard, Angel Rodriguez,  has announced his intention to transfer and Miami is said to have a good shot Heard today that UM has good shot with point guard Angel Rodriguez, who is transferring from...
The final image that Kansas State fans will have of Angel Rodriguez in a Wildcat uniform will be an air ball at the buzzer in an NCAA tournament game against La Salle that could have prevented a massive upset loss. The Wildcats' starting point guard said Monday that he wants to transfer closer to his mother and two younger brothers, who still live in his native Puerto Rico....
MANHATTAN, Kan. - Connor Wilson visited Kansas State for the second time after receiving his first offer from the Wildcat coaching staff last month. The 6-foot-2, 205-pound defensive back was a first team All-State performer at Argyle (Texas) High School in 2012.
Wildcats News

Delivered to your inbox

You'll also receive Yardbarker's daily Top 10, featuring the best sports stories from around the web. Customize your newsletter to get articles on your favorite sports and teams. And the best part? It's free!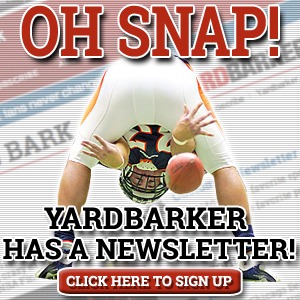 Latest Rumors
The Backyard

Today's Best Stuff

For Bloggers

Join the Yardbarker Network for more promotion, traffic, and money.

Company Info

Help

What is Yardbarker?

Yardbarker is the largest network of sports blogs and pro athlete blogs on the web. This site is the hub of the Yardbarker Network, where our editors and algorithms curate the best sports content from our network and beyond.