Found January 20, 2013 on Midwest Sports Fans:
Last night, Butler beat Gonzaga in the Battle of the Bulldogs at historic* Hinkle Fieldhouse. If you, like me, missed watching it live and are just catching up this morning, take a few minutes to watch the video below. Maybe watch it a few times. What jumps out at you? Chances are a number of things jump out at you. The really poor inbounds pass. The presence of mind of Roosevelt Jones to not panic and just take the ball and make a play. The high degree of difficulty of the shot Jones makes to win the game. The bedlam that ensues on the court after the basket. Dickie V shouting Dickie V things. There's a lot of college basketball wonderfulness to behold in those 20 seconds of video. But look closer. As my Twitter friend Jeff instructed me to do, watch Brad Stevens. What do you notice? You notice Stevens' expression and body language not change one iota during the play. If you did not know who he was coaching for, you might think he was the coach of Gonzaga watching his team lose. Look in the upper right hand corner. See Stevens? So…did he just win or lose the game? As the wild action on the court is unfolding, and as the chaos ensues after the shot goes in, Stevens' face stays the same, his arms stay folded, and he simply turns to walk towards his coaching counterpart Mark Few. You know why? Because Stevens has been there before. And he's been there in much bigger games and situations than this. You know why? Because Butler is no longer just some cute story or "mid-major" or overachieving little guy. They, like Gonzaga, are simply a damn good basketball program that consistently produces damn good teams … occasionally producing great ones. The amazing Stevens, with the poise of his body language, emphatically drove that point home last night (for those who needed to have it driven home). Is this particular Butler team a great one? We don't know yet. But as Ari Kaufman mentioned last night, "Name one school with four better wins than Butler this season: IU, Marquette, UNC and Gonzaga." Umm…? Time will tell if this year's Bulldogs can reach the heights of the Matt Howard-Shelvin Mack-Gordon Hayward teams. But we need no more time to understand how good this program is. So let's stop "praising" Butler with back-handed compliments, like the one Jon Washburn described this morning. Referring to the announcers in last night's game he said: These guys are trying…but they know nothing. Heaven forbid we ever say Butler is talented. They are only smart, physical, and well coached. Dunham was recruited by IU, Wisconsin, Kansas, and Michigan. Think Vitale knows that? NBA scouts liked Dunham more than all but one other player at the Maui invitational – McAdoo from UNC who is gonna be a top five pick. But Butler isn't talented…yet just try hard. These Bulldogs – and, in fact, all of the Bulldogs teams of recent memory – are smart, physical, well-coached, and talented. In a day and age when conference affiliation means very little, it seems silly to continue looking at the Butlers, the Gonzagas, and the Creightons of the college hoops world as the "little guy" simply because they don't play in BCS conferences. Yes, they are "underdogs" in the sense of having less money and fewer resources than the big conference boys. But that only makes their achievements more impressive and should garner them more respect, not passing interest and back-handed compliments. Fortunately, we're getting there. Consider: Butler versus Gonzaga was a nationally televised game last night that a lot of folks were interested in. Butler, a school that has reached two title games in the past handful of years, rushed the court after a win over Gonzanga – showing their proper respect for a terrific program. Butler's coach felt no need for histrionics after his team's thrilling victory. Last night was a really good night for college basketball. As an Indiana fan, I am all too familiar with Butler's terrific program. And, frankly, I'm a fan. Not because they're the underdog, but because they're good. Damn good. Year in, year out. Slowly but surely I think the rest of the nation is starting to wake up to that reality too. ***** * – Hinkle Fieldhouse must always be preceded by the word "historic." It's sportwriter and sportscaster law.   The post Roosevelt Jones' Game-Winner For Butler Over Gonzaga (and Brad Stevens' Reaction) a Microcosm of Bulldogs' Greatness appeared first on Midwest Sports Fans.
Original Story:
http://feedproxy.google.com/~r/Midwes...
THE BACKYARD
BEST OF MAXIM
RELATED ARTICLES
Butler + Jones + Hinkle = Magical March Moment in January.. Well done..— Kevin Negandhi (@KNegandhiESPN) January 20, 2013Down one point with 3.5 seconds remaining, Butler's Roosevelt Jones stole the inbounds pass, took it coast-to-coast and tossed up a floater as time expired. The refs reviewed the play and ruled that the ball left Jones' hand before the clock hit 0.0. With...
I know it's an overused phrase but I"ve got to say it.  The Butler did it again.  This time it's sophomore forward Roosevelt Jones who ended this Butler/Gonzaga dogfight with a buzzer beater at Hinkle Fieldhouse. "I heard their coach saying to lob it to [Kelly] Olynyk, so I just played behind him, made the basketball play and got the steal,&quot...
Over the last three seasons, there has been no college basketball team luckier than the Butler Bulldogs and yesterday against the Gonzaga Bulldogs, they pulled out a miracle finish. Gonzaga had the ball with a one-point lead and all they needed to do was inbound it to finish off the game. Sadly for Gonzaga, Butler's Roosevelt Jones stole the pass and went to the other end...
Tweet Anyone that thought the Butler Bulldogs were a one-year wonder after their 2010 Final Four run was proven wrong in 2011 when they returned to the Final Four. After a 22-15 season in 2011-2012, the Bulldogs seem to be back for more. Butler is ranked 13th in the nation, bringing a 15-2 record into [...]
Roosevelt Jones stole an inbound pass with 3.5 seconds left and hit a floater from just inside the foul line right before the buzzer to help No. 13 Butler upset No. 8 Gonzaga 64-63 on Saturday night. Jones finished with 20 points and the Bulldogs have now won 13 in a row including two straight without their top scorer, Rotnei Clarke. It's the first time Butler (16-2, 3-0 Atlantic...
Roosevelt Jones stole an inbound pass with 3.5 seconds left and hit a floater from just inside the foul line right before the buzzer to help No. 13 Butler upset No. 8 Gonzaga 64-63 on Saturday night. Jones finished with 20 points and the Bulldogs have now won 13 in a row including two straight without their top scorer, Rotnei Clarke. It's the first time Butler (16-2, 3-0 Atlantic...
Taking advantage of a light push-off and horrible in-bound pass from David Stockton, yep the son of NBA great John Stockton, Butler's Roosevelt Jones hit a last second buzzer beater to beat No. 8 Gonzaga 64-63 from the Hinkle Fieldhouse. What's also impressive is Butler was playing without leading scorer Rotnei Clarke. Butler, the former [...]
This ending is amazing, and check out the reaction of Butler's coach Brad Stevens. Hat tip: Gregg Doyel
It's not often you see both Butler and Gonzaga ranked in the top 15, and going at it this early in the season. Let's just say the game didn't disappoint.  David Stockton of Gonzaga was in-bounding the ball with 3.5 seconds left on the clock, and threw the worst pass I've ever seen.  Roosevelt Jones of Butler came up with the ball and took it down the court to win...
Gonzaga coach Mark Few thought he had it all figured out. Make an inbounds pass, take the foul, hit two free throws and defend the 3-point line. It proved harder than the Zags or anyone else could have imagined. Roosevelt Jones looped behind Gonzaga's 7-foot center, stole the pass with 3.5 seconds left, drove from midcourt into the lane and hit a buzzer-beating floater that...
Butler beat Gonzaga 64-63 on Saturday night at Hinkle Fieldhouse in Indianapolis in incredible fashion. Butler was down by one with 3.5 seconds left and Gonzaga taking out the ball near mid-court. Junior guard David Stockton — son of Basketball Hall of Famer John Stockton — lobbed a high pass that was caught by Butler forward Roosevelt Jones. Jones raced across the court and...
Gonzaga served as the model program for college basketball's non-power conference schools for more than decade. Butler took that blueprint, revised it and came up with even better results. On Saturday, college basketball fans will finally get to see America's two biggest little schools play each other at historic Hinkle Fieldhouse with all the trimmings: A prime-time tip...
Bulldogs News

Delivered to your inbox

You'll also receive Yardbarker's daily Top 10, featuring the best sports stories from around the web. Customize your newsletter to get articles on your favorite sports and teams. And the best part? It's free!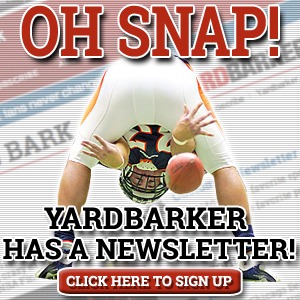 Latest Rumors
Best of Yardbarker

Today's Best Stuff

For Bloggers

Join the Yardbarker Network for more promotion, traffic, and money.

Company Info

Help

What is Yardbarker?

Yardbarker is the largest network of sports blogs and pro athlete blogs on the web. This site is the hub of the Yardbarker Network, where our editors and algorithms curate the best sports content from our network and beyond.