Found March 22, 2012 on NBA Draft Blog:
As teams' seasons end, more and more underclassmen will look to test their NBA Draft fortunes.  With the time to withdraw from the draft coming up as quickly, decisions need to be made with little information.  Today, the NBA Draft Blog Scouting Report looks at another freshman who is rumored to have one eye already on the NBA – Michigan's Trey Burke.  Burke had a good freshman year and he was a key part to Michigan's season, but is he ready for the NBA?  Let's take a look at Trey Burke:
Trey Burke, Michigan – Freshman Guard -  6'1, 175 14.8 ppg, 4.6 apg, 3.5 rpg, 43.3% FG, 74.4% FT, 34.8% 3FG
Offense Perimeter Shooting- Burke has all of the components to be a good perimeter shooter.  He has a quick, high release; uses his legs well and has better than average range.  He moves well without the ball, and is very good in catch and shoot situations.  He also uses screens and his dribble well to create space to get his jumper off.  However, he needs to do a much better job getting set in these situations. He has a bad tendency to float or fade-away when taking a jumper off his dribble, making the shot much tougher than it needs to be.   One key point to note – he already has a very good mid-range jumper, an area a lot of guards have been lacking recently. Ballhandling/Penetration- Burke has a very good handle and uses his dribble to keep the defense off-balance.  He uses both hands and both sides of the court well, and he his change-of-pace and crossover dribbles have improved greatly in a year.   While Burke is quick, he has just a decent first step.  He prefers to break a defender down with the dribble, sometimes to the point of overdribbling and bringing the offense to a halt.  When he does get into the lane, he has good body control and finds ways around help defenders.  However, he prefers to shy from contact and would rather take a runner or a more difficult shot than go strong at the basket and get hit.  Also, he needs to not be so set on shooting once he gets into the lane.  He does a good job drawing help defenders, but he needs to look more for the open man in those situations. Rebounding/Passing- Burke has good enough speed to get to long rebounds and tip-outs.  However, since he is spending more time on the perimeter with his offense, he isn't very involved on the offensive glass.  Burke sees the floor well and has good command of the offense.  He doesn't try to force many passes, and he makes good decisions, for the most part.  He does need to improve how he gets entry passes into the post, especially getting it to his man where they can best utilize it.  Also, his decision making needs to become a bit quicker at the next level – the speed of play will be much faster than he is used to.  I am impressed by how he handles himself in pick and roll situations, especially when he is looking to distribute rather than score himself.   When he is patient and lets a play develop, his teammates would find easy baskets. Free Throw Shooting - Burke is just an average free throw shooter, but the ability to improve is there.  As noted earlier, his shooting form is fine, so it is a matter of concentration.  Also, with his ability to get into the lane, he should get to the free throw line more often than he does, but he looks to shoot jumpers way too often.
Defense Perimeter Defense- Burke's defense has improved as the year as gone on, but he is not ready to defend guards at the NBA level.  He has quick feet and hands, and he positions himself well for the most part, but his lateral movement needs work, especially pivoting and adjusting to changes in direction.  He has done a better job anticipating the moves of his man, but he still plays too much on his heels, leaving him susceptible to quick jump shots and shot fakes.  He has also improved his defense on the pick and roll, doing a better job getting through the screens and knowing when he needs to go over the screen on a shooter.  If he can get lower on his man and improve his balance, he should be able to adjust to the offense's moves better.  He does a good job closing on shooters and he covers ground quickly, but he may find himself in a lot of size mismatches in the NBA, which means he needs to play shooters tighter. Rebounding- Burke is a very good rebounder for his size, using his quickness and instincts to get to missed shots.  He has good hands and when he gets the ball, he does a good job getting the offense moving or clearing the ball.
Transition Burke can be dangerous in the open court, both as the ballhandler or running on one of the wings.  He pushes the ball quickly up the court and can get to the rim quickly.  As with the offense, he could do a better job with his decision making once he gets the defense to commit, but this will come with experience.  On the wings, he is a very good spot-up shooter or if the defense tries to cut him off, he can take the ball to the rim.
Summary & Intangibles Athleticism – Very High BB IQ – High   Burke will be a NBA player one day, but he isn't ready yet to make the jump.  His ability to run the pick and roll will be attractive to teams, as well as his ability to knock down jumpers, but he is small, his defense needs a lot of work and he will need to focus on being more of a distributor than scorer at the next level.  If he was to come out now, I say he would probably go in the late first-high second round (25-40) range.  There have been quotes recently about this draft lacking point guards, which may lead underclassmen to declare.  Teams are not going to pick a point guard just because they may need one and there is a certain amount available.  They will pick them because they are available and can help the team.  I think it will be another year or more before Burke is ready to help a NBA team.   Remember, leave any comments below, follow me on Twitter - @NBADraftBlog, or feel free to email me at the link up top.
Original Story:
http://www.nbadraftblog.com/2012-arti...
THE BACKYARD
BEST OF MAXIM
RELATED ARTICLES
With the news of 3 players transferring from Michigan Basketball all eyes now turn to Trey Burke. The Detroit Free Press spoke to Burke's father, Benji, and he told them where things stand with Trey and the NBA. "Trey, he would love to come back, because he thinks they're going to have a good team," Benji said. "In the same breath, how do I pass up the opportunity of a...
Michigan fans are currently fretting about whether or not their fabulous frosh, Trey Burke, will return for his sophomore season or jump to the NBA. When you bring a program back into prominence like John Beilein has done with U-M Hoops, these are the "problems" that tend to develop. Talented players want their shot at the NBA. If they feel the time is right, they have to take...
Newsworthy bits: Trey Burke has submitted his information to the NBA Draft Advisory Council. Evan Smotrycz, Carlton Brundidge and Colton Christian are transferring. John Beilein plans to watch Amedeo Della Valle in a scrimmage this afternoon. Yesterday was a busy news day in regards to the Michigan basketball roster and there wasn't a lot of time left over for reaction. Here...
ANN ARBOR, Mich. -- Denard Robinson has spent the last couple months enjoying every moment of his college experience. This week he goes back from student-athlete to athlete-student. After a winter when he met President Obama and showed up at dozens of Michigan sporting events, Robinson and his teammates are back at Schembechler Hall for spring practice. As a senior and coming off...
Michigan coach John Beilein was in Arizona on Thursday afternoon to watch Findlay Prep (Nevada) guard Amedeo Della Valle, who we previewed in mid-February and updated earlier this week. Following the transfers of Evan Smotrycz, Carlton Brundidge and Colton Christian, the class of 2012 guard has been at the top of the list of possible recruits to fill one of the three open scholarship...
When Michigan fell to 13-seeded Ohio in the first round of the NCAA Tournament on Thursday, its quest for its first Sweet 16 appearance since 1994 was definitively lost, but the Wolverines may be on the verge of suffering an even bigger loss in the near future. Freshman point guard Trey Burke, who led the Wolverines in scoring (14.8 ppg) and assists (4.6 apg), is considering entering...
Michigan Basketball's 2013 recruiting class is already loaded with outstanding players like Zak Irvin (Fishers, Indiana). Irvin had a tremendous junior season on one of Indiana's best high school basketball teams, Hamilton Southeastern. According to maxpreps, Irvin averaged 18.8 points, 6.2 boards, 2.1 assits, and 1.6 steals per game for the 22-3 Royals. Irvin checks in at 6...
Denard Robinson is coming into his own as a leader on the Michigan football team. The Wolverines' senior signal caller discusses his mindset, how he's becoming a leader, and his improvement as a quarterback.
Michigan State basketball fans are understandably down today after last night's loss to Louisville. Michigan fans have had a week to get over their team's loss to Ohio, but the potential of losing PG Trey Burke to the NBA is much more frightening than an early NCAA exit. The Lions re-signed middle linebacker Stephen Tulloch to a 5-year extension earlier this week. While...
Wolverines News

Delivered to your inbox

You'll also receive Yardbarker's daily Top 10, featuring the best sports stories from around the web. Customize your newsletter to get articles on your favorite sports and teams. And the best part? It's free!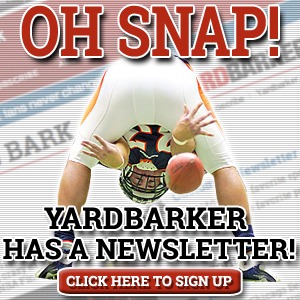 Latest Rumors
Best of Yardbarker

Today's Best Stuff

For Bloggers

Join the Yardbarker Network for more promotion, traffic, and money.

Company Info

Help

What is Yardbarker?

Yardbarker is the largest network of sports blogs and pro athlete blogs on the web. This site is the hub of the Yardbarker Network, where our editors and algorithms curate the best sports content from our network and beyond.