Found November 13, 2012 on Fox Sports West:
The NCAAs decision to rule UCLA freshman guard Shabazz Muhammad ineligible has left his family distressed. The family has decided to speak out through a statement to CBSSports.com. They are not pleased with the way the NCAA has handled the situation. Shabazz and his family have been cooperating with the NCAA for well over a year, the statement read. Earlier this year, the NCAA asked Shabazz and his family not to reveal to each other or to the press facts related to the NCAA investigation. Despite the many untrue rumors which were circulating on the Internet, Shabazz and his family dutifully did what they were told. In order to entice Shabazz's family and others to cooperate, the NCAA repeatedly gave assurances that it would keep details of the investigation strictly confidential. As recently as November 2012, the NCAA promised that it would not issue a Press Release. "Last Friday, the NCAA released a Press Release which not only was wrong in its conclusions but which also inaccurately portrayed the investigation process in this case. For over a year, the NCAA has known all of the relevant facts related to its ruling last Friday. Prior to the unofficial visits in question, Ron Holmes and Ben Lincoln received approval from NCAA (through its member universities) for Mr. Lincoln (who has had a continuous close friendship with Shabazz's family since 2007) to pay for airline tickets and hotel rooms. In 2010, Mr. Holmes openly and honestly revealed to the NCAA the source of the payments on the NCAA's compliance form. Shabazz's family is now faced with the situation where they are concerned that any attempt to tell more of their side of the story will result in further punitive action, as Shabazz is still under the mercy of the NCAA. Shabazz and his family will continue to honestly cooperate with the NCAA in the hopes that Shabazz soon will be allowed to play basketball at UCLA." UCLA athletic director Dan Guerrero said in a statement last Friday the ruling on Muhammad was incorrect and unjust. The school plans to appeal, however they have yet file an appeal to the NCAA, the L.A. Times reports. Muhammad was on the bench for Bruins season opening win over Indiana State last Friday night and is expected to be on the bench tonight as well when the Bruins host UC Irvine to open the Legends Classic. On the slate for this early season tournament includes a trip to Brooklyn and the new Barclays Center for games against Georgetown and possibly against No. 1 Indiana. The likelihood of Muhammad being back in time for those games next week appears unlikely. The NCAA, through a statement last Friday which the Muhammad family is disputing, says Muhammad received financial assistance for travel and lodging on three unofficial visits. Last February, the NCAA alerted all school recruiting Muhammad that they would be investigating the star guard. No. 13 UCLA has two more home games before heading east to Brooklyn tonight against the Anteaters at 8:30 p.m. and Thursday night at 8pm against James Madison.
Original Story:
http://www.foxsportswest.com/11/13/12...
THE BACKYARD
BEST OF MAXIM
RELATED ARTICLES
UCLA is expected to file a formal appeal with the NCAA on Wednesday afternoon regarding its decision to declare freshman basketball player Shabazz Muhammad ineligible due to a violation of amateurism rules, people close to the situation who were not authorized to speak publicly told The Times. UCLA's case is expected to be heard before the NCAA appeals committee this Friday...
Super recruit Shabazz Muhammad has been ruled ineligible by the NCAA because his amateurism was called into question.  This has been a saga that has been drawn out far longer than anyone anticipated, and even though Muhammad's family has continued to defend his amateurism, the NCAA still ruled against him.Baxter Holmes of the Los Angeles Times reported a conversation overheard...
THE AIR UP THERE
Josh Smith, center for UCLA, had an unfortunate incident with the air and a basketball on Tuesday night. Smith, who has been the ire of many UCLA fans due to not performing up to high expectations, did himself no favors when he airballed a layup against UC Irvine late in the second half. Smith has been criticized for being too slow and overweight over his first two seasons, which...
UCLA filed a formal appeal with the NCAA on Wednesday regarding freshman Shabazz Muhammad being ruled ineligible to play basketball for violating amateurism rules.
The UCLA Bruins opened their brand new Pauley Pavilion with an 86-59 win over Indiana State Saturday night, which means that NCAA Men's Basketball is underway and people can begin pretending like anything matters before March. But the actual reason that I'm bringing this up is that once-celebrated star of awesome movies like Braveheart, Lethal Weapon 1-3 (4 never happened) and...
Shabazz Muhammad is expected top be a top-3 pick in the 2013 NBA Draft regardless of whether he plays his freshman season at UCLA.
UCLA Bruins center Josh Smith had an embarrassing moment during the second half of Tuesday night's NCAA basketball game against UC Irvine when he threw up an air ball on an attempted layup. Smith had 5 points and 5 rebounds in 14 minutes of action as UCLA barely avoided an upset with an 80-79 overtime win. H/T Cosby. Visit us at http://holdoutsports.com and Follow @HoldoutSports...
Although Jim Mora has done more in 10 games to close UCLA's football gap with Southern California than Rick Neuheisel accomplished in the previous four years, the Bruins' first-year coach wants none of the credit. Mora isn't taking any bows while the No. 17 Bruins (8-2, 5-2) are getting ready to play for the Pac-12 South title. Yet UCLA has returned to national relevance...
The defensive tackle, Cassius Marsh, talks about the points at the end the Bruin defense gave up and UCLA's win...
UCLA Coach Jim Mora says Marqise Lee is "not an NFL prospect, he's an NFL for-sure" and that he could "start in the NFL right now." Surely Mora was talking about Lee's receiving abilities, but will Mora also have to plan for Lee on defense?
Bruins News

Delivered to your inbox

You'll also receive Yardbarker's daily Top 10, featuring the best sports stories from around the web. Customize your newsletter to get articles on your favorite sports and teams. And the best part? It's free!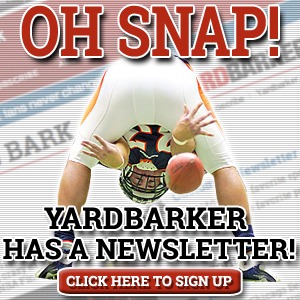 Latest Rumors
The Backyard

Today's Best Stuff

For Bloggers

Join the Yardbarker Network for more promotion, traffic, and money.

Company Info

Help

What is Yardbarker?

Yardbarker is the largest network of sports blogs and pro athlete blogs on the web. This site is the hub of the Yardbarker Network, where our editors and algorithms curate the best sports content from our network and beyond.