Found January 30, 2013 on Fox Sports Southwest:
NORMAN, Okla. -- The Oklahoma basketball team is having its best season in years and a trip to the NCAA Tournament is a real possibility. Pretty amazing, considering OU's most-productive player is on the bench. Forget the scoring and rebounding and don't check the court. He's not out there. Check the Klout instead. James Fraschilla is a walk-on and you can find him at the end of the bench, just 5-foot-10 but with a better reach than 4G. His trick shot videos have gone viral and his guitar playing is virtual. Together they have made Fraschilla pretty popular, very recognizable and into an Internet star. Expect it all to continue. The Sooners are 13-5, part of the "Bracketology" discussion, and the sophomore from Dallas is going all www. "I don't see lit like that," he said. "But I do like to put stuff out there. Whether it's the trick shot videos or air guitar or anything else. I'm not looking for attention but I do like putting my work on display and getting the program some notice. It's nice to see people recognize it." Most recently, Fraschilla was seen performing a routine perfect for the National Air Guitar Championships during a win over Texas. His strumming at the end of the bench was more Pete Townsend than Pistol Pete gaining him YouTube and highlight show fame. "I checked my phone after the game and there was like 40 Twitter messages and a bunch of people were talking about it and texting me," he said. "The next day it was on the internet." Not like he hasn't been there before. The guitar playing is just the next thing. Previously, and more importantly, Fraschilla made a pair of videos benefitting the charity Hayden's Hope which brings awareness to organ transplants for children, founded by ESPN personality and Oklahoma graduate Dari Nowkhah. Fraschilla produces, edits and stars in the part circus, part amazing videos where he makes all sorts of basketball shots over all sorts of obstacles. The result has been almost 100,000 views, countless dollars raised for the charity and a small degree of celebrity for Fraschilla, who happens to be the son of former coach, and now ESPN broadcaster Fran Fraschilla. "I thought it could catch on and go viral and I thought it would be cool if I attached a cause to it and get the word out," Fraschilla said. "I got to help that organization by getting it 10s of thousands of views. Now I've gotten emails from people all over from people who have donated to Hayden's Hope. That makes you feel good." Fraschilla features more than 1,700 followers on his Twitter feed @jamesfraschilla - not bad for a guy who has yet to play a meaningful minute for the Sooners - and is a proud member of "Club Trillion," a group of basketball benchwarmers dedicated to the art of lack of playing time and earning a boxscore's worth of zeroes after their name. None of it by accident. Fraschilla admits stealing the guitar riffs from his friend Rem Bakamus, who plays his tunes at the end of the Gonzaga University Bench, and admits it was his connection through his father, OU and Nowkhah that led him to the Hayden's Hope idea. All of it because Fraschilla says he has a voice. "One of the things I told myself I wanted to do if I got a following because of being a college athlete, is raise awareness," Fraschilla said. "You only have so long, and I'd like make sure to use it wisely." So far, he's not just using his minor celebrity wisely, he's actually winning at the Internet. "On this team, definitely," said junior forward Amath M'Baye. "You know he loves the stuff. He's the best walk-on in the country and brings a little of everything. A fighter in practice, a joker and makes everyone laugh. Everything he invests in, he's good at it." And it's paid off through Twitter, YouTube and beyond. "A lot of students I don't know talk to me and that's always fun," he said. "It's a taste of being a celebrity on a small, small scale. It's fun. Twitter is a great way to connect with people, fans and friends. I try to keep it entertaining and share my random A.D.D. thoughts. I want people to see what I have to say, but I don't want to fill their timeline. I try to keep it entertaining." It's working so far. Up next? Aside from playing time, that is. "All of this stuff has gone beyond what I ever thought," he said. "People seem to like what I've been doing. I never expected any of that. It's a cool experience, just the whole opportunity. Getting more followers is cool, but that's a material thing. I just try to be myself and share my thoughts. It's great if people like what I have to say."
Original Story:
http://www.foxsportssouthwest.com/01/...
THE BACKYARD
BEST OF MAXIM
RELATED ARTICLES
The Oklahoma Sooners desperately need a road victory heading into their contest with Baylor, having dropped two straight in opposing arenas.  Fortunately, they got just that, defeating the Bears in Waco 74-71  to improve to 14-5 (5-2) Wednesday evening.  Though the final score is deceiving, the majority of the game it wasn't even that close. Oklahoma opened on an Amath M'Baye...
Storming the court is out of control. I blame all the students who continue to rush the court when it isn't necessary for what happened with a toddler in midst of the Baylor/Oklahoma game Wednesday night. This wasn't an end of the game situation, as there was still over 8 minutes remaining with the Bears trailing by 10 at home to the Sooners. Suddenly, a young child ran onto...
A very young Baylor fan stormed the court during the Oklahoma vs. Baylor game Wednesday night. Apparently he thought he could help his team win if they just gave him the ball. But that wasn't in the playbook. The kid ran onto the court with 8:41 remaining in the second half of the Big 12 matchup. Officials stopped the game.
#69 Lane Johnson, OT, Oklahoma HGT: 6-6 WGT: 302  Lane Johnson is a very intriguing prospect that has played QB, DE, TE and OT. Johnson first came to the Sooner program as a QB from Kilgore Junior College in Texas. Lane Johnson started 12 games at OT in 2011 and 11 games in 2012 at left tackle. The buzz surrounding Jonson has grown rapidly since have a good week of practice in preparation...
The Bears fell to the Oklahoma Sooners at home in a game that was out of reach for most of the time, but still saw the Bears with a chance to win the game. So, what happened in Waco last night? Find out inside BearsIllustrated.com
Today's show sees one of our favorite guests, Allen Kenney, join us on the podcast. Y'all ought to know Kenney from his great Oklahoma site, Blatant Homerism, or from the Bloguin family's own Crystal Ball Run. He does some great work, including his most recent podcast with John Infante talking the NCAA and Miami situation. Allen and I kick things off with Oklahoma...
NORMAN, Okla. — The Sooners didn't make it easy on themselves out of the gates, but they overcome it to move to 16-2 overall and 6-2 in Big 12 Conference play with a 74-53 victory over TCU Wednesday evening inside Lloyd Noble Center.
NORMAN, Okla. — The Sooners have the sourest of all sour tastes in their mouth after the conclusion of the 2012 softball season.
An interview with Oklahoma offensive tackle Lane Johnson, a first-round prospect.
The Sooners escaped, and literally escaped, Wednesday evening at the Ferrell Center with a 74-71 victory over the Baylor Bears.
College Basketball News

Delivered to your inbox

You'll also receive Yardbarker's daily Top 10, featuring the best sports stories from around the web. Customize your newsletter to get articles on your favorite sports and teams. And the best part? It's free!
THE COLLEGE BASKETBALL HOT 10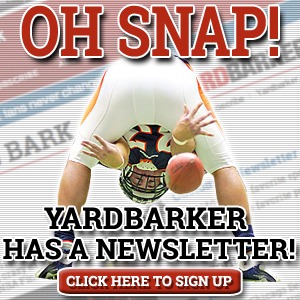 Latest Rumors
The Backyard

Today's Best Stuff

For Bloggers

Join the Yardbarker Network for more promotion, traffic, and money.

Company Info

Help

What is Yardbarker?

Yardbarker is the largest network of sports blogs and pro athlete blogs on the web. This site is the hub of the Yardbarker Network, where our editors and algorithms curate the best sports content from our network and beyond.