Found March 29, 2012 on The Victory Formation:
For the past couple of weeks, we have had different people give their opinion on just how good the Kentucky Wildcats basketball team is. They are wonderfully talented, and seem to be in control of their own destiny heading into the Final Four this Saturday after only losing 2 games this season. Anthony Davis seems to be the surefire #1 pick in this years draft, while Michael Kidd-Gilchrist and Terrance Jones could also find themselves as lottery picks, or at least 1st round picks. Marquis Teague continues to carry-on the great tradition of John Calipari freshman point guards. But let me clear on something, they are not good enough to beat an NBA team. ANY NBA team. For as terrible as the the Bobcats have been all season, they would destroy the Wildcats, 10 out of 10 times. The games would not be remotely close, and nobody should think otherwise. Yes, the Bobcats have won only 7 games out of the 48 they have played in this year, but that shouldn't be your gauge. They are more talented, more physical, and just plain better than the best team in college basketball. All I need to do is stop and begin with rookie PG, Kemba Walker. Walker already ran wild on the majority of these Kentucky players a year ago. In fact, he did it while having to deal with fellow rookie Brandon Knight of the Pistons, who is and was better than Teague. But of course I am not stopping with just Kemba. Corey Maggette is one of the players in the NBA that probably has wasted his talent more than anyone, or at least it would appear that way. He had shown flashes earlier in his career, but for whatever reason just never was more than a marginal player that has bounced around. With that said, nobody could guard him one-on-one. I love Davis, and hope that a certain team from Detroit lands the #1 pick in the lottery to select him. I think he would be a great complement to a polished offensive player. He is a great interior college defender, but his rail thin body isn't ready for what happens in the post of an NBA game. Have you ever sat close enough to see how absolutely physical it is in the paint of an NBA game? These guys may not be smashing one another into the ground or the boards like other contact sports, but they beat one another up. That is the biggest challenge for college players to deal with once they come into the NBA. Not all players have an NBA ready body like Shaq did. Davis isn't ready to bang around with guys, right now. Next fall might be different, when an NBA team has him prepared and on a 6000 calorie diet and weight training. Just like in football, no college team can take on the pros. It wouldn't be close. The best college basketball team I ever saw was the 1991 UNLV team that was upset by the Duke Blue Devils. It would be easy to have said the 1990 team that won it all, but the 91 team was even better. Still, they lost to another college team. That 90s Runnin Rebels team had Larry Johnson, Greg Anthony, Stacey Augmon, and Anderson Hunt. All these guys were bound for the NBA the following season, and Larry Johnson looked like he was already 5 years into the NBA. With that said, the 1991 Denver Nuggets with Chris Jackson (before he changed his name to Mahmoud Abdul-Rauf), Michael Adams, Orlando Woolridge, Walter Davis and Terry Mills would have put a whooping on them. The college game is much more simplistic than that of the pros, and as much as I love the college game more, they don't play harder or better defense than the pros. The atmosphere and the bad shooting play a bigger role in making us think otherwise. Calipari can't roll the ball out on the floor and tell his guys to "just go play". I also struggle to believe that a team that actually lost a couple games could knock of a pro team. Let's face it, they didn't have a letdown when they lost at the buzzer to Indiana earlier in the year, they just got straight up beat by a lesser team. Charlotte is not a lesser team, unless you are comparing them to the 29 other NBA teams.
Original Story:
http://www.thevictoryformation.com/20...
THE BACKYARD
BEST OF MAXIM
RELATED ARTICLES
Kentucky coach John Calipari likes to say there are no rivalry games at this point in the season. Try telling that to the Bluegrass State, where basketball's version of the civil war - Kentucky vs. Louisville, winner plays for the NCAA title - has so divided the small state that senior citizens have actually come to fisticuffs. Basketball purists may argue that Duke-North Carolina...
In the press conference after his team beat Baylor to advance for the Final Four, Kentucky Coach John Calipari asked, "Is the floor going to be raised (in the Super Dome)? Does anybody know?" When was confirmed that the floor would, indeed, be elevated a couple of feet above field level for the games, Cal said, "That makes it harder. When they raise that floor, now...
  John Calipari is the most hated man in college basketball, and it's not even close.  Calipari was hated even before returning to the college ranks in 2000 at Memphis.  When Cal was still at UMass he had run ins with Temple head coach, and basketball hall of famer, John Chaney, and with UConn's head coach, and basketball hall of famer, Jim Calhoun.  Since returning...
The Kentucky Wildcats head into tonight's Final Four to play their rival, the Louisville Cardinals.  But as bitter and nasty as the rivalry can be, even between men on dialysis, Kentucky coach John Calipari wants fans to focus on their own team and not their opponent. "I just don't think it's good that you root against other teams," Calipari said in Thursday's Final...
For Kentucky's Anthony Davis it has been a remarkable season that already includes SEC Offensive & Defensive player of the year awards. However, as Davis and the rest of the Wildcats prepare for the Louisville Cardinals Saturday in the Final Four, news broke that Davis had been voted The Associated Press men's college basketball Player of the Year. Davis received 43...
The pressure is everywhere for Kentucky to win a national title. Except in the locker room. At least that's what the Wildcats (36-2) keep saying as they head into their national semifinal showdown with Louisville (30-9) on Saturday night in New Orleans. Kentucky coach John Calipari cites the fact that every game other teams play against the Wildcats is a ''Super Bowl...
Kentucky coach John Calipari likes to say there are no rivalry games at this point in the season. Try telling that to the Bluegrass State, where basketball's version of the civil war - Kentucky vs. Louisville, winner plays for the NCAA title - has so divided the small state that senior citizens have actually come to fisticuffs. ''The fans take it as, whoever loses,...
Five things I'm thinking about this weekend while wondering if the national media would rather have their Final Fours in Houston or New Orleans. 1. Something that seems true (and totally is): The idea that John Calipari just rolls the ball out there is inaccurate and probably always has been. Shoot, you say, give me Kentucky's roster and I could win 30 games. No. No, you...
Kentucky coach John Calipari says that he "loved" Louisville freshman forward Chane Behanan when he was trying to recruit him.
1.Anthony Davis (Kentucky) – Davis will be the Player, Freshman, and Defensive Player of the Year. He is clearly the best player in the nation. Just look what he is doing in the NCAA tournament. Davis is averaging 14.5 points, 11 rebounds, 4.5 blocks, and 2.7 assists. His skill for his size separates him from only players. 2.Jared Sullinger (Ohio State) – Sullinger...
NEW ORLEANS (AP) -- Frank Haith has capped his first season at Missouri by being selected The Associated Press' Coach of the Year. Haith took over the Tigers after seven years at Miami. He was presented the award Friday after receiving 21 votes from the 65-member national media panel that selects the weekly Top 25. Missouri won 30 games and the Big 12 tournament and was ranked...
Wildcats News

Delivered to your inbox

You'll also receive Yardbarker's daily Top 10, featuring the best sports stories from around the web. Customize your newsletter to get articles on your favorite sports and teams. And the best part? It's free!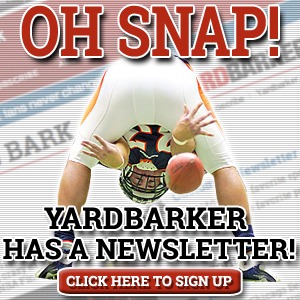 Latest Rumors
Best of Yardbarker

Today's Best Stuff

For Bloggers

Join the Yardbarker Network for more promotion, traffic, and money.

Company Info

Help

What is Yardbarker?

Yardbarker is the largest network of sports blogs and pro athlete blogs on the web. This site is the hub of the Yardbarker Network, where our editors and algorithms curate the best sports content from our network and beyond.