Found October 30, 2012 on Fox Sports Midwest:
COLUMBIA, Mo. Slide your finger down Missouri's roster. No, this isn't a Penn & Teller act. There's junior guard Phil Pressey and senior guard Michael Dixon then poof! no other player who has slipped on a black-and-gold jersey for second-year coach Frank Haith before this season. The Tigers could have the biggest face lift this side of Lexington, Ky. Senior forward Laurence Bowers returns after sitting out last season with a torn ACL in his left knee. But mostly, Mizzou's motor will rumble with legs fresh on the scene, with transfers who are eager to burn. "I think we're meshing well together," said sophomore guard Jabari Brown, an arrival from Oregon who will be eligible after the fall semester. "We've been around each other for a few months now, since summer. We like each other. We genuinely like each other. We get along, so I think that has made our transition smoother." Missouri's roster reads like an Etch A Sketch. It's as if Haith gripped his program with both hands, shook it after Pressey's 3-point attempt clanked off the back rim in a gut-punch loss to Norfolk State in the Round of 64 last March and traced a new creation. Need proof? Study the Tigers' production from a 91-58 exhibition romp over Northwest Missouri State on Monday. Junior guard Earnest Ross, a transfer from Auburn, had a game-high 22 points. Senior guard Keion Bell, a transfer from Pepperdine, had 20. Senior forward Alex Oriakhi, a transfer from UConn, had eight with a game-high 10 rebounds. Junior forward Tony Criswell, a transfer from UAB by way of Independence (Kan.) Community College, chipped in eight points. "It's really like a family," said Bell, who averaged 16.4 points per game in three seasons at Pepperdine. "I know a lot of teams say that, and it's not sincere. I know the players we do everything together. We live together. We live, basically, next door to each other. It's really just like a family. When we have breaks to go home, a lot of times I don't even feel like I need to go home to see my real family because of the family environment that we have." There could be something to that feeling. Some programs pen new chapters in October. Not Missouri. The Tigers ripped pages from their old book, shoved the spine in a wood chipper and walked from Barnes & Noble bagging a Nook. The new faces offer a needed upgrade in height and depth. Criswell, Oriakhi and sophomore forward Danny Feldmann a transfer from Columbia University all stand at 6-foot-9. Don't a few calendar flips make a difference? Remember when the Tigers went 30-5 last season, despite size that would keep them off most monster coasters at Six Flags? "It's communication," Haith said of working with the transfers. "It's spending a lot of time with them not just about basketball but helping them understand winning, what it takes to win and to trust and all the intangibles. That's why this summer trip (to Europe in August) I keep going back to that summer trip was so important for us to start to establish a team concept. This is what I felt: When somebody did something great, how emotional and excited our guys got and how they weren't afraid to show that excitement. That's part of it when you give to your teammates and you lift your teammates up. Now, they've got to be that way when there's some adversity." The whispers have begun. Some have already tossed out the red carpet for Missouri's new kids in the neighborhood. Sporting News, for one, called the group "what might be the best transfer class ever." Hold that hardware, though. There are issues to confront, chemistry to develop, roles to define. Yes, the meshing process has moved down the tracks, but it's far from a final stop. The new guys know there will be hurdles along the way. "I think it will be wondering guys' tendencies, where guys like to see the ball, strengths and weaknesses," Brown said of the challenges. "I think it's going to take some time. We're going to have to get out there in some actual games and go through that. I think we're getting there." What pops the most about the new toys? "They're all really skilled," said Dixon, before he was suspended indefinitely last Friday. "They're great players. They've played at a high level at other places outside of Jabari. But Jabari's a Jordan All-American, so that just tells you the caliber of player that people think he is. Alex, Earnest, Keion are all experienced. They know what it takes. They just work hard. I think we all just feed off each other." So don't be stunned if Missouri continues its magic from last year. Names change, introductions are made, lofty goals stay constant. There are fresh legs at Mizzou Arena this winter and they are ready to run. You can follow Andrew Astleford on Twitter @aastleford or email him at aastleford@gmail.com.
Original Story:
http://www.foxsportsmidwest.com/10/30...
THE BACKYARD
BEST OF MAXIM
RELATED ARTICLES
ST. LOUIS - The Missouri Tigers are having a hard time fitting in on the field during their first season in the SEC. They arent doing themselves any favors off the field either. After finally recording their first SEC win Saturday - a 33-10 blowout of lowly Kentucky in Columbia the Tigers decided to celebrate it with a t-shirt. For the bargain price of just 16.99, fans can purchase...
During Mizzou's Midnight Madness event a couple of weeks back, Mizzou newcomer Keion Bell caused a stir with his dunk over six pedestrians. It did not take long for Bell to display his dunking abilities in a game, albeit an exhibition against a hapless Northwest Missouri State team. Late in the game, Bell exploded towards the rim and dunked over two players.  Check out the...
The Missouri Tigers have been hot on the football recruiting class in their search for some top flight prospects along their defensive line for 2013. ShowMeMizzou.com has the info on a top prospects interest in the Tigers.
While the Missouri Tigers did not host any official visitors on Saturday during their first SEC conference win, there were plenty of unofficial visitors, including a standout 2014 target who updates us on his recruitment.
The Missouri Tigers 2013 basketball recruiting class is not full yet, and the basketball program be bringing in another elite prospect that could add to an already impressive class. ShowMeMizzou.com has the latest.
Recruiting for the 2013 class continues to heat up as the Missouri Tigers are looking for speed and defensive line help to add to the team for next year. We talk to a prospect recently hearing from Mizzou.
Unlike football, Missouri's transition to the SEC's other marquee sport might not be so difficult. Only two players are back from Frank Haith's 30-win debut season for 15th-ranked Missouri. And just one starter, but that's preseason SEC player of the year Phil Pressey. After setting career high averages with 10.3 points, 6.4 assists, 3.3 rebounds and 2.1 steals...
(Updates. With AP Photos.) In a season filled with as many negatives as positives, Missouri knows it has an equalizer in Marcus Murphy. ''Every time you see `Murph' out there, everyone goes crazy,'' receiver Marcus Lucas said. ''Everyone stands up, and everyone's into it.'' For good reason. Murphy's four kick returns for touchdowns are...
On Monday, Missouri junior defensive tackle Sheldon Richardson was named the SEC Defensive Lineman of the Week. Even with that honor bestowed on him, the Tigers DT feels he can be better.
Tigers News

Delivered to your inbox

You'll also receive Yardbarker's daily Top 10, featuring the best sports stories from around the web. Customize your newsletter to get articles on your favorite sports and teams. And the best part? It's free!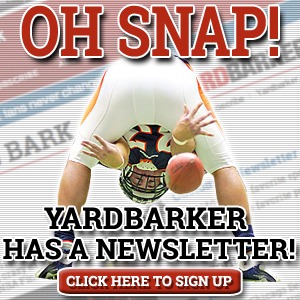 Latest Rumors
The Backyard

Today's Best Stuff

For Bloggers

Join the Yardbarker Network for more promotion, traffic, and money.

Company Info

Help

What is Yardbarker?

Yardbarker is the largest network of sports blogs and pro athlete blogs on the web. This site is the hub of the Yardbarker Network, where our editors and algorithms curate the best sports content from our network and beyond.