Found November 07, 2012 on Fox Sports Wisconsin:
MADISON, Wis. Given the inexperience peppering Wisconsin's roster this season, there are sure to be nights when Badgers basketball coach Bo Ryan finds himself reaching for some Maalox to settle his stomach.Wednesday night, for the most part, was not one of those nights.No. 23 Wisconsin obliterated Division III UW-Oshkosh, 96-44, at the Kohl Center in the Badgers' lone exhibition game before beginning regular-season play. Yet, even in a laugher, Ryan discovered plenty of areas to critique while trotting out lineups of players who saw little to no playing time a year ago.Among the young players taking center stage this season will be point guard George Marshall, who earned the start Wednesday night. Marshall, a redshirt freshman from Chicago, tallied 11 points on 5 of 7 shooting in 26 minutes, but Ryan made note of a careless turnover during the game."I call it a Chicago pass," Ryan said. "I used to call them Philly passes back East where it's kind of a flip. We don't make passes like that. You know why? Because he turned it over. So why make those? We never practice them. Can you see me in practice going, 'OK guys, let's work on our flip passes today in practice."Marshall was part of a group of 10 players to play at least 13 minutes on Wednesday. Of those 10, only three averaged more than 7.7 minutes per game last season. Two players Sam Dekker and Zak Showalter were in high school at this time a year ago. Two more Zach Bohannon and Marshall took redshirt seasons. Forward Frank Kaminsky and guard Traevon Jackson played sparingly, and forward Duje Dukan played all of 13 minutes last season.Dekker, one of the most highly touted recruits in Ryan's 12-year tenure at Wisconsin, scored five points on 2 of 5 field goal shooting in 19 minutes. Ryan saw a player who was tentative, especially on defense."Sam was a little soft, playing back off a little too much," Ryan said. "He's got to be able to get in the grill of guys a little more."Both Dekker and Marshall are among the beneficiaries of key injuries to Wisconsin, which is without point guard Josh Gasser and forward Mike Bruesewitz. Gasser suffered a season-ending ACL tear in his left knee and underwent surgery Tuesday. Breusewitz lacerated his right leg in a collision with the basketball hoop Oct. 9 and is expected to return within the next two weeks."The main thing is with those two guys being out, I think we're more focused on the defensive side of the ball," said Badgers forward Ryan Evans, who tallied a double-double with 11 points and 10 rebounds. "You've always got guys that want to put the ball in the hoop. Defensively is where we made our mark last year and really since coach Ryan has been here."Wisconsin certainly had no problem putting the ball in the hoop on Wednesday. Still, what can be gleaned from a game in which Wisconsin's typically plodding offensive style looked more like Loyola Marymount from the early1990s? That is hard to say.UW-Oshkosh took the floor with a starting lineup that featured four players under 6-foot-5. As a result, the Titans were destroyed 46-18 on the boards. Plus, Oshkosh is in a rebuilding mode under first-year coach Pat Juckem. Last season, the Titans finished 4-21 and lost all 16 games in the Wisconsin Intercollegiate Athletic Conference. "I don't know that we're going to score 96 points a night every game," Evans said. "This is one of the smaller teams that I've played in my career."Despite the immense disadvantages his team faced, Juckem came away impressed by what he saw from Wisconsin."I think they're ripe for a great season and going to be very competitive in the Big Ten as they always are," Juckem said.Juckem's team actually began the game with a 7-0 lead and maintained an edge for more than five minutes. Then, Wisconsin proceeded to outscore Oshkosh 35-7 over the next 10 minutes."I thought they did a pretty good job once they realized, No. 1, you can tell guys that you don't want to play HORSE with Division III teams," Ryan said. "You can't give guys open space. Once we had some guys become believers, then it changed."Overall, it was a night of smiles for Wisconsin. All 14 players that dressed played at least four minutes. All of them scored at least two points. All five starters scored in double figures.But Wednesday's game also hinted at the maddening difficulty of molding an inexperienced team in early November. The Badgers were entertaining and more up-tempo than a year ago. They also still have plenty of work to do to live up to their top-25 national ranking.Wisconsin opens the regular season Sunday at home against Southeastern Louisiana.Follow Jesse Temple on Twitter.
Original Story:
http://www.foxsportswisconsin.com/11/...
THE BACKYARD
BEST OF MAXIM
RELATED ARTICLES
Tonight a lot of the speculation and conjuncture finally can come to an end as fans will get their first real glimpse of what the 2012-13 Badgers are going to take to the court for a real game! Granted it's an exhibition game against D3 in-state foe Wisconsin-Oshkosh, but at least it's not someone on your own roster you'll be playing against.  Having said that, we...
Amazingly we are just 5 days away from the start of the Badgers basketball season and tomorrow night is the exhibition game. All this means we are just Ryan Evans from things getting going and his play could be a key indicator of the season Wisconsin is about to have. He certainly was a key cog in last season's Sweet 16 run. * 30.5 Evans was 2nd on the team last year in...
MADISON, Wis. Curt Phillips has waited an awfully long time to run onto a field as the starting quarterback at the University of Wisconsin. On Saturday, he'll finally get his shot. Wisconsin coach Bret Bielema announced Thursday night that Phillips would indeed start for the Badgers against Indiana. Bielema initially declined to name a starter earlier in the week, although...
With a strong frontcourt already in place, George Marshall, Traevon Jackson and Ben Brust's work at the point guard role in Wisconsin's 96-44 exhibition victory over UW-Oshkosh signaled the Badgers have some good options at their disposal.
  The Badger fanbase is used to seeing Wisconsin football played a certain way. We all know what it looks like - pound the football, use play action and throw an occasional deep ball. Well, that could all be changing with the confirmation of Curt Phillips being the starting QB by head coach Bret Bielema on Thursday.  What's got Badger Nation all abuzz this morning...
MADISON, Wis. When wide receivers coach Zach Azzanni began his first season at Wisconsin, he had no idea how the number of catches would be split among his players. Yes, standout Jared Abbrederis would garner the bulk of the throws. Beyond that, it was anybody's guess. "I knew collectively they were going to be the No. 2 receiver," Azzanni said. "I really didn...
Redshirt senior Curt Phillips is poised to become the next starting quarterback at Wisconsin, according to the Milwaukee Journal Sentinel. The newspaper reported that Phillips has taken the majority of the snaps with the first-team offense this week in practice, while redshirt junior Danny O'Brien has played with the second-team offense. During his weekly press conference Monday...
That Montee Ball was tough was never a question. This, after all, is a kid who rumbled his way to more than 1,900 yards last year, getting pummeled and knocked around in the process. A kid whose 39 touchdowns not only tied Barry Sanders' long-standing record, they were more than many teams could manage. A kid who will likely end this season with more career touchdowns than anyone...
According to a report by ESPN Wisconsin's Tom Lea the Badgers have named Curt Phillips the starting quarterback for Saturday against the Indiana Hoosiers. It would be Phillips' first career start and according to the report the decision wasn't an easy one for head coach Bret Bielema and offensive coordinator Matt Canada.  In the report Lea stats that "One source...
The latest episode of Badgers Power Hour is now available for your consumption and it was a jam packed episode where we broke down the following topics: Curt Phillips being named starting QB the game against Indiana on Saturday Badgers football recruiting w/ Evan Flood of Badger247. Wisconsin's Exhibition Victory over UW-Oshkosh Badgers Basketball...
The Badger fanbase is used to seeing Wisconsin football played a certain way. We all know what it looks like - pound the football, use play action and throw an occasional deep ball. Well, that could all be changing with the confirmation of Curt Phillips being the starting QB by head coach Bret Bielema on Thursday.  What's got Badger Nation all abuzz this morning? Well, it...
Badgers News

Delivered to your inbox

You'll also receive Yardbarker's daily Top 10, featuring the best sports stories from around the web. Customize your newsletter to get articles on your favorite sports and teams. And the best part? It's free!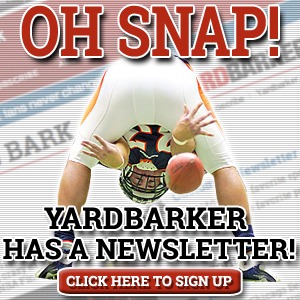 Latest Rumors
The Backyard

Today's Best Stuff

For Bloggers

Join the Yardbarker Network for more promotion, traffic, and money.

Company Info

Help

What is Yardbarker?

Yardbarker is the largest network of sports blogs and pro athlete blogs on the web. This site is the hub of the Yardbarker Network, where our editors and algorithms curate the best sports content from our network and beyond.