With the start of college basketball season on the horizon, we'll be taking a long look at the conference at large as well as Indiana's roster over the next month. Today, we continue our look at the Big Ten with the Ohio State Buckeyes. The Aaron Craft era in Columbus is over and his departure, along […] The post 2014-2015 ITH season preview: Ohio State Buckeyes appeared...
The Philadelphia 76ers are all about tanking, so this move makes perfect sense. Former Ohio State point guard and Buckeye legend Aaron Craft will play for the 76ers in the Orlando Summer Leagues. Aaron Craft agent tells me he will play for 76ers Summer League in Orlando and Warriors in Vegas. Will report Monday to Philly. @971BandR — Anthony Rothman (@AnthonyRothman) June 27, 2014...
It's no certainty that Ohio State guard Aaron Craft will hear his name during Thursday night's NBA Draft but even if he doesn't, that won't mean the end to his hardwood career. Craft's agent Lance Young puts his client's odds of getting drafted in the 50/50 neighborhood though Craft's inconsistent jumper remains a primary concern. Should Craft not be among...
The Big Ten's all-time steals leader and Ohio State's all-time assists leader, Aaron Craft graduates on Sunday with a 3.9 grade-point average. He got all of one B in his college career. Craft hopes his next stop is the NBA. In a radio interview last week with 97.1 The Fan in Columbus, Craft said he'd just taken his last undergraduate exam and would turn 100 percent of...
COLUMBUS, Ohio - The National Association of Basketball Coaches has named Ohio State's Aaron Craft as its Div.I 2014 National Defensive Player of the Year. Craft completed his career last month as the Big Ten's all-time steals leader with 337 and was twice named Big Ten Defensive Player of the Year. Multiple coaches called him one of the best on-ball defenders they'd...
Jeer cards are nothing new in college sports – student sections across the country have long been coming up with clever ways to distract opposing players. But the Orange Krush, Illinois' student fan organization, put together an absolutely epic version tonight about Ohio State point guard Aaron Craft. Some of the most notable "facts" include that his father is actually Dan...
Ohio State point guard isn't the most talented player, but the kid battles his tail off. On Sunday, an Ohio State cheerleader was on the receiving end of Craft's grittyness. The cheerleader wasn't the only Buckeye who lost. 20th-ranked Iowa beat the 3rd-ranked Ohio State 84-74.
Ohio State point guard Aaron Craft is one of the most popular athletes in the history of Buckeyes basketball. Apparently he's so beloved in Columbus that fans are dressing up their children as him for Halloween. Seriously – one young OSU fan pulled off an incredible Craft costume yesterday. He even nailed Craft's famous rosy cheeks. Via Big Ten Network's Brent Yarina: You...
He did not turn water into wine at Ohio State's team dinner Tuesday night, but that could be because the Buckeyes are on a business trip. 'Tis the season for shining moments, singing praises and rising stars. Ohio State point guard Aaron Craft hates that kind of stuff, by the way, but Craft has been so good -- and so important to his team's success -- that even the highest...
Relax, Ohio State fans. Johnny Manziel doesn't have any issue at all with your star point guard Aaron Craft, despite what you may have read. Somehow, fake, photoshopped tweets made to look like they were from Johnny Manziel's Twitter account went viral last night, sparking outrage from Buckeyes supporters. Below are two screenshots. We're all about a good Twitter story here...
MORE STORIES >>
College Basketball News

Delivered to your inbox

You'll also receive Yardbarker's daily Top 10, featuring the best sports stories from around the web. Customize your newsletter to get articles on your favorite sports and teams. And the best part? It's free!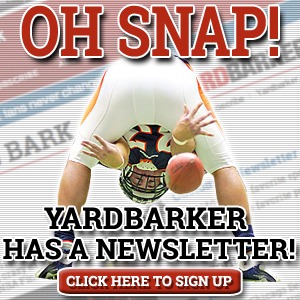 THE COLLEGE BASKETBALL HOT 10