A couple of weeks ago there was a USA Today report wherein Ben McLemore's AAU coach claimed to have funneled money from… a guy who helps players find agents at a non-profit basketball thing for helping basketball players find agents or something. I wrote about it here. Remember? We all chuckled to ourselves and said, "Well of course a SHAMateur athlete took money from some...
BAD ADVICE
People connected to Kansas star, Ben McLemore, allegedly received improper benefits from agents trying to get him to declare for the NBA draft.
LAWRENCE, Kan. The knock on Ben McLemore is that he's too "nice" for the NBA, and just because that statement sounds a bit absurd doesn't make it any less well, true. "Ben's the most talented kid I've ever worked with," Kansas coach Bill Self said Tuesday, as he watched his best player, McLemore, declare for the NBA Draft after a remarkable...
WELLSTON, Mo. The Normandy High School cafeteria doors opened to a startlingly similar face. Same eyes. Same hair. Same smile. Kevin McLemore stood no chance of blending in. "Around here, everybody knows I'm Ben's brother," he said. He doesn't much mind the attention that comes with being Ben McLemore's look-alike younger sibling. Instead, the Normandy...
KANSAS CITY, Mo. He could rewrite the mighty stone tablets that are the Kansas record book, handed down on high from Moses and James Naismith, for years to come, if he wanted to. Ben McLemore probably has other plans, and that's fine. Not the issue. The issue is the present, or rather oh, heck, let's just say it Bracketville. Namely: Which Ben are we going to get, kids...
Kansas Jayhwak shooting guard Ben McLemore threw down the best dunk of the night, including the NBA All-Star Dunk Contest. During a runaway game against Texas, McLemore breaks away and nails a gorgeous 360. Article found on: Cosby Sweaters
IRVING, Texas - Kansas redshirt freshman G Ben McLemore has been selected the Phillips 66 Big 12 Mens Basketball Rookie of the Week for games of January 14-20 in a vote by a media panel which covers the conference, the league announced Monday. McLemore is receiving the honor for the second time and his third league weekly accolade this season as he was the conferences player of the...
Kansas red shirt freshman Ben McLemore was caught celebrating in the locker room after his 22 point performance and a big win for Kansas over Ohio State 74-66.  I think I would take his dance skills over his basketball skills personally. Check out our Home Page for more stories and follow us on Twitter and Facebook
ROCK CHALK, JAYHAWK
Kansas' Ben McLemore is my new hero, and his dance will surely catch on faster than the dougie. McLemore had just drained a game tying three-pointer to send his Jayhawks into overtime against Iowa State. Kansas took that momentum into overtime to win 97-89, and then the celebration began. Check out the easy candidate for dance of the year, and yes we realize that it is only...
Kansas freshman guard Ben McLemore was arrested Tuesday for failing to appear in court. The 18-year-old St. Louis native failed to show on Dec. 6 in Douglas County District Court after receiving a ticket Nov. 4 for being a minor in possession of alcohol. A judge issued a bench warrant for McLemore's arrest after the missed appearance, and the player was detained on the University...
MORE STORIES >>
College Basketball News

Delivered to your inbox

You'll also receive Yardbarker's daily Top 10, featuring the best sports stories from around the web. Customize your newsletter to get articles on your favorite sports and teams. And the best part? It's free!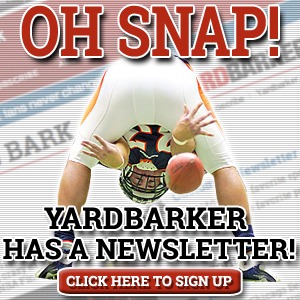 THE COLLEGE BASKETBALL HOT 10