Bill Self's been entertained by job offers over the course of his tenure at Kansas. But in all likelihood, nothing will bring the what-if daydreams for Self like his passing on the Cleveland Cavaliers job. Some discussion has been made in recent days on what John Calipari must be thinking, since he turned down a lucrative offer (reportedly $60 million total) by the Cavs this...
Cliff Alexander has a sprained ankle Bill Self confirmed on Tuesday night that Cliff Alexander has a sprained ankle and will be immobilized for several weeks. Alexander suffered the injury last week during a KU workout and is in a walking boot. Alexander does not need surgery. Andrew Wiggins inks deal with adidas Andrew Wiggins has signed his first endorsement deal, a shoe contract...
The majority of America will likely pause whatever they're doing from 4 p.m. to 6 p.m. E.T. today. The United State's men's national soccer team is in the knockout stage of the World Cup and it takes on Belgium this afternoon in Brazil.  Bars and homes across the country will be packed with working professionals and students who've put their responsibilities on hold to watch...
Bill Self's Kansas Jayhawks were selected to represent the USA next year in the World University Games, which will be held in South Korea from July 3-14. "We are thrilled to have this opportunity," Self said via statement. "It is a unique opportunity where a school will represent our country in the World University Games as opposed to a select team. I can't see anything...
Earlier today, ESPN posted an article on John Calipari and Bill Self discussing NBA jobs and why they wouldn't be leaving their current positions. Self says he hasn't been contacted lately about any NBA jobs Below are excerpts from the article highlighting Self's thoughts: "They haven't talked to me about a coaching position," Self said on ESPNU's College Basketball...
The sheer thought of a "starting point guard" is a bit of a sore subject for the Kansas Jayhawks right now. Their current starter, junior Naadir Tharpe, recently announced that he would be leaving the Jayhawks to return home to Massachusetts to be closer to his sick infant daughter. This announcement isn't exactly following a smooth season: Tharpe only averaged 8.5 points and...
The recent hire of Kim Anderson by the University of Missouri has proven once again that KU fans are extremely fortunate to have Bill Self as the head of their program. This isn't a Mizzou-bashing piece at all, by the way. I think Kim Anderson is actually going to do a better job as Mizzou head coach than Frank Haith ever did. But is that really difficult? Haith led Missouri to...
Devonte Graham finally received what he had been wanting for over a year when new Appalachian State head coach Jim Fox released him from his letter of intent he had signed with the school the fall of his senior year in 2012 when he played at Broughton High School in Raleigh. Graham had an ongoing battle with former coach Jeff Capel, who refused to release Graham after an impressive...
Not even four minutes into game time during last night's College Gameday matchup between Kansas and Oklahoma State, the Jayhawks were officially outright Big 12 Champions. Kansas State knocked off Iowa State and earlier in the day, Texas lost. That meant that even if the Jayhawks lost their remaining three games, the Jayhawks would still be Big 12 champs (and no sharing this year...
KANSAS CITY, Mo. Kansas basketball coach Bill Self said he is handling the out-of-control Andrew Wiggins hype just fine. "The (other) guys are, too," Self said. "Wiggins has brought a lot of excitement to our program but like I told him, he hasn't done anything yet. He hasn't made a basket. "We have a talented bunch and he kind of spearheads that class...
MORE STORIES >>
College Basketball News

Delivered to your inbox

You'll also receive Yardbarker's daily Top 10, featuring the best sports stories from around the web. Customize your newsletter to get articles on your favorite sports and teams. And the best part? It's free!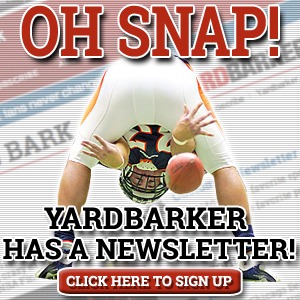 THE COLLEGE BASKETBALL HOT 10