The Gators Video of the Day (GVOD) features, you guessed it, videos relating to the Florida Gators. They could be Gators athletes or homemade videos made by fans like ourselves. If you have any suggestions for GVOD, email me at evandagator@gmail.com or TBG at onegameback@gmail.com. We will try our best to live up to the "of the day" part of the title. A few weeks ago, Bradley...
Bradley Beal shot just 33.9 percent from long range during his lone season at Florida.
The NBA Draft Blog Scouting Report looks at another member of the touted freshman in this year's group – Florida's Bradley Beal.  Beal came into college with a reputation as a scorer, especially a shooter, but he showed very quickly that he is capable of so much more.  He has an advanced understanding of the game, he is skilled in many areas, and he is still far from filling...
Editors note: This is the fourth in a series examining top prospects in the NBA Draft. Profiles are based on conversations with NBA general managers and scouts. Perhaps no player will help or hurt his draft stock at the Chicago combine and during individual workouts than Bradley Beal. Right now, scouts have Beal being selected anywhere from third to seventh in the draft. They love...
PHOENIX -- On a night that set offensive basketball back half a century, the city of Phoenix would like to thank the Florida Gators for doing something no other team in the West Regional could do Thursday: eclipsing the 40 percent shooting threshold. For that, the Gators can thank guard Bradley Beal, who continues to use the NCAA tournament as his personal showcase. Beal followed...
Bradley Beal needed a nudge. Florida coach Billy Donovan's prized recruit spent most of the season playing in the shadow of upperclassmen Erving Walker and Kenny Boynton. Beal was content to let his fellow guards handle almost everything, including clutch shots, pep talks and anything in between. It wasn't good enough for Donovan. Donovan sat Beal down a few weeks ago...
As we get closer to the NCAA Tournament, NBA Draft Blog will be taking a closer look at underclassmen whose play or potential warrants the possibility that they could declare for the draft.  Sophomores and juniors will get full scouting reports now, but freshmen I will handle a bit differently right now.  Without a full college season under their belt, I believe the best approach...
Any chance I get to throw out a Gator hoops highlight, you can bet your ass it's coming. Mr. Beal treated me with my first opportunity tonight when he shoved a menacing one-handed yam down Damontre Harris' throat en route to another home victory for the mighty Gators. Click here to view the embedded video. Article found on: Cosby Sweaters
Bradley Beal has gotten back to form, and that's a good thing for the Florida Gators. With their star freshman starring again, the No. 19 Gators look for their first road win of the season when they face the South Carolina Gamecocks on Saturday. The 2011 Gatorade National Player of the Year, Beal scored 17 points and grabbed 10 rebounds to lead Florida to a 70-48 victory over...
GAINESVILLE, Fla. No one knew at the time what was about to come, but once the job was finished, Gators freshman Bradley Beal's fingerprints were everywhere. Beal's prints were on a layup, a free throw, a dunk and a three-pointer a wave of points that helped UF pull away in Thursday night's 82-64 win over Florida State. The Gators owned a slim 38-36 lead when Beal...
MORE STORIES >>
College Basketball News

Delivered to your inbox

You'll also receive Yardbarker's daily Top 10, featuring the best sports stories from around the web. Customize your newsletter to get articles on your favorite sports and teams. And the best part? It's free!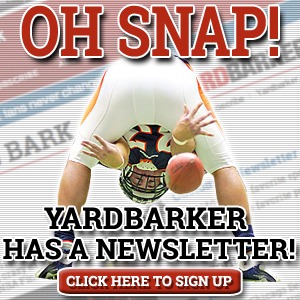 THE COLLEGE BASKETBALL HOT 10