Saturday featured two great semi-final games with both of them coming down to the wire, but sadly there will be some talk of some questionable calls made by the officials. Both games went down to the wire, with both of the calls in question came in the final minute. Trailing by 2 thanks to some missed free throws by Michigan, Syracuse had the ball and had a chance to tie or take...
BLOCK OR CHARGE?
Another Final Four game, another controversial call in the final minute. Trailing 58-56 with the ball, Syracuse had a chance to tie the game with under 30 seconds to play. Senior Brandon Triche drove to the right, where he'd been having recent success, but Jordan Morgan slid over to try to draw the charge. It worked, Triche fouled out, and Syracuse lost a golden opportunity. The...
WIBX 950 Just before the Big East tourney, The Fizz penned a piece encouraging Orange Nation to ignore the critics. There were a few reasons to believe in Syracuse despite the uninspiring finish to the regular season. One of those was the prospect of getting the mojo back at Madison Square Garden. Brandon Triche and co. found a new life in NYC, and have carried that into the NCAA's...
Brandon Triche never flinched when asked how No. 6 Syracuse would cope with its depleted lineup. After all, that's the Orange way. No complaints here. ''Everybody's ready to play,'' he said. ''Everybody works hard. I guess there's a little bit of inexperience, but we'll be fine.'' With senior forward James Southerland still benched...
Brandon Triche had 23 points and seven assists, James Southerland added 17 points and No. 9 Syracuse beat Bloomsburg 103-60 in an exhibition game Sunday. The Huskies, who lost 87-65 to Towson in an exhibition Thursday, stayed close against the Orange at the outset. Nasir Jones hit a 3-pointer from the wing and followed with a runner in the lane to move Bloomsburg within 15-12 less...
nj.com Syracuse just continues to win. Every game has seemingly had some rough patches, but the Orange always seems get it done. However, there are certainly some concerns despite the 28-1 record. SU has struggled to put teams away, and seems to ease off the gas when it grabs a lead. Dion Waiters has been hot and cold, James Southerland can't hit a shot, and the half court offense...
MORE STORIES >>
College Basketball News

Delivered to your inbox

You'll also receive Yardbarker's daily Top 10, featuring the best sports stories from around the web. Customize your newsletter to get articles on your favorite sports and teams. And the best part? It's free!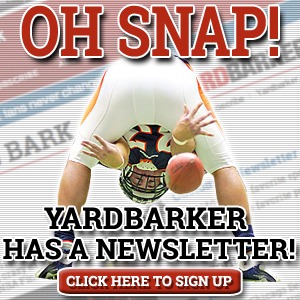 THE COLLEGE BASKETBALL HOT 10