It's been a decade – literally – since any program other than Kansas won the Big 12 regular season title in men's basketball. But the 2014-2015 season, according to Oklahoma guard Buddy Hield, won't result in an 11th straight championship for the boys from Lawrence. Hield, who grew into one of the conference's best guards last season, told CBS Sports' Jeff Borzello...
Oklahoma Basketball: Sooner comeback thwarted, Baylor wins, 78-73Seeking their first conference tournament win since 2011, the Oklahoma Sooners, after a fantastic, surprising regular season, were set the face the Baylor Bears.  The Sooners knew to be wary of the blistering Bears, who, after starting the conference season off 2-8, had won eight of their last nine games.  Unfortunately...
Buddy Hield wasn't about to stop putting up shots. Not after he went 1 of 13 from the floor in a game a few days ago and certainly not after his 3-pointer that could've put Oklahoma ahead with less than 2:30 remaining Saturday against Oklahoma State missed the mark. Hield kept shooting and he finally connected, hitting a 3-pointer to tie the game with just under two minutes...
Following a shocking loss to Texas Tech on their home floor, the Oklahoma Sooners traveled to Stillwater to take on Oklahoma State in a bedlam matchup.  The Sooners had already defeated the Cowboys once this season, to the tune of an 88-76 win of their home floor.  However, winning on the road would prove to be a lot tougher.  Still, with Marcus Smart out due to a three game suspension...
Oklahoma's Buddy Hield scored a career-high 23 points and four other Sooners finished in double figures to help Oklahoma beat North Texas 95-82 Monday. After scoring a career-high 19 points in an 82-73 season-opening win against Alabama on Friday, the sophomore Hield again led the Sooners (2-0) in 29 minutes of work. Tyler Neal added 12 points while Je'Lon Hornbeak, Ryan...
Buddy Hield scored 29 points and Oklahoma rallied from a halftime deficit to beat Oklahoma Christian 88-76 in an exhibition game Monday night. Oklahoma Christian, which is in the second year of the three-year NCAA Division II membership process, led 41-38 at halftime after a buzzer-beating 3-pointer by Willie Harper. Hield and Jordan Woodard each hit a pair of 3-pointers during...
Oklahoma's 70-67 loss to TCU was horrific and shocking; demoralizing even, for a team who was riding a hot streak, having won six of their last eight games.  The Sooners, who entered the game 20-9, were the heavy favorites to pulverize the poor Horned Frogs.  Instead, it was TCU who delivered the beating, jumping out on the shell-shocked Sooners early. Much like in their upset...
NORMAN, Okla. — The Sooners suffered a severe hit Monday evening, as energetic freshman guard Buddy Hield broke a bone in his right foot with 7:34 left in the contest.
In case you haven't got the memo, they're playing basketball in Norman now.  In a state spoiled with the superb NBA talent and extraordinary success, college hoops has taken a backseat.  Quietly, Lon Kruger has used the little breathing room he has to piece together what appears to be a team with a legitimate chance at an NCAA berth. Oklahoma is 3-0 in conference play for the...
MORE STORIES >>
College Basketball News

Delivered to your inbox

You'll also receive Yardbarker's daily Top 10, featuring the best sports stories from around the web. Customize your newsletter to get articles on your favorite sports and teams. And the best part? It's free!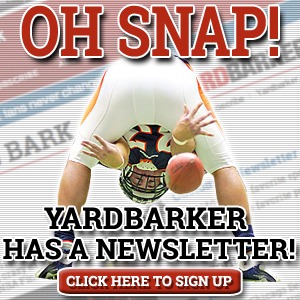 THE COLLEGE BASKETBALL HOT 10