Dustin Johnston Cameron Ridley is a giant. This is true in a very literal sense. Ridley, merely a sophomore, is the 6-foot-9, 285-pound center for Texas. His massive frame is no less daunting because of his soft touch around the rim. Michigan takes on Texas as its round of 32 matchup in the NCAA tournament on Friday. The Wolverines have gone up against big players before — Florida...
Texas big man Cameron Ridley (and he is indeed big, listed at 285 pounds) made a buzzer-beating putback shot at the end of regulation, to give the No. 7 seed Longhorns an 87-85 NCAA Tournament victory over the No. 10 seed Arizona State Sun Devils on Thursday night. Brendan Quinn, a college basketball writer for MLive, took an awesome video (above) of the finish from his courtside...
Texas (7 seed) needed a last second shot from Cameron Ridley to beat Arizona State (10 seed) 87-85 in the first round of the NCAA Tournament. Ridley's shot was reviewed and it's pretty obvious that he got it off in time. The Longhorns will face Michigan (2 seed) next. Related Posts Watch this 6th grader hit a half-court buzzer-beater Saul Phillips was pretty pumped about North...
Texas very nearly gave away what was a 14-point lead, allowing the Arizona State Sun Devils to surge back into the game in the last eight minutes, but in the end Sophomore Cameron Ridley became a hero for the Horns. Arizona State tied up the game at 85 on two Jonathan Gilling free throws with 17 seconds remaining, and after an awful three-point attempt by Jonathan Holmes which didn't...
Cameron Ridley helped Texas defeat Arizona State in the first-round of the NCAA Tournament on Thursday with a buzzer-beating putback to give the Longhorns an 87-85 win. The win at the buzzer left the Sun Devils players totally heartbroken: Is that the agony of defeat in one picture or what? Makes you feel bad that […]
Cameron Ridley had 20 points and 10 rebounds and made a big defensive play with a block in the final minute as No. 24 Texas held on to beat Baylor 74-69 on Wednesday night. Javan Felix scored 21 points on seven 3-pointers for Texas, which led by 18 points in the first half but saw Baylor pull within one late. Isaiah Taylor scored 13 points for the Longhorns (21-7, 10-5 Big 12)...
One of the most talked about players this season in college basketball has been Kansas Jayhawks center Joel Emdiid. The big man has been a key member of one of the best teams in the nation, but when he faced off against Cameron Ridley and the rest of the Texas Longhorns Saturday--He ended up being just another guy.To be fair, he had a solid game with eight points and 10 rebounds...
Texas sophomore center Cameron Ridley was named the Phillips 66 Big 12 Player of the Week Monday, an award voted on by a panel of media members covering Big 12 basketball. Ridley averaged a double-double over a two-game stretch against No. 22 Kansas State and No. 24 Baylor last week. He posted 13 points, 10 rebounds and 2.5 blocks per game, helping Texas to down both ranked opponents...
Cameron Ridley made two free throws and big defensive play in the final 35 seconds, sending Texas to its first Big 12 win of the season Saturday night. Texas trailed by one when Ridley altered a shot and hustled down the floor for an offensive rebound before he was fouled. His two free throws put Texas ahead 65-64 with 31 seconds left. Texas Tech had a chance to win. Jaye Crockett...
During Monday's men's basketball tilt between the Texas Longhorns and Vanderbilt Commodores, a bat made its terrifying presence felt at the Frank Erwin Center in Austin. The bat swooped down on and scared the bejeezus out Longhorns center Cameron Ridley (via GIFSection.com): But thankfully, as they are wont to do, cheerleaders saved the day as […]The post Bat divebombs court...
MORE STORIES >>
College Basketball News

Delivered to your inbox

You'll also receive Yardbarker's daily Top 10, featuring the best sports stories from around the web. Customize your newsletter to get articles on your favorite sports and teams. And the best part? It's free!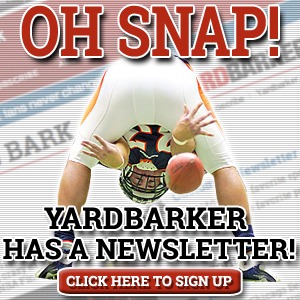 THE COLLEGE BASKETBALL HOT 10