Sometimes it seems like a great idea to try to draw a charge under the basket to help your team. Unfortunately, that idea doesn't run smoothly 100% of the time — nobody found that out more than Monmouth's Collin Stewart tonight. Monmouth took on Marist, whose 6-foot-5 guard Chavaughn Lewis can sky with the best of them — he showcased that on one ridiculous posterization of...
Chavaughn Lewis had 19 points, seven rebounds and five assists to lead Marist to a 69-51 victory over Bucknell on Friday night. Marist (2-9) opened the game on a 16-0 run and held Bucknell to just five field goals in the first half. The Red Foxes led 34-18 at the break and opened the second half with an 8-0 run. They led by no less than 14 points the rest of the way. Adam Kemp...
Chavaughn Lewis scored 18 points as Marist held off a late Charleston rally to secure its first win of the season 69-62 on Sunday. The Red Foxes (1-9, 0-2 Metro Atlantic Athletic Conference) took a 43-28 lead into the break but saw Charleston close to within two late in the second half. Lewis stalled the rally with a layup and Marist extended its lead with an 11-6 run in the closing...
Chavaughn Lewis scored 24 points and Marist defeated Fairfield 73-60 in each team's regular-season finale Sunday. Lewis was 9-of-16 shooting, though only 5 of 13 at the foul line for the Red Foxes (10-20, 6-12 Metro Atlantic Athletic Conference). Adam Kemp added 14 points and 11 rebounds for his 10th double-double of the season. Marcus Gilbert paced the Stags (17-4, 9-9) with...
The Marist basketball team has had a difficult season to say the least, currently finding themselves in last place in the Metro Atlantic Athletic Conference.  On Thursday night though, their season finally gave the fans and players something to be happy about.Sophomore guard Chavaughn Lewis received the inbounds past with 2.6 seconds left in overtime.  Trailing their conference...
The talk in college basketball today is all about Tyler Griffey's layup as time expired to give Illinois an upset win over top-ranked Indiana. While no play last night had a bigger impact on the landscape of college basketball, Marist's Chavaughn Lewis gave us a more impressive buzzer beater. With Lewis's Red Foxes trailing the host Iona Gaels by three points in overtime with...
((ht: espn.com)) Don't know how we missed this one, because based on the highlights, it was a sight to see. Marist and Iona played a game Thursday night that will live in folklore for a long, long time. The Red Foxes and Gaels went to overtime and Marist trailed by 3, when Chavaughn Lewis launched a 65-foot runner as time ran out. It went in. Chaos ensued, the game...
Chavaughn Lewis finished with 19 points and nine rebounds to lead Marist past St. Peter's 59-48 Saturday night in a Metro Atlantic Athletic Conference game. Isaiah Morton added 10 points and career-high seven boards to help Marist (5-14, 2-6) snap an eight-game losing streak. Adam Kemp chipped in eight points and a career-high 18 rebounds to give Marist the rebounding edge...
MORE STORIES >>
College Basketball News

Delivered to your inbox

You'll also receive Yardbarker's daily Top 10, featuring the best sports stories from around the web. Customize your newsletter to get articles on your favorite sports and teams. And the best part? It's free!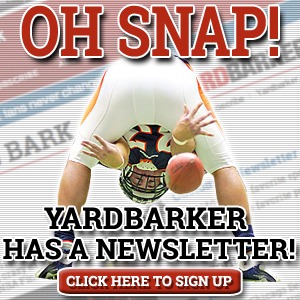 THE COLLEGE BASKETBALL HOT 10