As amazing as March Madness can be for college basketball fans, it's a very bittersweet time for college basketball players. Every player on every team has hopes of achieving a great deal in the NCAA Tournament, and when those goals aren't met, it's often hard to swallow. Syracuse forward C.J. Fair, who was vocal about his desire to return to the Final Four this season, is...
What the 2014 All-ACC basketball team should look likeAt the conclusion of an exciting season of ACC basketball, All-ACC basketball honors are set to be awarded on Monday. Who do you think is deserving of earning the All-ACC basketball accolades? Let me know by commenting on the article. Below are players who I believe to be worthy of selection:  All-ACC basketball first team: TJ...
In what was arguably the best college basketball game of the 2013 season, No. 2 Syracuse Orange beat No. 17 Duke 91-89 in overtime. Behind an Orange shooting attack that made 57% of their field goals, 75% of their 3-point attempts, and 81% of their free throws, Syracuse cemented their status as the number one team in the nation after an Arizona loss on Saturday night. With the win...
Name:   C.J. Fair        Age:   22   School: Syracuse Height: 6'8         Weight: 215   Projected Position: SF/PF       2013-14 Stats (as of 1/21/14): 16.8 ppg, 5.8 rpg, 1.4 apg, 2.9 tpg (36.4 minutes per game) 45.0 FG%, 72.2 FT%, 27.5 3FG%, 51.3 TS%, 47.7 eFG% 28.1 USG%, 5.7 ORB%, 14.2 DREB%, 9.8 TRB%     ...
' Credit: Bleacher Report Syracuse forward C.J. Fair became very bloody after a poster board dunk against Minnesota on Monday. While scoring his fourth point of the game Fair was clobbered across his cheek by Austin Hollins of Minnesota which triggered blood below his right eye. After viewing the play even the commentators were shocked no foul was given for the hit. C.J. Fair Dunk/Blood
Syracuse senior forward C.J. Fair is used to some physical play down inside the paint, but this may be a little overboard. As Fair was throwing down a monster slam Monday night against Minnesota at the Maui Invitational, his faced was slashed, causing blood to splatter everywhere. Somehow, it wasn't called a foul either. Fair, after being cleaned up, was able to return to the...
SU Athletics Sanity prevailed in C.J. Fair's decision on whether to jump to the NBA. "After talking it over with my family and my coaches, I decided another year at Syracuse was best for me. I'm excited about working hard with my teammates to put together another great season and graduating has also been a goal of mine." First off, this gives the Orange a major boost going...
suathletics.com Typo, or leak? NBA.com's David Aldridge wrote an article yesterday about the small forwards of the 2013 class, claiming that Syracuse star C.J. Fair had already declared for the NBA Draft. While many believe Fair will in fact go pro, he hasn't made any decision public, though he is scheduled to have a press conference this week to update the school and fans on...
C.J. Fair did not declare for the NBA Draft Tuesday, but that doesn't mean he's coming back. Yesterday was the NCAA's deadline, and Fair still has not announced his pro plans. As long as he doesn't sign with an agent, he has until April 28th to return to Syracuse. So over the next 11 days Fair will gather information from league people about his prospects, and where he is...
C.J. Fair was the goat. He'd taken an ill-advised shot with Syracuse clinging to a two-point lead and then fouled Otto Porter to give up the game-tying free throws. Syracuse had coughed up a 12-point lead down the stretch, and Fair's poor decision making was the proverbial straw the broke the camel's back. Surely Georgetown would dominated the Orange in OT. But Fair had a short...
MORE STORIES >>
College Basketball News

Delivered to your inbox

You'll also receive Yardbarker's daily Top 10, featuring the best sports stories from around the web. Customize your newsletter to get articles on your favorite sports and teams. And the best part? It's free!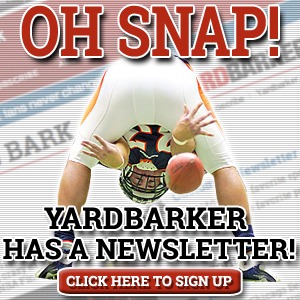 THE COLLEGE BASKETBALL HOT 10