With Providence and Marquette tied in the end of regulation, Marquette's Davante Gardner hit the most unthinkable shot…unfortunately, after the horn had blown. To make matters worse, Providence would win the game in double OT, 81-80. Heartbreaker indeed. [The Big Lead] The post Marquette's Davante Gardner hits miracle game-winning shot…a half-second too late appeared first...
MILWAUKEE -- With three seconds left and Georgetown trailing 75-73, Hoyas guard D'Vauntes Smith-Rivera drove to the basket and put up a runner in the lane. When the shot rimmed out, Davante Gardner grabbed the defensive rebound, dribbled hastily to the corner and then exuberantly up the baseline as the clock expired and the buzzer sounded, determined, this time, to hold onto...
MILWAUKEE -- Too often nowadays, players simply can't handle the truth. But Davante Gardner got called out by his coach and used the words as motivation to snap out of a self-admitted slumber. For the first time in quite some time, Gardner was a force inside and DePaul just couldn't stop him. The senior scored 21 of his career-high 28 points in the second half to lead Marquette...
The first time I saw Davante Gardner step to the free-throw line, I thought the Marquette student section was joking. "AUT-o-MAT-ic!" chants rained down. Come on, I thought. Dude is listed at six-foot-eight, 290 pounds, a guaranteed brick if I ever saw one. Then, sure enough: Swish, swish. And a big smile from Gardner. As the new Big East searches for its identity...
MILWAUKEE -- For most of his basketball career, Davante Gardner has battled his body. His critics have always been quick to jump on his weight and level of conditioning, trying to find someway to criticize one of the most efficient offensive players in college basketball. While Gardner has silenced the doubters since setting foot on campus, he recognized the limitations he was...
Marquette center Davante Gardner has been selected to tryout for the 2013 USA Basketball Mens World University Games Team this summer.He was one of 29 players invited to the camp that runs from June 24-30 and onlyone of three future Big East members to get the nod. The roster will be trimmed in late June before a final 12-man roster is announced prior to departure. The World University...
MILWAUKEE -- Marquette forward Davante Gardner was ejected from Monday's 63-50 victory over South Florida after he was assessed with a flagrant-2 foul in the second half. With 13:46 left in the game, Gardner and USF forward Zach LeDay were tied up with the basketball in front of the USF bench. In an effort to get the basketball, Gardner swung his elbow, catching LeDay in the...
Davante Gardner came to Marquette 2 yrs ago weighing 315 lbs and was not able to run the court very well. However, he showed great hands and the ability to score down low in the post and pass out of the post to cutters or kick out passes to guards on top. His ability to pass was never more apparent when Duke's Mike Kryzywski called timeout to change defenses to get the ball out...
MILWAUKEE -- Marquette coach Buzz Williams will be playing without a big man down low, at least for a while.Already without center Chris Otule, who is out for the season with a knee injury, the 15th-ranked Golden Eagles lost 6-foot-8 sophomore Davante Gardner to a sprained knee. "(Gardner) had an MRI and he didn't tear any ligaments, so that's good," Williams said...
Sophomore forward Davante Gardner will miss No. 15 Marquette's game against Seton Hall with a left knee sprain. The school says Gardner's future availability will be evaluated on a game-by-game basis. Gardner was injured in Marquette's victory at Villanova on Saturday. Gardner is having a breakout season for the Golden Eagles, providing critical inside play in the wake...
MORE STORIES >>
College Basketball News

Delivered to your inbox

You'll also receive Yardbarker's daily Top 10, featuring the best sports stories from around the web. Customize your newsletter to get articles on your favorite sports and teams. And the best part? It's free!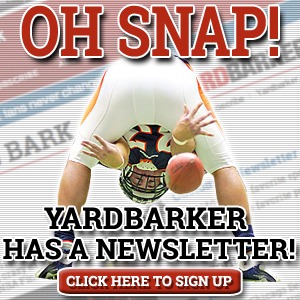 THE COLLEGE BASKETBALL HOT 10