The infamous recruitment letter sent by Hall of Fame Coach and living legend, Dean Smith, to Michael Jordan is something most MJ fans would love to get their hands on. NBC Chicago reports, in a recent public auction, Goldin Auctions, recently obtained the letter and decided to list it in a future auction calling it "the most important recruiting letter ever written by a head coach...
Tweet The value of sports memorabilia fluctuates at a pretty high rate. Pretty mundane items can see their price be solid one day and be worth pennies the next. Whenever it's items concerning legends, though, the value is always high. Michael Jordan, who would certainly qualify as a legend in more than one way, might have some of the most valuable...
The building that is named after him, another honor that Dean Smith did not want Last Wednesday Dean Edwards Smith's wife received the Presidential Medal of Freedom on his behalf from President Barack Obama, proving once again that for as legendary a coach he has been, he has been just as great, if not better, as a human being. For those of you that think this post is a bit late…...
As the North Carolina basketball season approaches I was surfing the internet for a story about former Tar Heels, when I found a small nugget that was worth writing about. Anyone that follows my blogging knows that I do a "North Carolina in the NBA" recap, which run downs how the former UNC players are doing at the next level. In all 44 NBA Championship rings have been won by...
One of the great things about being a blogger for the school you love is that you get to read a lot about it. Those articles/posts/tweets/whatever else can range from a flood about the two main sports to a trickle of the Olympics ones. Or they might about about high high schoolers being recruited to former players now at the next level. And sometimes you find one about the coaching...
Dean E. Smith (Photo Credit: Tar Heel Nation As all of you know, since the news in an electronics era like this bit of news could be considered old… legendary coach Dean Smith will receive the highest award that can be given to a civilian … The Presidential Medal of Freedom. But there are two simple reasons for this delay, first because I did not want to rush into writing about...
It's been nearly a week since North Carolina coach Sylvia Hatchell got the call saying she would join the Naismith Memorial Hall of Fame, and she's still having a hard time believing it. ''I'm still like, `OK, when am I going to wake up here?''' Hatchell said Tuesday. Hatchell will be part of a class that includes Louisville men's coach Rick...
UNC legend Michael Jordan did a little public reminiscing today via Twitter, probably because his Tar Heels meet arch rival Duke tonight. Jordan tweeted a photo of a recruiting letter Dean Smith sent to him and his family on Sept. 30, 1980 after he first visited the UNC campus. It's kind of folksy and we say that because Smith was apparently fond of using the word folks. The...
WINNING PITCH
Now that is one piece of North Carolina basketball history right there. Fittingly, given it is a piece of North Carolina basketball history, the letter from then-Tar Heels head coach Dean Smith to Mr. and Mrs. James Jordan and Michael is housed at the Carolina Basketball Museum, where such relics should be placed. A pic [...]
Chapel Hill, NC -- Forget who North Carolina's opponent was Tuesday night at the Dean Smith Center, although Evansville does own a victory over Butler this season. This game wasn't about the Purple Aces, not who they are and what they might become. Given UNC's circumstances, this was about the Tar Heels and what kind of team they might develop into. We know they are...
MORE STORIES >>
College Basketball News

Delivered to your inbox

You'll also receive Yardbarker's daily Top 10, featuring the best sports stories from around the web. Customize your newsletter to get articles on your favorite sports and teams. And the best part? It's free!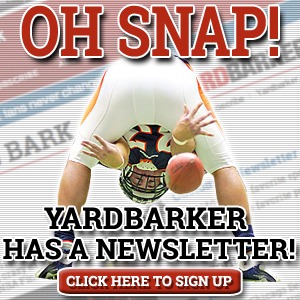 THE COLLEGE BASKETBALL HOT 10