MILWAUKEE -- If Duane Wilson goes on to realize his potential and become a key contributor to Marquette for the next four years, a flu bug may be to thank for him having an extra year of eligibility. Fully recovered from a stress fracture in his left leg suffered just prior to the season, Wilson got sick just as he was cleared to play Dec. 14 against IUPUI. While Wilson may have...
Marquette basketball: Can the Golden Eagles pull off a Madison Square Garden miracle?Derrick Wilson demonstrates how most Marquette fans feel after the regular season. (Photo: Mitchell Leff/Getty Images) The dismal regular season for the Marquette Golden Eagles came to an end in familiar fashion on Saturday. An double-overtime loss to St. Johns put the cap on what has turned into...
MILWAUKEE -- Hunched over, leaning against the scorer's table, Jamil Wilson had his hand over his face. The moment hit him and the entire Marquette roster like a ton of bricks. Sure, the Golden Eagles likely had to win the Big East tournament to get into the NCAA tournament regardless of Saturday's result, but the Golden Eagles had just ended up on the wrong end of yet another...
Marquette vs. DePaul Milwaukee, Wisconsin January 4, 2014 1:00 PM CT CBS Sports Network To say that there was optimism surrounding Marquette basketball going into the 2013-2014 season would be an understatement. Up in Milwaukee, all people were talking about was how Marquette would dominate in their first year in the transformed Big East. The question was not whether the Golden Eagles...
  Marquette at Creighton Omaha, Nebraska December 31, 2013 9:00 PM CT To say that the Marquette basketball team  played numerous cupcake games to start the season would be an understatement. No disrespect to Cal State Fullerton, Grambling State, or IUPUI, but let's just say those teams will not help anybody's RPI. It is not uncommon for a major conference team like Marquette...
MILWAUKEE -- Having not yet played this season due to a preseason leg injury, Marquette freshman guard Duane Wilson will redshirt the 2013-14 season. Wilson suffered a stress fracture in his left leg just prior to the start of the season and was cleared to return to practice on a limited basis Dec. 4. He was able to gradually increase his time on the playing court and even suited...
MILWAUKEE -- A constant stream of reporters flocked to Derrick Wilson on Marquette's media day, a level of attention the junior point guard has never had to experience before in his collegiate career. The backup point guard doesn't often garner much notice, especially one who averaged just 1.1 points per game last season while shooting 27.3 percent from the field. But after...
LEXINGTON, Ky. -- Jamil Wilson simply put his head down and walked back to the Marquette bench. Junior Cadougan just shook his head. The feeling the Golden Eagles experienced that November afternoon after Butler stunned them at the buzzer in the Maui Invitational is one they haven't forgotten. And who could blame them? Each time any one of them turns on ESPN to watch a college...
MILWAUKEE -- Buzz Williams pulled Derrick Wilson aside after practice Friday and asked the sophomore backup point guard if he remembered what he told him when Wilson signed with Marquette. Wilson responded by repeating the Marquette coach's line that Williams would be the most loyal person he knows. Williams went on to tell Wilson that he had earned the right to start but wasn...
MORE STORIES >>
College Basketball News

Delivered to your inbox

You'll also receive Yardbarker's daily Top 10, featuring the best sports stories from around the web. Customize your newsletter to get articles on your favorite sports and teams. And the best part? It's free!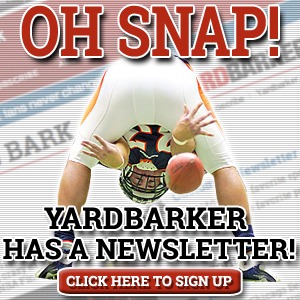 THE COLLEGE BASKETBALL HOT 10