The road to the NBA from college is often the same for most players. Combines, workouts, and training sessions are all part of the usual path, but actually playing in a real game environment isn't part of it. Not only is St. Joseph's Halil Kanacevic getting to take part in a real basketball environment, he is doing his pre-draft training playing in one of Europe's premier national...
After Halil Kanacevic fouled out with just under four minutes left in overtime, the Hawks battled but were not able to overcome the loss and fell to UConn 89-81 in OT. Shabazz Napier and co. took over and stuffed every opportunity the Hawks had in the extra period. Senior's Kanacevic and Langston Galloway finished their St. Joe's career with strong games. Kanacevic finished with...
Halil Kanacevic scored 18 points and Saint Joseph's broke away from a late tie to beat No. 21 Massachusetts 73-68 Saturday. UMass rallied from a 16-point deficit in the second half and made it 68-all in the final minute. Saint Joseph's hit five foul shots to win. Kanacevic added six rebounds and five assists. Ronald Roberts scored 17 and DeAndre Bembry had 13 points and...
The Hawks were hitting on all cylinders on the offensive end. They had four players in double figures and shot nearly 60 percent from the field and 43 percent from three point range. To top it off, the Hawks scored 84 points in their four point victory over George Mason at the Patriot Center. The Hawks were led by Halil Kanacevic and Langston Galloway. Kanacevic was 9-15 from the...
Halil Kanacevic scored 23 points and Langston Galloway added 20 to pace four St. Joseph's players in double-figures in an 84-80 win over George Mason on Saturday night. Kanacevic hit 9-of-15 shots and St. Joseph's shot 59 percent from the field. Galloway added six rebounds, three assists and two steals while reaching double-figures in points for the 11th consecutive game...
Saint Joseph's used a second half explosion to cruise by the Drexel Dragons 75-55. Halil Kanacevic, who played a huge role in the comeback, scored a career-high 27 points and grabbed 14 rebounds. The Hawks were down 27-23 at halftime but came alive in the second half, shooting nearly 58 percent from the floor. The Hawks controlled the second half from the start. They went on a...
Halil Kanacevic scored a career-high 27 points to go with 14 rebounds and Saint Joseph's enjoyed a huge second half in taking a 75-55 victory over Drexel on Wednesday night. Drexel (7-3) led 27-23 at halftime before the Hawks (5-4) scored 52 points in the second half on 57.6 percent shooting. In the second half, Kanacevic scored nine points in the first 6 minutes as the Hawks...
A simple rule of thumb is if you are going to flip the double bird to an opposing team's crowd, you better make sure that you win the game.  St. Joe's forward Halil Kanacevic unfortunately didn't follow this rule and his double bird actually was the catalyst in a 65-61 loss to Villanova.  Kanacevic was having a rough night from the field, but managed to make a big three pointer...
BIRD IS THE WORD
St. Joseph's Hawks forward Halil Kanacevic gave double middle fingers to the Villanova student section during Tuesday's game. And that was only the start of his night.
The St. Joseph's University basketball team came up short in its pursuit of a Coaches vs. Cancer Classic title Saturday night in Brooklyn, losing 73-66 to Florida State in the championship game at Barclays Center. But for a number of Hawks players whose families were affected by Hurricane Sandy, which wreaked havoc on New York City when it ravaged the East Coast in late October...
MORE STORIES >>
College Basketball News

Delivered to your inbox

You'll also receive Yardbarker's daily Top 10, featuring the best sports stories from around the web. Customize your newsletter to get articles on your favorite sports and teams. And the best part? It's free!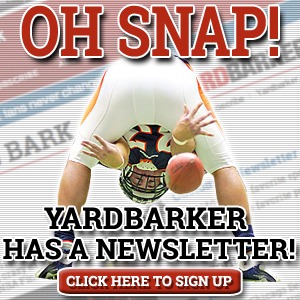 THE COLLEGE BASKETBALL HOT 10