Notre Dame power forward Jack Cooley gave quite the speech on Wednesday night when he spoke during "An Evening with Notre Dame Basketball" on the floor of Purcell Pavilion. Although he was a bit nervous, Cooley nailed his 10-minute speech and figured he might as well finish in style. Cooley proceeded to call on stage his girlfriend, Jackie Oberlander, and got down on one knee...
und.com Notre Dame forward Jack Cooley capped off his collegiate experience in grand fashion last night, proposing to his girlfriend at his team's senior banquet. Luckily for Cooley, Jackie Oberlander said yes. Cooley started off his speech talking about how nervous he was to be up in front of the crowd, but then compared it to the idea of taking free throws during a basketball...
Notre Dame forward Jack Cooley took what was sure to be a memorable night on Wednesday and brought it to another level. During his team's senior banquet, Cooley concluded his speech by calling his girlfriend Jackie Oberlander to the stage. His teammates, who knew what was coming, had their cell phone cameras rolling. We all know what he did next. Cooley dropped down on one knee...
What was supposed to be a nice sendoff for Jack Cooley during his last game in an Irish uniform at home quickly turned into a brawl at mid-court. St. John's guard Sir'Dominic Pointer and Notre Dame forward Cameron Biedscheid got into an altercation with under two minutes to play at Purcell Pavilion.  Here's video, courtesy of Big Lead Sports.
READY TO RUMBLE
Thing turned ugly Tuesday against St. John's as senior Jack Cooley walked off the court to a standing ovation for Notre Dame's senior night. With a little under two minutes remaining and the game easily in Notre Dame's hand, Notre Dame's Cameron Biedscheid and St. John's Dom Pointer got into a rumble. Pointer landed a couple solid punches to Biedscheid. Both players were...
Niagara coach Joe Mihalich knows there are no moral victories in college basketball. Still, he hopes his young team learned a few things Friday night in an 89-67 loss to No. 22 Notre Dame. ''I told our team after the game - and I think we're on our way - I told them we need to develop some of the characteristics that that team has,'' Mihalich said. ''...
Kennesaw State coach Lewis Preston had a rather rough return. Jack Cooley scored 14 points and pulled down 13 rebounds to lead No. 22 Notre Dame to an 85-57 victory over the Owls on Wednesday night. Preston, in his second season leading the Georgia school, was an assistant under Notre Dame coach Mike Brey from 2000-06. This was the first time Brey faced one of his former assistants...
Evansville tried to get tough with Notre Dame's star big man Jack Cooley. Not an easy task. Cooley scored the first nine points of the game and finished with 19, Scott Martin pulled down 17 rebounds and the No. 22 Fighting Irish beat the Purple Aces 58-49 in the preliminary round of the Coaches vs. Cancer Classic. ''That was basically a Big East game, how physical...
Notre Dame coach Mike Brey can't believe how Jack Cooley has blossomed into a leader for the Fighting Irish, especially after wondering whether the 6-9, 245-pound forward would ever get serious about basketball. ''He's going to be better than I ever imagined as a leader. He's already been better than we thought as a player,'' Brey said. Cooley had a...
MORE STORIES >>
College Basketball News

Delivered to your inbox

You'll also receive Yardbarker's daily Top 10, featuring the best sports stories from around the web. Customize your newsletter to get articles on your favorite sports and teams. And the best part? It's free!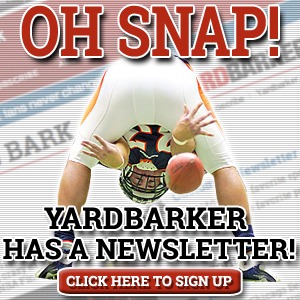 THE COLLEGE BASKETBALL HOT 10