Ohio State is and likely always will be known as a football school, but the Buckeyes have churned out a decent amount of basketball talent in recent seasons, too.  Friday, a number of Ohio State basketball alums–former No. 2 NBA Draft pick Evan Turner and two-time All-American Jared Sullinger, most notably–came back to Columbus. They spent part of their day back on campus scrimmaging...
A few hours after turning himself in, Jared Sullinger has made his first court appearance. He's facing charges for assault and battery, witness intimidation and destruction of property. Here's the Boston Globe's David Abel's twitter feed. Lot of details here but felt like they were all worth posting. Celtic Jared Sullinger just walked into courtroom wearing a grey...
BOSTON -- Jared Sullinger just kept sliding. Pick after pick went by, and the onetime top-five projected pick gradually dropped out of the top 10, then out of the lottery, and then into the 20s of the NBA draft on Thursday. The Celtics were there with pick No. 21, eagerly waiting to scoop up the proven power forward from Ohio State. The medical red flag issued by the NBA two weeks...
LOCKED OUT
Remember last year when Jared Sullinger would've been the No. 1 pick had he declared for the draft? A year later, he will not even be invited to sit in the NBA Draft's green room.
This is not hyperbole right now. I'm not sure Ohio State has had a player with higher character than Jared Sullinger since Thad Matta took over. First round draft picks rarely need sympathy, nor to be hyped up, and it's tough to feel bad for a guy who is about to be very rich playing the game he loves. Never the less, things keep going bad for Sullinger. The latest comes from...
TAKE ANOTHER LOOK
Doctors have red flagged the Ohio State's Jared Sullinger for his bad back, an issue that doctors believe is very serious. This news could cause Sullinger's draft stock to tumble.
Editor's note: This is the eighth in a seriesexamining top prospects in the NBA Draft. Profiles are based on conversationswith NBA general managers and scouts.Youve heard the positives:Jared Sullinger has soft hands, a great feel for the game, an ability to powerhis way through taller defenders and find a way to score. Hes strong, smart, athrowback, and mostly, a winner.But youve...
Jared Sullinger was saddled on the bench with his 2nd foul with about 13:30 minutes left in the 1st half, and watched as Ohio State battled with the short-handed Syracuse Orange to a tie game at the break. Sullinger would return to the floor in the 2nd half and score 15 of his game-high 19ts to lead the Buckeyes to their first Final Four appearance since losing the 2007 National...
INDIANAPOLIS - The Jared Sullinger you saw Sunday was gassed. The Jared Sullinger you saw all weekend at the Big Ten Tournament is the player Sullinger is capable of being. He's the player who can push the Buckeyes all the way through the NCAA Tournament, too. A classic Big Ten Tournament title game Sunday didn't go the Buckeyes way down the stretch, and Michigan State...
MORE STORIES >>
College Basketball News

Delivered to your inbox

You'll also receive Yardbarker's daily Top 10, featuring the best sports stories from around the web. Customize your newsletter to get articles on your favorite sports and teams. And the best part? It's free!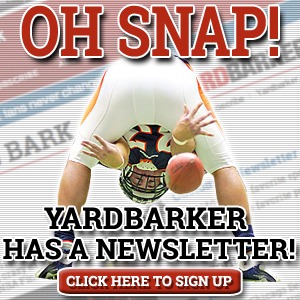 THE COLLEGE BASKETBALL HOT 10