Jimmer Fredette's Accomplishments GLENS FALLS HIGH SCHOOL Ranked among the nation's top 75 shooting guards by ESPN.com Section II and GFHS all-time leading scorer, ranking sixth on New York's all-time scoring list, with 2,404 points Named first-team all-state by the New York State Sportswriters Association and the Times Union as a junior and senior Honored as the 2007 Player...
Watching Jimmer Fredette last year, you noticed a recurring theme – extreme passiveness. While there were moments when Fredette showed flashes of what made him so great at BYU, for the most part, the season was filled with the former Cougar star walking on eggshells, not wanting to step on the toes of established players [...] [[ This is a content summary only. Visit my website...
Brigham Young coach Dave Rose said his Cougars deserved to be in the NCAA tournament, even after last week's 19-point loss to Gonzaga in the West Coast Conference tournament semifinals. The selection committee agreed, and the Cougars (25-8) will face Iona (25-7) as No. 14 seeds in a game Tuesday in Dayton as part of the First Four. The winner of the BYU-Iona contest will face...
The video that follows after the jump includes an all-star team of BYU legends: Steve Young, Jimmer Fredette, Lavell Edwards etc talking about being a real cougar; becoming a real cougar. On one level the video is cutesy innocent funny- in the way they utilized the CGI cougar. But another, more sexually depraved level this video is very funny. Because if you search for the word...
This picture — posted on Oct. 29, 2011, to the Twitter account of Whitney Wonnacott, a cheerleader at Brigham Young University who is engaged to NBA first-round draft pick Jimmer Fredette — shows the Sacramento Kings' prized rookie dressed as a dog and on all-fours alongside his betrothed, clad as Cruella de Vil, in a "101 Dalmations"-themed couples' Halloween...
MISSING: 100 DALMATIANS
I don't know of too many people who considered Jimmer Fredette to be a dude before this atrocity, but whatever bro points he may have had are now gone. We already had a pretty good idea that Jimmer was whipped by his girl, Whitney Wonnacott, but now it's official. Jimmer's girl literally has him on [...]
Monson: Where have you gone, Jimmer Fredette? Gordon Monson Tribune Columnist Published Nov 14, 2011 10:05AM MDT Logan • In the YAJ — Year After Jimmer — BYU basketball rolled out what it had against Utah State the other night, and some positives, along with one major negative, were notable — even in the face of clumsy defeat. Brandon Davies, if he can stay out of early...
Kentucky Wildcats basketball coach John Calipari had breaking news for you when you woke up, college basketball fans. Yes, a head coach of a college basketball team did some reporting and blogged about it as a "message from coach." The news was that two Kentucky basketball players were involved in a strange car crash situation at 2:30 AM Friday morning. More Information
Jimmer Fredette is gone, and the Cougars have joined the West Coast Conference. But they're confident they still have the talent to put together a memorable season.
Jimmer Fredette, who leads the nation in scoring, will try to lead his BYU Cougars over the 4th ranked and undefeated San Diego Aztecs on Wednesday night. The Mountain West Conference has received plenty of publicity over the past year primarily because of the success of some of the conferences football programs.  The TCU Horned Frogs come to mind. But the conference is competitive...
MORE STORIES >>
College Basketball News

Delivered to your inbox

You'll also receive Yardbarker's daily Top 10, featuring the best sports stories from around the web. Customize your newsletter to get articles on your favorite sports and teams. And the best part? It's free!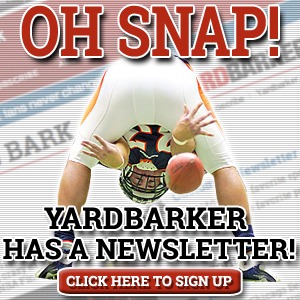 THE COLLEGE BASKETBALL HOT 10