BBNBA is on full display in Los Angeles this week. In case you haven't heard, former Kentucky Wildcats in the NBA that played for John Calipari have contracts worth more than A BILLION DOLLARS total. If you think about the NBA salary guidelines, that is not hard to believe considering that there are 26 former Wildcats in the league. It is also no surprise that several former Wildcats...
LEXINGTON, Ky. — Kentucky beat Alabama 81-71 Saturday at Rupp Arena to snap a 4-game losing streak and at least temporarily halt any talk of the NIT. The Wildcats moved to 18-9 and 7-7 in the SEC. Here's everything Kentucky coach John Calipari said after the win. Q. John, Avery (Johnson) thought rebounding was a big key here. What do you think of the effort and the impact it had...
"I'm with Hami." The Kentucky Wildcats are now 18-9 thanks to an 81-71 win over Alabama. Kentucky started off with good energy thanks to a powerful Nick Richards dunk, who followed up with another thunderous dunk both assists from Alexander. Alabama was able to knock down a couple shots and took a 7-6 lead at the 16 minute mark of the first half. Coming out of the timeout, Kentucky...
LEXINGTON, Ky. — After Kentucky basketball lost its fourth consecutive game, the coach who'd never lost more than two in a row in his first eight seasons told the Wildcats that he had clearly failed them. "I haven't built enough trust where when I talk to them, [they think], 'I'm going to do what this man says.' They're not that," John Calipari said Wednesday night at Auburn, where...
LEXINGTON, Ky. — John Calipari and his Kentucky players are probably used to the non-stop attention they garner, but this season even more cameras and microphones have been in their faces. "Inside the Madness: University of Kentucky Basketball" premieres Saturday on Facebook Watch. The 10-episode documentary series from producers Tom Cappello and Jason Sciavicco will air at least...
In 2013, there was a built-in excuse. Now that's not the case. You all know me around here. I'm generally a pretty level-headed fun, especially when it comes to John Calipari and Kentucky Wildcats basketball. I'll be the first to point out Cal's success and track record at UK whenever anyone starts to disparage his coaching ability or recruiting methods. But that's not easy to...
John Calipari appears to have found his PG target for next year. Kentucky's recruitment of Tyrese Maxey continues to heat up,. After John Calipari watched Maxey late last week, the five-star point guard then went to Saturday's game between Kentucky and Texas A&M. Now, Maxey has set a visit to Lexington for Kentucky's matchup with Alabama this Saturday, according to Rivals...
With Kentucky missing an edge, along with a couple of pieces, could the reeling Wildcats miss the NCAA tourney for the second time under John Calipari?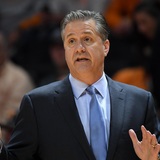 John Calipari doesn't seem too worried about rival Duke's recent success in recruiting.Calipari's Kentucky teams used to consistently dominate in the recruiting front and land all sorts of top-10 players every year, while Duke seemed to shy away from the one-and-done types. That's changed somewhat as Duke landed three top-10 recruits for the class of 2017 and now has four for 2018...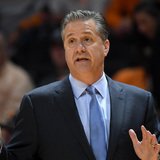 Rumors linking John Calipari to NBA coaching jobs are an annual occurrence, but one of the Kentucky coach's former star players does not believe the speculation will ever become more than just that.ESPN's Jeff Goodman asked DeMarcus Cousins on Tuesday if he believes Calipari will ever coach at the NBA level again. Because Calipari has such a good thing going at Kentucky, Cousins...
MORE STORIES >>
College Basketball News

Delivered to your inbox

You'll also receive Yardbarker's daily Top 10, featuring the best sports stories from around the web. Customize your newsletter to get articles on your favorite sports and teams. And the best part? It's free!
THE COLLEGE BASKETBALL HOT 10