I would love to know how these compare to Jerry World. Eagles say theyre installing the best HD screens in NFL in endzones and 1,200 screens throughout Linc pic.twitter.com/4YToEqYDiu — John Clark NBC10 (@johnclarknbc10) January 29, 2014 Need NFL Tickets? Loading... ZergNet The post Eagles claim they're installing the best HD screens in the NFL appeared...
This all sounds about right. @CrossingBroad yes about 25 of them. Ejected. No one wanted to press charges, of course, because theyre family — John Clark NBC10 (@johnclarknbc10) September 20, 2013 Just for some additional humor. Overheard at Eagles game: Crying girl being ejected. Girl:"But I dont even like football." Officer:"Then why did you dump beer on his head...
According to John Clark of NBC 10, Ron Jaworski told 97.5 the Fanatic in Philly that Jon Gruden would be interested in coaching the Eagles.Ron Jaworski on 975 Fanatic says he talked with Jon Gruden. Eagles havent reached out to Gruden, and says Jon would be interested— John Clark NBC10 (@johnclarknbc10) January 7, 2013If the Eagles were interested in Gruden, you would think they...
Just drank a few 40s of beer. Feelin' good. Then I was just checkin' up on Twitter and saw NBC10′s John Clark chimed in with this nugget: Eagles are 5-8, Jets are 8-5, but guess who's favored next week? That's right. The mother bleepin' … [visit site to read more]
MORE STORIES >>
College Basketball News

Delivered to your inbox

You'll also receive Yardbarker's daily Top 10, featuring the best sports stories from around the web. Customize your newsletter to get articles on your favorite sports and teams. And the best part? It's free!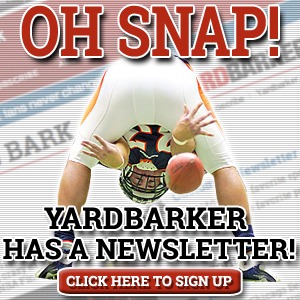 THE COLLEGE BASKETBALL HOT 10