MILWAUKEE -- The Bucks announced Tuesday that they had signed first-round draft pick John Henson to a multi-year contract. Henson was the 14th overall pick in last month's NBA Draft. Henson, a 6-foot-11 power forward, joins Milwaukee after a decorated three-year career at the University of North Carolina, where he averaged 10.3 points and 8.1 rebounds in 109 career contests....
When John Henson came to Chapel Hill three years ago the optimists kept saying to take a good look at him as it would be his only year donning the caroline blue. The pessimists kept talking about his lack of build, as they kept pointing out that "he was too skinny". Being a realist I can say that in the three seasons under Roy Williams the power forward bulked up some, but more...
GREENSBORO, N.C. -- John Henson has never been much of a sit-still kind of guy. He likes to get on his feet and move his long legs around. The North Carolina forward loves to joke, smile, laugh with and at people, and he just enjoys everything life has to offer. Except injuries. And that has been Henson's bane for the last nine days after landing hard on his left wrist early...
North Carolina coach Roy Williams is still unsure whether junior forward John Henson will be ready for the Tar Heels' opener in the NCAA tournament Friday. Henson sprained his left wrist in a fall during the Atlantic Coast Conference tournament and missed the last two games. He went through about 70 percent of the team's practice Thursday morning in Chapel Hill, then participated...
North Carolina coach Roy Williams says he probably won't know until Thursday whether John Henson will be ready for the Tar Heels' NCAA tournament opener. Henson hurt his left wrist on a fall during the Atlantic Coast Conference tournament in Atlanta. The 6-foot-10 forward didn't play the final two games of the tournament, though he dressed out for the championship game...
North Carolina forward John Henson is in uniform and has his sore left wrist taped as he is participating in warmups before Sunday's ACC championship game against Florida State. Tar Heels spokesman Steve Kirschner says Henson will play ''only in an emergency situation.'' Henson missed the No. 4 Tar Heels' win over North Carolina State in Saturday's semifinals...
North Carolina forward John Henson has injured his left wrist in the Atlantic Coast Conference tournament. The ACC's defensive player of the year was hurt on drive to the basket in Friday's quarterfinals, going down on a hard foul by Maryland's Ashton Pankey. Henson flexed his hand repeatedly and went to the locker room for treatment with 13:51 left in the first half...
While their team has produced a string of decisive victories, North Carolina coach Roy Williams and forward John Henson still see plenty of room for improvement. After using a late surge to put away their most recent opponent, the third-ranked Tar Heels could use a better performance Tuesday night against Miami, a team that's given them problems over the past couple of seasons...
John Henson gets ACC Player of the Week for 2nd time this seasonI had said "this would not be the only time the young man wins this award this season" when junior John Henson won ACC Player of the Week a while back. Well, today I can say I was right in saying that as the official ACC site has him as the top performer in the conference. If you have been watching the 6'11″...
John Henson loves to smile. Sometimes, he just cant help it. Following a poorly played win at Virginia last season, Henson sat at his locker answering questions about the Tar Heels performance that afternoon. As the questions got more critical, a smile emerged on Hensons face. I dont know what to tell you, he said. We just didnt play well but we got the win, though. Henson is...
MORE STORIES >>
College Basketball News

Delivered to your inbox

You'll also receive Yardbarker's daily Top 10, featuring the best sports stories from around the web. Customize your newsletter to get articles on your favorite sports and teams. And the best part? It's free!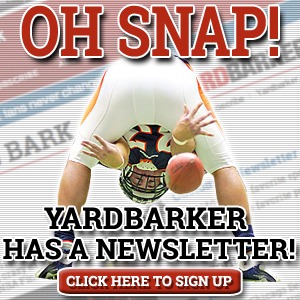 THE COLLEGE BASKETBALL HOT 10