Arizona will be sporting a new set of red,white and blue uniforms for the 2014-15 college basketball season. A preseason Top 5 team, Arizona brings back a group led by Stanley Johnson, Rondae Hollis-Jefferson, Brandon Ashley and Kaleb Tarczewski. Take a look at the uniforms they'll be wearing. The post Arizona Basketball Unveils New Jerseys appeared first on Diehardsport.
Two of the Arizona basketballs' most productive players, Nick Johnson and Aaron Gordon, recently declared for the NBA draft. While many would think that this balances out as a net loss, it may instead make way for a plethora of fresh talent. The following listed are the five stellar Wildcat recruits coming to Tucson next season. Stanley Johnson: While Johnson views himself as...
Arizona Wildcats Punish CAL after loss After losing their first game of the year to CAL earlier this season, Arizona made their revenge worthwhile Wednesday night as they toppled the Bears 87-59. The Wildcats were working on all cylinders, and ran away with the game by the end of the first half. In their second straight game where a mercy rule should've been taken into consideration...
Kaleb Tarczewski is hoping that Arizona does not find itself on a losing streak. Read on for his thoughts on Utah and more.
TUCSON, Ariz. -- The biggest player on Arizona's roster might have an even bigger impact on the team going forward. Yes, sophomore center Kaleb Tarczewski is that guy, one many don't talk about when it comes to No. 2 Arizona's talented starting five. But Tarczewski might be the Wildcats' most improved player -- heck, he might be the Pac-12's most improved player...
Kaleb Tarczewski scored 11 points and No. 1 Arizona opened its Pac-12 season with a 60-25 rout of Washington State on Thursday night, shattering the McKale Center record for fewest points by a team. The 25 points were the fewest for Washington State since the Cougars had that many at Idaho on Jan. 15, 1938. The previous McKale record for fewest points was 37 by Northern Arizona...
TUCSON, Ariz. -- Arizona coach Sean Miller said on Monday afternoon he's not sure if 7-foot center Kaleb Tarczewski will be available to play when the top-ranked Wildcats return to the court on Thursday against Southern University. Miller described the injury, suffered when Tarczewski landed awkwardly after taking a shot in the second half of Saturday's victory at Michigan...
We can't vouch for the expertise at TheBigLead.com -- the sports blog operated by USA Today -- but if it has a clue, next season could be a very enjoyable one for the Arizona Wildcats basketball program and its fans. Big Lead's Jason McIntyre took an early stab at the 14 NBA lottery picks for 2014 and predicted not one but two Wildcats among the first 14: Sophomore center...
TUCSON, Ariz. At one point in his life, Kaleb Tarczewski wanted to be a pizza chef, making mouth-watering slices of heaven. That changed. He wanted to be a mechanic, working on automobiles to keep the world rolling. That, too, changed. He wanted to play basketball, getting the idea from the Boston Celtics after he got his first glimpse of the sport when he attended a game at the...
TUCSON, Ariz. The first impression of Arizona basketball after a 108-67 exhibition win over Humboldt State in McKale Center was: practices must be unbelievably competitive. The second thing is: Arizona's student section (Zona Zoo) is going to say "Zoooo" a lot. That's in honor of freshman center Kaleb Tarczewski, who is as impressive of a big man UA has had here...
MORE STORIES >>
College Basketball News

Delivered to your inbox

You'll also receive Yardbarker's daily Top 10, featuring the best sports stories from around the web. Customize your newsletter to get articles on your favorite sports and teams. And the best part? It's free!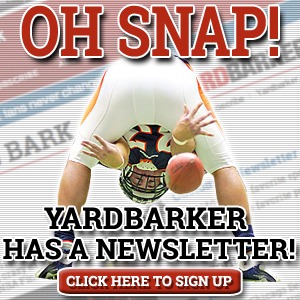 THE COLLEGE BASKETBALL HOT 10