After two weekends of chaos, the dust has settled and only four teams remain in the NCAA Tournament. South Carolina, Gonzaga, Oregon, and North Carolina will meet in the desert of Arizona to determine a champion.Sunday provided college basketball fans with two chances to see familiar foes tango with a chance to cut down the nets as champions of their respective regions. With those...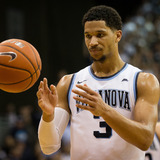 Even though college basketball doesn't have an award as prestigious as the Heisman, finding and recognizing the most noteworthy performances across the nation is just as important as it is for football. With more than 350 teams, it can be difficult to separate the good from the truly great.We have identified seven players who have been good enough to not just attract interest and...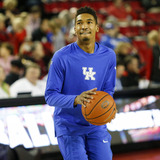 When it comes to the NCAA Tournament, the dirty secret is that it's not always the best team that wins it all. Simply put, it's the hottest team.Momentum is everything in March Madness. That's why a Cinderella low seed can go on to make an Elite Eight or Final Four run, and it happens almost every year. All it takes is a win or two to get things rolling, and from there, anything...
The Villanova Wildcats will have national title-game hero Kris Jenkins back in their lineup next season.Jenkins, who hit the game-winning 3-pointer at the buzzer to beat the North Carolina Tar Heels, announced on Twitter on Monday night that he is withdrawing his name from the NBA Draft and returning to Villanova for his senior season.The 6-foot-6 forward averaged 13.6 points, 3...
Villanova won the 2016 NCAA Tournament last night on a buzzer-beating three-pointer by forward Kris Jenkins, and Jenkins' shot got the notice of another clutch giant in former Duke star Christian Laettner. Of course, Laettner took to Twitter after the game and announced that he was passing his "clutch crown" to Jenkins following last night's Wildcats victory. What a game and a shot...
The Villanova Wildcats and and junior Kris Jenkins delivered a heart-stopping finish to the national championship game, beating the North Carolina Tar Heels with a buzzer-beating 3-pointer. North Carolina broadcasters were understandably devastated when Jenkins drilled his game winner, but here was the stellar call on Villanova/610 AM-FM radio. 
Villanova upset UNC 77-74 in Monday night's title game, and sports fans were treated to one of the greatest finishes in NCAA history when Kris Jenkins drained the game-winning three-pointer with no time remaining. The thrilling finish sparked a crazy celebration, as expected, and here's a rundown of what the partying on campus has looked like. It started as soon as Jenkins lifted...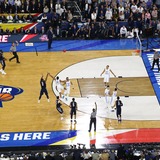 Villanova and UNC squared off in one of the best title games in NCAA history on Monday night, and Kris Jenkins put the cherry on top with the game-winning three-pointer. Marcus Paige had just tied the game with an incredible, off-balance three, and the Wildcats had less than five seconds to get an open look to take home the title. And that was all they needed. Ryan Arcidiacono...
  The Villanova Wildcats are the national champions of college basketball in 2016. That's a dull sentence, but it conveys the result of Monday night's spectacular national championship game at the Final Four in Houston's NRG Stadium. If words seem manifestly inadequate in the face of what a national television audience (and over 74,000 spectators) just witnessed, it's because they...
Monday night's National Championship game between the Villanova Wildcats and North Carolina Tar Heels was all that and more. It had all the bells and whistles and the thrill for the dramatic. When you think of a championship game in any sport, you always think about the game coming down to the final seconds and someone being a hero. On Monday night, there were two heroes in the waning...
MORE STORIES >>
College Basketball News

Delivered to your inbox

You'll also receive Yardbarker's daily Top 10, featuring the best sports stories from around the web. Customize your newsletter to get articles on your favorite sports and teams. And the best part? It's free!
THE COLLEGE BASKETBALL HOT 10