Could Illini power forward Tyler Griffey be the new Mark Titus? You know Titus, the former walk-on for the Ohio State Buckeyes who blogged about his basketball-related experiences at his site 'Club Trillion'. Learn more about him here Today, Titus writes for ESPN's new site, Grantland.com Unlike Titus, Griffey is a starter, and key contributor for his team. And he has different...
This book came out in March, but it is never too late for a review. Mark Titus's claim to fame was through his blog, Club Trillion, which was based around his life as a benchwarmer at The Ohio State University. That is only a small part of his story, which is told in its entirety in Don't Put Me In, Coach. Titus tells the story of his college years, which saw him go from team...
Former Ohio State bench warmer turned writer Mark Titus did a lengthy interview with Greg Oden, his former Buckeyes teammate. The two have known each other since playing AAU ball together in 2001, and it's apparent in the write-up that Oden is a shy introvert who values his privacy. This was a rare interview where Oden opened up and revealed many details about his life. Oden allowed...
Greg Oden. The name brings up many emotions among basketball fans. For Ohio State fans (and many Cavaliers fans, like me), fond memories of his one (half) year in Columbus. And a desire to see him dominate in the Association.  For some columnists, it's a history-ignoring habit of suggesting that the Blazers were idiots for passing on Kevin Durant, when in fact same columnists...
Walk-on benchwarmers have a special kinship amongst them, so it's not surprising that I enjoyed Mark Titus's Don't Put Me In Coach.  For those not in the know, Titus was a walk-on for one of the best college basketball teams in the nation, Ohio State (2006-10), who, despite only scoring nine points in his career, became one of the most popular and famous players on the...
Over the last few years, Mark Titus has become an internet phenomenon with his popular website ClubTrillion.com, which chronicled all the funny stories of Mark's time as a walk-on with the Ohio State basketball team. Now a writer at Grantland.com, Titus has elected to write a book based off Club Trillion called 'Don't Put Me In Coach,' and on Monday he was nice enough...
We all love the walk-on. They sit at the end of the bench, cheering, for 38 minutes a game, and then if their side happens to be winning by a blowout they enter ice cold and we fans go nuts. We want them to shoot the moment they touch the ball. We want them to score. We want them to rain threes. These walk-ons – who are talented enough to terrorize typical city league players –...
Former Ohio State bench warmer and blogger Mark Titus' new book Don't Put Me In, Coach will finally be available on bookshelves and at Amazon.com on March 6. Although Mark was never a star on the court at Ohio State, he did develop a cult following on his blog, ClubTrillion.com. On the site, Mark wrote many hilarious articles about his time at Ohio State and also about other...
MADISON, Wis. Mark Titus thought it was simply a one-time show of team solidarity when he examined pictures of Wisconsin's basketball players on the pregame scouting report three years ago. Titus, then a walk-on at Ohio State, noticed that every Badgers player seemingly had a freshly shaved head of hair in the style of a buzzcut. So he went through old scouting reports from...
Aformer Ohio State walk-on basketball player, Mark Titus, has published a book, "Don't Put Me In, Coach: My Incredible NCAA Journey From the End of the Bench to the End of the Bench" (Doubleday, 257 pp.$24.95). One of the moving testimonials about the book comes from Titus' former coach, Thad Motta: "Of all the players I've coached in my career, Mark Titus...
MORE STORIES >>
College Basketball News

Delivered to your inbox

You'll also receive Yardbarker's daily Top 10, featuring the best sports stories from around the web. Customize your newsletter to get articles on your favorite sports and teams. And the best part? It's free!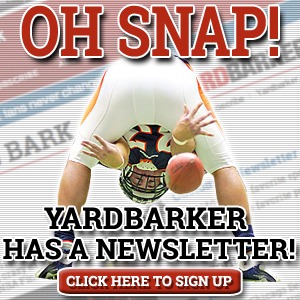 THE COLLEGE BASKETBALL HOT 10