Falcons owner Arthur Blank spoke to reporters following Sunday's blowout loss to the Buccaneers regarding the status of head coach Mike Smith and GM Thomas Dimitroff beyond this season. According to Blank, there will not be any changes this offseason with regards to the team's leadership, despite starting the season 2-8. "We love our head coach and we love our general manager...
FLOWERY BRANCH, Ga. With only seven games remaining and the 2-7 Falcons nursing a three-game losing streak, it would figure the coaching staff might have an eye toward the future with ceratin players. But for head coach Mike Smith, the No. 1 goal remains victory, although on Monday, he hinted that changes could be in the offing following the Falcons' 33-10 loss to Seattle....
Mike Smith is not giving up on the Falcons' season, just as he wouldn't give up in the closing minutes of a lopsided loss to Seattle. Smith was criticized for exposing quarterback Matt Ryan and others to injuries by leaving them on the field late in Sunday's 33-10 loss to the Seahawks. The coach said he wouldn't abandon the idea of trying to win. Similarly, Smith...
Falcons coach Mike Smith says running back Steven Jackson, who has missed the last four games, is expected to practice on Wednesday. Smith said Monday Jackson won't have full participation immediately in his return from a hamstring injury. Jackson didn't practice last week but Smith says the latest report on the running back late in the week ''was very good in terms...
Will Atlanta's shortcomings come back to haunt Mike Smith? (Credit) The Atlanta Falcons currently sit right on the cusp of finally winning their first Super Bowl and have been for some time. In essence, they have been a contender ever since Matt Ryan threw his first regular season pass in the NFL to Michael Jenkins for a 62-yard touchdown. Since then, they have made the playoffs...
Coach Mike Smith expects the Atlanta Falcons to be nearly at full strength for the playoffs. Smith says early reports on defensive end John Abraham and cornerback Dunta Robinson, both injured against Tampa Bay in the regular season finale, are positive. Abraham left the loss to the Buccaneers with a left ankle injury, and Robinson departed with a head injury. But Smith expects...
When can a loss be better for a professional football team than a win? Most NFL players and coaches likely would say never. Unless, somewhere during the loss a new team star who was on the trading block is discovered.Which still translates to pretty much never.As I watched the Atlanta Falcons lose 22-17 at home to the Tampa Bay Buccaneers during the last regular season game, I tried...
If theres one thing that Atlanta Falcons head coach Mike Smith does well, its to learn from his mistakes. Thats one reason why Smith is 20-3 in those increasingly rare games after his team has lost in his five seasons. Its also a concept that Smith is trying to put into practice now that the Falcons have secured the NFCs top seed in the playoffs for the second time in three seasons...
Mike Smith wants his first two playoff losses with the Falcons to be ''growing experiences'' that will help his team prepare for Sunday's first-round game at the New York Giants. With Smith in his first season as coach and Matt Ryan starting as a rookie quarterback, the Falcons lost to Arizona in the first round of the playoffs after the 2008 season. The Falcons...
Falcons head coach Mike Smith and Tampa Bay head coach Raheem Morris meet a midfield at the conclusion of a 45-24 Falcons thrashing of the Buccaneers at the Georgia Dome in Atlanta on Sunday, Jan. 1, 2012. Curtis Compton ccompton@ajc.com Falcons coach Mike Smith's four-year record of 43-21 is the best four-year mark in team history and ranks among the top records in NFL history...
MORE STORIES >>
College Basketball News

Delivered to your inbox

You'll also receive Yardbarker's daily Top 10, featuring the best sports stories from around the web. Customize your newsletter to get articles on your favorite sports and teams. And the best part? It's free!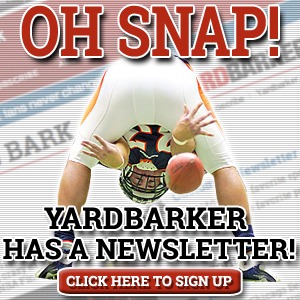 THE COLLEGE BASKETBALL HOT 10