Patriots at Chiefs…that's it for tonight. Will Gruden **** blast Tirico while talking about the greatness of Tom Brady? Will Tirico ****...
Atlanta Falcons head coach Mike Smith, in his more successful years, has spoken of how he prefers to eschew the spotlight and put it on his players. Unlike, say, Seattle's Pete Carroll, it's just not something that Smith seems to enjoy. When it comes to discussing the team's internal deliberations, he prefers to keep his answers as brief and unrevealing as possible. His...
The Atlanta Falcons convinced tight end Tony Gonzalez to come back this season for a play-off run.  The Falcons are 2-5. Could anyone have predicted this swirling decline?  It is not possible.  But someone has to take responsibility. It is Mike Smith and here are five reasons why it falls on him and he must go:5. Atlanta Falcons 13-Arizona Cardinals 27Yes, Matt Ryan was picked...
The Atlanta Falcons (1-3) are two games under .500 for the first time in the Matt Ryan and Mike Smith era after losing by a score of 23-20 to the New England Patriots (4-0) in primetime. This marks the first time they have lost back to back games since 2009. Four weeks into the 2013 […]The post Downtrodden Atlanta Falcons must rise up with wings as eagles by Chris Pennell appeared...
FLOWERY BRANCH, Ga. With his team falling to 1-2 for the first time in his six-year tenure and facing the undefeated Patriots (3-0) this week, Falcons head coach Mike Smith delivered his version of The Buck Stops Here creed on Monday. It came as Smith discussed his team's red-zone failures both offensively and defensively from Sunday's 27-23 loss to the Dolphins, a game...
FLOWERY BRANCH, Ga. (AP) -- The Bengals are coming to the Falcons' training camp. HBO's Hard Knocks cameras will be waiting. Cincinnati is the star of this year's documentary series. The Bengals will share Atlanta's training camp facility on Monday and Tuesday before the teams meet in their preseason opener on Thursday night. Atlanta often holds combined practices...
It's as if NFL coaches don't know situational football.   4th and 29 on their own 37, Baltimore looked like they were out of it. After barely hanging on against Byron Leftwich and the Steelers, they were about to fall to 8-3. They weren't going to lose to the Patriots. They weren't going to lose [...]
When the Atlanta Falcons gather in the meeting room at the beginning of each week, they can always count on coach Mike Smith putting one thing on the board. Turnover margin. Smith has made that a priority during his five years as coach, and the Falcons are sure following his lead this season. Atlanta is 5-0 for the first time in franchise history and has a plus-10 edge in turnovers...
Both the Giants and Falcons are equally hungry for a playoff win. Big Blue hasn't had one since they beat the Patriots in Super Bowl XLII. The Falcons are 0-2 in the playoffs under Mike Smith and with Matt Ryan at QB. As usual, Ralph Vacchiano leads our Giants coverage, which will get ...
MORE STORIES >>
College Basketball News

Delivered to your inbox

You'll also receive Yardbarker's daily Top 10, featuring the best sports stories from around the web. Customize your newsletter to get articles on your favorite sports and teams. And the best part? It's free!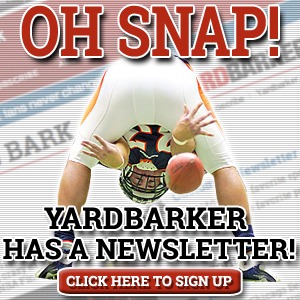 THE COLLEGE BASKETBALL HOT 10