Over the next few weeks we'll be counting down to the start of the college basketball season, and we'll do that by highlighting the 30 Big Ten players you need to know for the 2014-15 season.  No. 29 – Myles Mack, Rutgers 2013-14 Stats: 14.9ppg, 2.7rpg, 4.3apg, 40.3 FG %, 37 3pt FG % Career Stats: 12.8ppg, 2.4rpg, 3.0apg, 42.2 FG %, 38.6 3pt FG % Why you need to know him:...
What do you get if you take a 12-21 team, take away 5 of it's top 8 players, and move it to a much tougher conference?  Sadness.  Lots and lots of sadness.  That is my prediction for the Rutgers hoopers this season.Actually, it's not all bad.  They do have their top 2 guys back in senior point guard Myles Mack (14.9 points, 4.3 assists per game last year) and junior power...
Myles Mack scored 21 of his 25 points in the second half as Rutgers held off Central Florida 85-75 Wednesday night. Jerome Seagears had 18 points for the Scarlet Knights (8-9, 2-2) in the first meeting between the American Athletic Conference schools. Junior Etou had 14 points and six rebounds while Wally Judge added 10 points. Mack, who scored his 1,000th career point with two...
Via AP on Fox
PISCATAWAY, N.J. – Rutgers jumped back on track Wednesday night with a 85-75 home victory against UCF. Junior guard Myles Mack, on the night of his 1,000th career point, dominated during a second-half rally to win the game.
Rutgers guard Myles Mack sits four points away from 1,000 in his career with tonight's first half against UCF as the likely moment to join the elite club. Mack would be the 40th member of the 1,000-point club at Rutgers.
Myles Mack hit a 3-pointer from the top of the arc with 3.5 seconds left to give Rutgers a 75-72 victory over Army Sunday. Mack had 18 points and seven assists for the Scarlet Knights (6-7), who have won two straight for the first time since beating Yale and Canisius Nov. 14-18. Wally Judge had 16 points and seven rebounds, D'Von Campbell added 12 points and Junior Etou grabbed...
Myles Mack scored 13 points, including making two free throws with 32 seconds to play, and Rutgers beat St. John's 58-56 on Wednesday night at Madison Square Garden. Both teams ran spread offenses that used up quite a bit of the 35-second shot clock each possession. The final 3 minutes became mostly a free-throw shooting contest and Rutgers prevailed even though the Scarlet...
BELMAR, N.J. -- Rutgers guard Myles Mack scored 28 points Tuesday at the Jersey Shore Basketball League and is using his time off to focus on personal improvement. Mack went 1-on-1 with ScarletReport.com after his game to break down the latest on his development and thoughts on the program.
PISCATAWAY, N.J. -- Rutgers freshman point guard Myles Mack expects tomorrow's game against Seton Hall to be just another game, but said it will be special for a few reasons. With close friends playing for the Pirates and a friendship with RAC special guest Victor Cruz, Mack is excited to tip off tomorrow at 9 p.m. on ESPN2.
Freshman Myles Mack scored a season-high 22 points and Rutgers beat a cold-shooting Stony Brook 67-58 on Saturday in the Holiday Festival at Madison Square Garden. Gilvydas Biruta had 13 points and freshman Eli Carter added 11 for the Scarlet Knights (6-5), who won away from home for the first time this season. They had lost one true road game and two neutral-site games. Sophomore...
MORE STORIES >>
College Basketball News

Delivered to your inbox

You'll also receive Yardbarker's daily Top 10, featuring the best sports stories from around the web. Customize your newsletter to get articles on your favorite sports and teams. And the best part? It's free!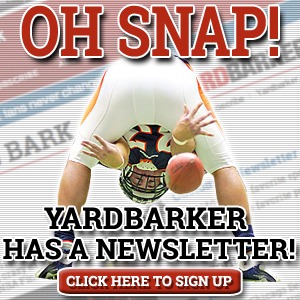 THE COLLEGE BASKETBALL HOT 10